Actively addressing Orlando's lack of affordable housing, a new 58-unit project sets out to prove that affordability and sustainability can co-exist.
Ranking third nationally in lack of housing for extremely low-income residents, Metro Orlando offers only 18 rentals for every 100 families in deep poverty, according to a recent National Low Income Housing Coalition study.
Looking to rectify this, the Village of Orlando, Inc. and City of Orlando have rehabilitated close to 200 units, including a new 58-unit sustainable rehabilitation of an existing apartment complex—New Horizons—in the city's Washington Shores district.
But what's unique about this project is its quest to prove that affordability and sustainability can co-exist. As such, the New Horizons project showcases a number of green technologies, most notably a 52-kW rooftop solar array, providing close to 1 kW per resident.
"The New Horizons project is expected to serve as a demonstration to developers and the community that affordable housing and green initiatives—including solar, edible gardening, waste recycling and general energy reduction efforts—can be done where all stakeholders can benefit," reports Charles A. Rowe, development director for the Village of Orlando, Inc.
Chris Castro, director of sustainability for the City of Orlando, agrees. "The New Horizons project presents a showcase model for how low-income housing could incorporate sustainability features within the same project budget in an effort to lower monthly expenses, reduce environmental impacts, and enhance the quality of life for the residents," he says.
Prominent Parts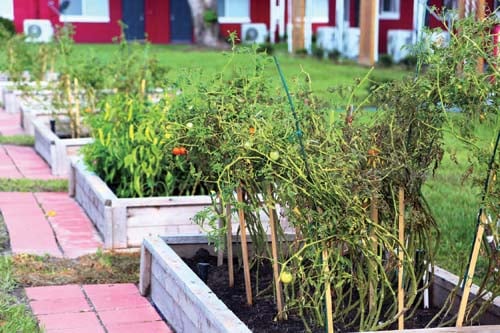 New Horizons apartments include an on-site community garden to provide residents with access to fresh, locally grown produce.
In addition to aforementioned features, the units include ductless HVAC systems, high-efficiency water heaters, ENERGY STAR appliances, R-19/R-30 insulation values, low-flow fixtures and faucets, LED lighting, Florida-native landscaping, a community garden and rain barrels.
The ductless HVAC systems are a three-head wall-mounted mini-split arrangement in each bedroom and living room. "This allows the occupant to compartmentalize the systems efforts, which affords the user to manage consumption by focusing usage in areas of the home, based on need," explains Rowe.
These high-efficiency units are rated at 14 SEER, incorporate programmable thermostat in each unit, which provide modes for dehumidifying, fan, heat and cooling.
In terms of the building enclosure, the project is a slab-on-grade concrete block structure with block construction for the interior wall partitions. Utilizing core injection methodology, insulation is injected into the concrete block voids to achieve those above-code R-19/R-30 insulation levels. For the attic spaces, blow insulation was utilized to boost performance and exceed the code.
The upshot is "improved indoor comfort of the units, more of a sound barrier between units, and better climate control to maximize energy efficiency," reports Castro.
Addressing water efficiency, the low-flow fixtures and faucets' reduction of water consumption is yielding as much as 50 percent savings on water bills.
As for the PV system, three rooftop panels are working to produce close to 100,000 kWh per year, which means up to a 40 percent reduction and a $20 saving in monthly energy bills.
The Big Picture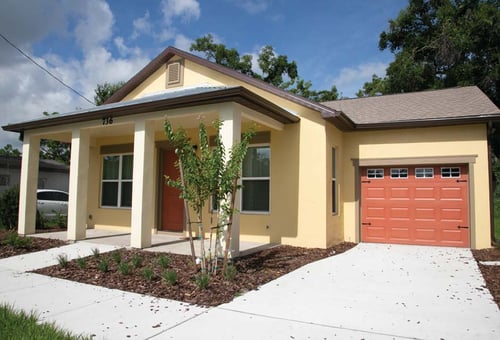 Among the first of 20 affordable single-family residences is this house model in Orlando's Parramore community, which comes complete with sustainable products, such as energy-efficient appliances, low-flow water fixtures and hookups for solar arrays.
Also serving as an example of urban renewal, this particular site was formerly abandoned, derelict and surrounded by barbed wire on a well-traveled street corner, essentially projecting an image of despair and isolation. Now, by turning the site into a new, sustainable housing complex, the community has received a boost of morale.
"We hope this project sets a precedent for the type of affordable and sustainable housing standards that other develops build to," adds Castro.
Granted, New Horizons is not the only affordable housing initiative in town.
In the lower-income Parramore neighborhood just west of downtown, the City is building 20 new single-family residential homes. Available at below-market rates, the homes are incorporating sustainable features, such as locally sourced building materials, sustainable materials promoting good IAQ, energy-efficient appliances, low-flow water fixtures and possibly solar arrays.
Another City enterprise is its Property Assessed Clean Energy program, which gave $1.5 million in loans to approximately 80 projects for clean energy home improvement in 2017 and is making $5 million available to City of Orlando businesses and residents this year, with favorable rates and terms for low-moderate income households.
Similarly, the City's Solar Energy Loan Fund (SELF) offers favorable financing to low- and moderate-income families, helping to address that cost barrier for investing in solar.
Solar and More Solar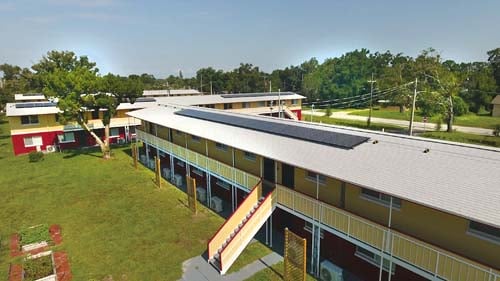 The New Horizons project includes a 52-kW rooftop solar array to lower utility bills for each apartment unit and reduce its environmental footprint.
Actually, the SELF project is one of several solar programs which earned the City of Orlando a SolSmart GOLD distinction from the U.S. Department of Energy in 2018, for its efforts to support and encourage city-wide solar projects.
By streamlining the solar permitting process; training planning, permitting and inspectors on the solar process; and creating new Solar Permit guidelines, this is effectively reducing the soft costs of going solar and making the process much easier.
Another solar initiative is a bulk purchasing aggregation program run by the Orlando Utilities Commission (OUC). By joining together with other homeowners in OUC territory, residential solar installation costs are reduced by 20 percent to 30 percent.
The purchasing program is similar to buying in bulk at Costco, as opposed to your local grocery store, Castro explains. This buying power helps achieve an economy of sale that is much more cost effective. In particular, homeowners are reducing their $3.50 per watt installed costs to $2.40 per watt installed. "This is substantial, amounting to $5,000 to $7,000 savings," he reports.
At this point, there are currently 30 such co-ops in the State—and to Castro's knowledge, Florida is the only state with a utility offering such a program.
Another OUC initiative is Community Solar, which has made 20-plus MW of solar available to residents and homeowners who are interested in photovoltaics, but don't have suitable rooftop access to build their own systems. This way, up to 100 percent of their home's electrical bills can be offset with solar.
Affordable Housing Priority
Tying things back to the issue of affordable housing, the City's focus is very much on projects like New Horizons and Parramore to ultimately provide more affordable housing options for Orlando residents.
"In the face of a rising need for safe, decent and affordable rental housing, we continue to search for ways and means to expand the community's stock of attainable units," Rowe says.