Raise the Roof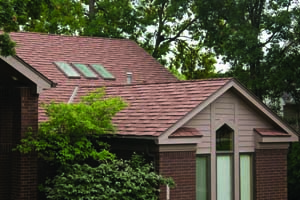 WHILE LOW-COST, EASY-TO-INSTALL modified asphalt shingles were a no-brainer roofing solution in the past, builders are no longer settling for this high embodied energy material derived from crude petroleum. That reality, combined with the fact that asphalt generally requires replacement every 20 years, is motivating homebuilders to consider more eco-friendly roofing options.

While metal and wood rank the highest from a sustainability perspective, cement composites, clay tiles and recycled rubber and plastic offer some green qualities as well. Overall, builders are encouraged to evaluate a number of factors, including expected product life, maintenance, life-cycle analysis (LCA), energy efficiency, material recycling and reuse, budget and local building codes in order to choose the best roofing material for a given project.
"Any roof system technology can meet the goals and purpose of sustainable roofing, recognizing product-specific trade-offs," points out James R. Kirby, AIA, vice president of sustainability at the Center for Environmental Innovation in Washington, D.C. However, "the product-specific positives and negatives have to be weighted, or prioritized, by the user/owner to guide product selection."
Gauging Metal
In applying a number of these considerations to metal roofing systems—namely LCA, maintenance, durability and end-of-life options—metal fares quite well.
In fact, Kirby ranks metal as the most sustainable option. "It is relatively lightweight, long lasting, has high recycled content and can be highly reflective to help lower energy use through a reduction of unwanted heat gain," he says.
While recycled content quantities do range from as low as 25 percent to upwards of 85 percent, Christopher Dixon, senior associate/architect and specifier at NBBJ in Seattle, claims that it's not the recycled content of metal roofing products that makes them such a good sustainable choice, but metal's high level of recyclability, combined with a long service life.
"Steel, aluminum, copper and zinc—commonly used for roofing products—are all highly sought-after materials, with a very robust reclamation industry ensuring that these valuable materials do not make it to the landfill," he explains.
According to the U.S. Green Building Council, metal roofing typically contains a minimum of 25 perent recycled material. That said, builders and architects can increase metal roofing's sustainability score by choosing products from local sources and demanding a higher percentage of recycled content.
Mark Yanowitz, principal and licensed construction designer at Verdeco Designs in Andover, Mass., recommends factory-applied durable finishes such as polyvinylidene fluoride, a.k.a. Kynar 500, for that added protection. At the same time, he warns against the use of dissimilar metals for roofing products, fasteners and related flashings, as they are often susceptible to galvanic corrosion in wet conditions.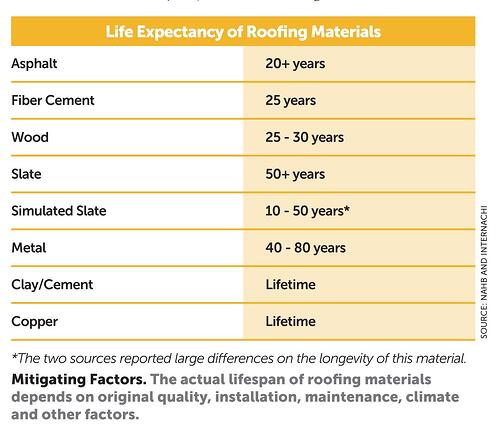 Overall, Kirby explains that roof system aesthetics, construction detail design, material choice, initial and annualized cost, roofer training and experience and maintenance should be carefully evaluated when selecting a metal roof.
Working with Wood
Dixon is a big fan of wood shakes and shingles, and categorizes these wood products as the most sustainable roofing choice.
"Wood is the only renewable roofing product available. It is low in embodied energy, sequesters carbon, combats global warming and can last a very long time, if used in the right way," he says. "Wood shakes and shingles are available as FSC certified and from reclaimed wood sources. For added durability, they can also be preservative-treated and warrantied for up to 50 years."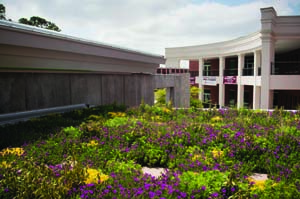 Sustainable Spectrum: Low-Slope Roofing

What is the most eco-friendly option for flat roofs? The durable synthetic rubber membrane known as EPDM (ethylene propylene diene monomer)—with its low installed cost—continues to be a popular choice. However, as a petroleum-based product with a fairly short service life, it is not all that sustainable.

Responding to the market demand for sustainable products, some manufacturers have begun offering "cool" EPDM in white, to decrease unwanted heat gain to the interior, extend the membrane's life and help mitigate the Heat Island Effect.

Otherwise, a protected membrane roofing assembly enhances durability for low-slope roofing and could therefore be considered sustainable, says Christopher Dixon senior associate/architect and specifier at NBBJ in Seattle.

"Thermoplastic polyolefin (TPO) membrane roofing materials are popular today and have recently replaced PVC as the most common thermoplastic membrane material," adds Mark Yanowitz, principal and licensed construction designer at Verdeco Designs in Andover, Mass. "They are generally preferred over PVC, as they are considered a 'cleaner' polymer, containing less problematic additives than their PVC equivalent. All thermoplastic membranes are recyclable, but to date, the local and national secondary markets are not well established." TPO is white (and therefore, cool), but longevity depends on the product quality and proper installation, so do your research.

At the same time, Yanowitz suggests that the leading sustainable strategy for flat roofs is integrating a green planted roof. "Along with protecting the roofing membrane below, these systems can greatly assist in the building insulation and in the reduction of stormwater runoff."
Popular in areas where wood is harvested, wood roofing systems are prevalent in the Pacific Northwest, Midwest, New England and a number of Canadian provinces. However, in regions where wildfires are common, such as Southern California and other arid areas in the West, if the building codes don't restrict them, they are probably discouraged by insurance companies. (For more details on this issue, the International Wildland-Urban Interface Code, as referenced in the International Building Code, is a good resource.)
Even so, Dixon points out that wood shakes and shingles can be treated with fire retardant to Class B and C classifications, and can even achieve a Class A rating in some assemblies.
In order to ensure longevity, Steve Maxwell, a DIY expert and syndicated home improvement columnist, recommends installing wood roofing products over a breathable underlay that also includes back-of-shingle spacing for ventilation and drainage of condensation.
If properly installed and maintained, wood should last longer than most asphalt shingles, according to Yanowitz. As a natural product, they can also be composted at the end of their service life.
Recycled Polymer Roofing
Jumping on the recycling bandwagon, a number of companies are now offering shingles made from recycled rubber and plastic. Lightweight, affordable, easy to install and theoretically recyclable, these products are gaining attention in the marketplace.
Although the environmental impact of manufacturing does need to be closely examined to evaluate their true life-cycle costs, recycled roofing may be poised to achieve the sought-after cradle-to-cradle sustainability objective, according to Yanowitz.
By preventing the extraction and transport of virgin raw materials, recycled roofing products are considered very sustainable. However, Kirby points out that the reclaimed rooftop materials require packaging and transportation to the manufacturer's facility for reuse. In addition, some reclaimed rooftop materials may contain components such as metal fasteners and adhesives, thereby rendering those portions unusable for new roofing products.
In addition, Dixon cautions that a number of failures have occurred with recycled rubber/plastic shingles and some companies originally manufacturing them are no longer in business. "These products are relatively new to the market and long warranties should be regarded with some skepticism," he says.
In a similar vein, Yanowitz points out that plastic products have not been in the market long enough for builders to know how stable they are, how well they hold up to UV light degradation and what kind of expansion-contraction issues may occur over time.
Choosing Cement Composites
Also scoring high in the recycled content category are cement composite roofing materials, such as fiber-cement shingles, which offer good durability.
"This durability factor can translate into lower life-cycle costs as maintenance and replacement costs are reduced if the roof is also integrated with a long-lasting building," reports Yanowitz.
At the same time, Maxwell points out that the sustainability of cement composites depends entirely on the source of feedstocks used for production and, more importantly, the source of energy used to create the cement.
In agreement, Yanowitz notes that generally speaking, fiber-cement products have high embodied energy. In attempt to address this, some companies are using fillers like wood fibers or fly ash to reduce the required amounts of cement, concrete and aggregate material. Another side benefit is that these filler materials create tiles and shingles, which weigh significantly less than standard concrete roofing products and therefore require less energy to transport.
On the flip side, Dixon reports that some fiber-cement roofing shingle products were discontinued after beginning to fail from swelling, cracking, shrinking or discoloration within five years. "There have been some new fiber-cement products introduced of late, but consideration should be given to this material's history, and a thorough reading of the warranty exclusions is highly recommended."
Considering Clay
When evaluated based upon durability and long-term performance, clay tiles are considered sustainable. However, a large amount of energy is used to manufacture and transport these products, so local production and sustainable energy sources are an important consideration, says Maxwell.
When installing clay tiles, choosing a durable underlayment is key. Otherwise, this component may fail before the tiles themselves, thereby compromising the system's longevity.
For example, Kirby recommends heavy, redundant asphaltic-based sheets/membranes, which would be the equivalent to a BUR or modified bitumen roofing membrane. In addition, synthetic underlayment may do the trick, but the key is choosing tough, water-resistant and heat-resistant underlayments, particularly in hot, dry climates.
One underlayment material to avoid is traditional roofing felt, warns Yanowitz, as the petroleum-saturated paper is brittle and can easily tear during installation.
Making a Choice
Throwing a couple more products into the eco-friendly mix, Maxwell likes synthetic shingles—made from 100 percent post-consumer recycled plastics and fibers, offering a service life of 50 years—and natural slate roofs, which can easily last between 75 and 150 years. Although first cost runs higher, when viewed over the long term, natural slate can be a very good investment.
Meanwhile, Dixon is fond of thermoplastic single-ply membranes. "These products have an extremely low embodied energy, last a very long time, create a lightweight, monolithic plane of water resistance and, theoretically, can be recycled at end of life."
Ultimately, Kirby points out that every roofing material choice has both positive and negative attributes related to sustainability, and there is no such thing as a perfect product. To help builders navigate this complex reality, the Center for Environmental Innovation has created the RoofPoint Guideline for Environmentally Innovative Nonresidential Roofing, available at: bit.ly/1q5OjbA
As a sustainability rating system for new roof construction and reroofing work, Kirby explains, "RoofPoint provides valuable information about the topics mentioned above, in addition to a number of additional sustainability topics relevant to roof systems."