Radiant cooling can effectively manage a home's cooling load by reducing the total demand on its forced-air system.
AS MORE HOMEOWNERS place increased emphasis on sustainable and responsible building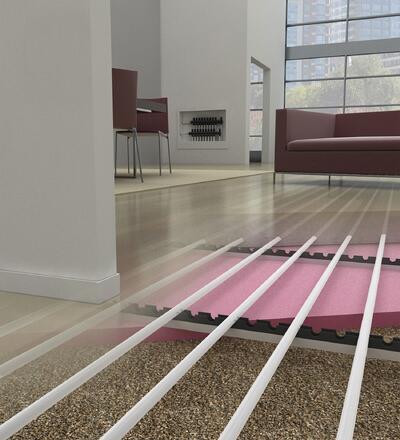 practices, architects, home builders and designers are looking beyond traditional HVAC solutions to maximize energy efficiency, while maintaining occupant comfort and safety. A number of innovative systems have been incorporated to help attain LEED® certification in recent years, and one such system is radiant cooling.
For more than 40 years, radiant floor heating has enjoyed popularity both here in North America and abroad. In a radiant floor heating system, warm water circulates through a series of crosslinked polyethylene (PEX) piping loops located in or under the floor. The warmed floor surface radiates heat to objects and occupants in the space, creating a comfortable environment.
This same principle is used in radiant cooling, only inversely. In a radiant cooling system, the cooled floor surface pulls heat from objects and people in the space. And in most cases, the same series of piping loops used for heating can also be used for cooling. The difference is in the temperature of the circulating water. A radiant cooling system can effectively manage a portion — in some cases, all — of the home's sensible load. This, in turn, reduces the total demand placed on a forced-air system.
Dramatic increase: Over the past decade, the number of radiant cooling systems designed, installed, and commissioned in North America has increased dramatically. While most of these cases are in the commercial sector, some residential structures have found radiant cooling to be an effective form of comfort as well.
Radiant cooling systems are gaining exposure and popularity for a variety of reasons. They can provide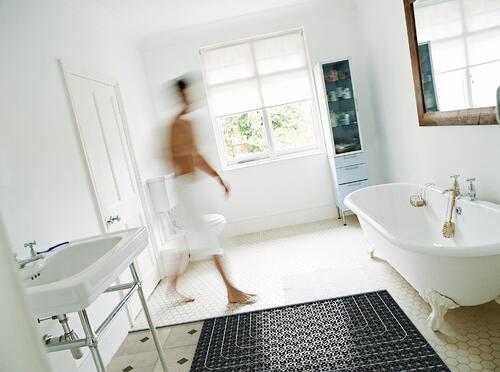 greater architectural freedom, superior comfort and more effective control of ventilation. However, the main driving factor for the increase in radiant cooling is the potential for improved energy efficiency.
Radiant cooling systems can reduce overall building energy usage in a number of different ways.
Because the heat-transfer capacity of water is much higher than that of air, a radiant system that uses a circulator to move water (in lieu of a fan to move air) can achieve the same heat transfer using significantly less energy.
Because of the way the human body exchanges heat with

its surrounding environment,

a radiant system can achieve comparable levels of comfort at higher room temperatures; i.e., 78 degrees F/26.6 degrees C. Also, sustainable sources for chilled water (such as geothermal systems) may also be used, significantly reducing a home's total energy usage.
In addition to the potential for dramatic energy savings, radiant cooling can be seen as a sustainable strategy for a number of other reasons as well.
The crosslinked polyethylene (PEX) tubing in or under the floor requires no maintenance.
The radiant cooling system, including the chilled-water source and distribution, requires no greater maintenance than typical fluid-based systems. Therefore, a radiant system that can decrease the size of the airside system can also reduce the need for disposable filters and belts.
PEX waste tubing can be readily processed and re-purposed into a variety of consumer goods, such as landscape timbers, asphalt filler, concrete filler and even other pipe products as a filler.
As a growing number of homeowners are demanding high-performance homes, professionals should look to all options for sustainable solutions to reduce energy usage, while maintaining function. A radiant cooling system is a solution that should be explored to offer an effective and energy-efficient alternative to a conventional, forced-air-only system.
---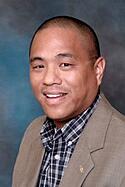 Devin Abellon, P.E.,
a 19-year HVAC industry veteran, is the Business Development Manager for Engineering Services at Uponor. He can be reached at
devin.abellon@uponor.com
.