Quikrete Re-Cap Concrete Resurfacer
Designed to repair and renew old, spalled concrete with a permanent wear-resistant surface that can withstand foot, vehicle and other heavy traffic, the new Quikrete Re-Cap Concrete Resurfacer has a bond to concrete that is four times stronger than the concrete itself. That means a concrete substrate will fracture or crack long before its bond with the Re-Cap Concrete Resurfacer breaks down.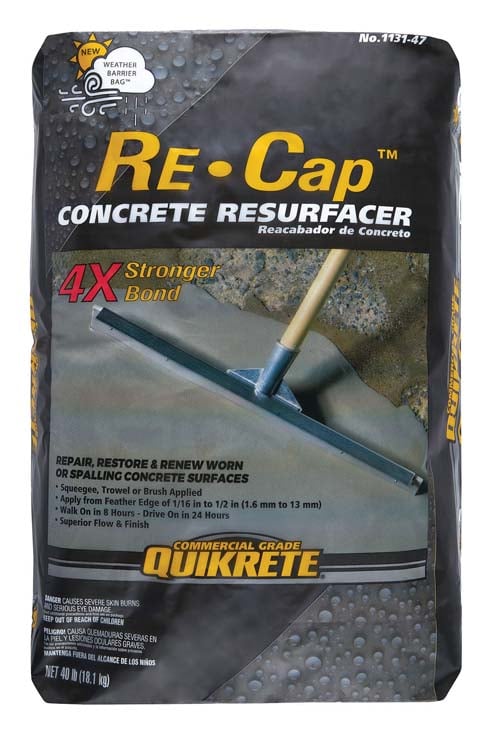 Quikrete's Re-Cap also has superior working time and flow characteristics than other resurfacers on the market. As a result, it's easier and faster to transform a deteriorated concrete surface into a durable, lasting sidewalk, driveway or patio.
A proprietary blend of Portland cement, graded sand, polymer resins and other additives, Quikrete Re-Cap Concrete Resurfacer is a proven shrinkage-compensated tool material for making thin structural repairs to sound concrete in need of surface renewal. Applied with a squeegee, trowel or brush, one 40-pound bag will cover approximately 40 square-feet at one-eighth-inch thick and up to 80 square feet as skim coat. With a walk-on time of eight hours and drive-on time of 24 hours, it can renew a surface for about 25 cents per square foot—versus $3.50 to $5.50 per square foot—to remove and pour a new slab.