EXCLUSIVE GB INTERVIEW
Putting Cities to Work

Former HUD Secretary, Henry Cisneros, says its time we realized that the U.S. is going urban, and begin to create sustainable housing that's affordable to the working class.

By Green Builder Staff
GB: What is it that's most exciting to you when you head to your desk in the morning?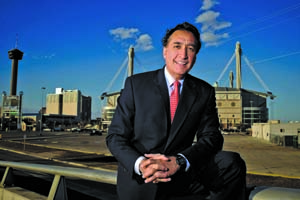 HC: The knowledge that, in providing homes, we're making it possible for people to live full lives to their full potential and raise their families in safe and decent settings. It has so much to do with every other dimension of quality of life—be it the ability to get an education, the ability to work, or the ability to live in health.

GB: You seem pretty passionate.
HC: To me, the happiest moments of my professional life are when we open a community on a Saturday morning and we have several hundred people there—some of them buyers and others are just curious. What I say to the assembled crowd is, "Look around, because these slabs and foundations you see, and these homes and model homes—they're all places where people are going to live their lives, and we're all fortunate to be a part of this work.

GB: I understand that you've become involved in a new effort to redevelop American cities, through the CityView program.
HC: Yes. CityView is unique, as one of the only companies in the country that's assembling institutional capital and then finding ways to return on that capital by building homes in cities. These are homes that are in the middle rank—not upscale high-rise buildings, and not the lowest cost affordable—because that requires government subsidies. This middle band is for the firemen, policemen, nurses, teachers, civil service workers and average folks to be able to live in central city neighborhoods.

GB: That's often a tough market to build for, because of land prices and so on.
HC: It requires a lot of creativity to buy the land and develop it with prices that work, and in locations that are related to transit. Our hope, however, is to change the street-scape—the landscape of cities—at a time when the wind is behind the sails of many cities and their prospects look very good going forward, to make sure working families can be a part of that future.

GB: You've said that cities "must be constructive participants in environmental sustainability strategies." Could you elaborate?
HC: Environmental experts tell us that the largest producers of carbon dioxide emissions in the world are cities. They also tell us that the average global temperature really cannot rise more than 2 degrees Celsius if we're to avoid really dangerous changes in the world's ecosystem. That means global carbon emissions have to be limited to about 870 gigatons of CO2 between now and 2100. With the current trajectory, cities will generate one half of that total amount in just the next 30 years.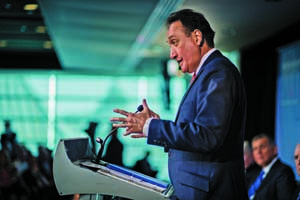 GB: So a major shift is needed?
HC:It means changes in everything: building materials, building types—it means heating and air conditioning systems, it means passive energy systems and solar, transportation initiatives, orientation of buildings on sites where we build all kinds of things that cities are going to have to do creatively. Otherwise, we doom ourselves to unacceptable levels of carbon emissions and, soon thereafter, unacceptable levels of climate change. The solutions are very doable. We now know the technologies, and can see that they're within price ranges that can be affordably offered.

GB: When we think of infrastructure such as bridges, highway systems, and so on. But isn't the larger issue right now environmental sustainability?
HC: Infrastructure today is a lot more than just bridges and road systems, water, electricity, airports, seaports and all of those traditional things. It's broadband availability. It's things like data centers. It's the smart grid that transforms the old electric meter from a reporting instrument to something that can actually help manage energy.

GB:The expectations seem pretty daunting.
HC: Absolutely, but what we're going to see in the next generation is not just more of the same infrastructure, but rather qualitatively different infrastructure, which has the possibility to be more user-friendly, more efficient—and to be priced in different ways.

GB: I was reading how there's a proposal in the House of Representatives to repeal the act that eliminated the incandescent light. How do we create the platforms for human progress that will broaden the acceptance of environmental actions?
HC: I've recently read some very insightful, wise counsel from Europeans who have had success in imposing global warming initiatives in cities in Northern Europe. What they have tried to do is link up the concepts of sustainability—which frequently suggests a lower quality of life or even sacrifice with urban livability. If we can link the idea that we can make a place work better, with a better quality of life that's less costly—with the use or public transit or different treatment of building structures—then according to the Europeans, people [will be more accepting].

GB: How can we reconcile those quality of life values with affordability?
HC: Take a look at the Enterprise Foundation, which has come out with a series of not only environmental goals, but affordability imperatives—stipulations that green techniques will apply to the affordable homes that it builds. Those stipulations address the entire range of building concerns—such as connections to existing water and sewer lines—so that you don't have to build new infrastructure, with linkages to other communities through sidewalks, orientation of the building on the site to max-out use of sunlight and breezes, adaptive reuse of the sites themselves, nearby transportation choices, landscaping, surface water management, energy efficiency in construction and rehabilitation, energy efficient appliances, better use of materials—including the way recycled waste is handled—recycled materials, salvaged wood products, paints and primers.

GB: That's quite a thorough list.
HC: These are on-the-ground, practical people and they've thought of every dimension of the engineering and design of a home to strike a balance between environmental responsibility and affordability. This is not an argument about whether it can be done or not—they've proven it can be done, now it's a question of putting that into the marketplace so that it becomes the norm that consumers ask for.
GB: We hear a lot about "urban crisis," but what I'm hearing you describe is "urban capital."
HC: You're exactly right that what I'm describing is not an urban crisis, but an urban opportunity. What I'm describing is an era in which metropolitan areas are going to be more important. Although the new census isn't out yet, we know we're at somewhere around 310 million people. More importantly, we know we're going to grow to about 410 million people by 2050. In order to provide housing for those people, in order to provide the needed jobs, we're going to have to build a great deal in the United States. In fact, by one analysis, we now have 255 billion square feet of built environment in the United States. It is estimated that we will need 426 billion square feet by 2050.
GB: One area that's especially challenging is valuation, appraisal and financing of buildings. Any thoughts on that?
HC: You're right. There's an issue that most financial regimens don't give credit for energy efficiency. They simply don't take it into account in the appraisal process, and you don't get credit in the financing process. We're going to have important work as a society in persuading financial institutions that this really is an investment that's going to be paid back. Then there are issues of where the capital comes from. I'm very proud of my colleagues at CityView, because part of their purpose is to allocate capital to builders. We've worked with some of the best people in the industry, built in 54 communities in 12 different states, and there's much more to come in metropolitan areas. But of course CityView also has to raise that capital.
GB: In the presentation you prepared for the U.S. Green Building Council, you said that 350 trillion dollars must be spent on infrastructure around the world over the next 30 years. That's a stunning figure. Is it achievable?
HC: I think it's going to have to be both the public sector's and the private sector's [efforts]. The public sector is slowly moving in that direction—although there are a lot of ideological fights—but [the real push] will come out of the professional groups that do building codes, as they're adopted by local governments. We'll see a lot more of that happening in the years going forward.
GB: That's been our position as well.
HC: You already see it in the bigger builders, as they edge forward, showing alternative energy options in their sales centers, building them into their model homes, offering them as options and seeing what the market will bear, making the calculations for homebuyers of what the savings will be over the long haul. The financial sector is the next one that needs to "get it," and I think we have some important work to do there. We need to impress upon banks that this is an important thing needed to integrate into building strategies. CityView will continue to raise capital and solicit builders who want to do the right thing, and show that it can be done economically.
GB: A good part of your mission is social equity, which is kind of the third leg of this stool.
HC: I'm a Latino, I'm an ethnic minority in the United States, and I live in my grandparents' old home refurbished in one of the poorer areas of my hometown, San Antonio, so I'm never very far from the reality of people who are older and poor and in-need and young families who are struggling. So I think I'm rooted in the reality of what really is needed in our country. Homeownership is an important dimension of moving people to the middle class. And the only way we're going to project homeownership in the future includes sustainability and greening. We've seen too many people lose their homes due to the combination of transportation prices and energy bills on top of the mortgage. We need that smartly located infill home with responsible energy use, so that people can afford to stay in it once they're in it. There's a big market out there for that middle range of housing. I like to say, I'd rather have a Target or Walmart strategy in terms of dealing with the mass needs of our society in housing than a Neiman Marcus strategy that deals only with the top of the pyramid.
GB: Considering the multi-trillion dollar investment it would take to repair America's existing public water supply infrastructure, would you agree that new construction of homes should include water sources that are "off the grid" such as rainwater harvesting?
HC: Absolutely, there's no question. I served as mayor of San Antonio for eight years. San Antonio is the largest city in the U.S. that doesn't draw its water from a surface water source. There is no river, there are no lakes, there is no desalinization that works for us—no importation from the Colorado River or other places. Our water comes from an underground aquifer, which means we have to be very careful, because when it doesn't rain for long periods, the level of the aquifer drops. Many of our golf courses and yards are already irrigated with recycled water. As the American population continues to move to the South and West, cities like Phoenix and San Diego have had to go to great lengths to develop strategies for water. Conservation of water supply is critical—it's one of the great issues of our time.



READ MORE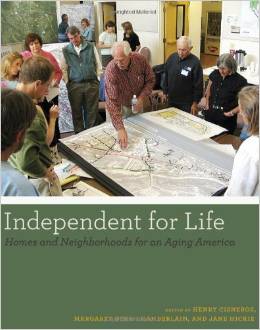 Independent for Life covers a wide range of smart solutions, including remodeling current housing and building new homes for accessibility and safety, retrofitting existing neighborhoods to connect needed services and amenities, and planning new communities that work well for people of all ages.