So what if Trump doesn't believe in climate change? Some of us are going ahead with the fight anyway.
THE MIND ONCE ENLIGHTENED cannot again become dark." So said American Revolutionary leader and writer Thomas Paine. So say we all.
Just because President Trump chooses not to lead on climate change doesn't mean the rest of us can't.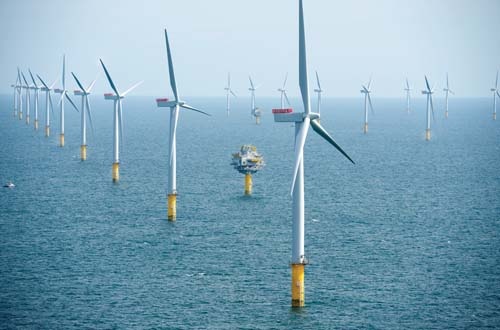 Offshore windfarms are are gaining popularity—another sign that green building technology is becoming widely accepted.
Just last month, my own State of Maryland gave a unanimous go-ahead for the largest offshore windfarm ever constructed near the U.S. Atlantic Coast. Globally, half of all investment in new energy production is toward development of renewable energy. Green building technology and adoption is rapidly spreading and becoming more commonplace. No temporary occupant of the White House can change all of that.
Humanity has reach a vital inflection point of understanding.
It is possible—with existing technology and science—to reverse and draw down the amount of carbon dioxide we humans pump into the air.
Read that sentence again.
There is no typo.
Project Drawdown—the most comprehensive plan ever proposed to reverse global warming—shows us how.
"Drawdown" has been led, inspired and edited by renowned environmentalist Paul Hawken—a man I am honored to call a friend. Paul is one of the most fearless and inspiring American leaders in the world today on the great challenge of climate change. His magnum opus is a research project of global proportions: Drawdown: The Most Comprehensive Plan Ever Proposed to Reverse Global Warming. Drawing from the best science on best practices, this new book—published by Penguin in 12 different languages—is a crowd-sourced healing of the deepest and potentially most far-reaching kind.
Don't let the words "book," "research" or "science" fool you. This is not another exercise in connecting the dots of physics into a straight line that leads us all to hell.
Paul brings to this project the "can-do American pragmatism"—and belief—that created the American Revolution, won the World Wars and landed a man on the moon. It has been my great honor to serve with many others on the advisory board of this critically needed work.
For the record, environmental "drawdown" is that point in time when the concentration of greenhouse gases in the atmosphere begins to decline on a year-to-year basis.
Most people with a basic understanding of the problem understand that it is not enough to level off emissions. We must actually redesign our human activities on the surface of this Earth so that we draw more carbon and other harmful emissions out of the atmosphere every year than we pump into it. And we can.
As our website says: "Drawdown maps, measures, models and describes the 100 most-substantive solutions to global warming. For each solution, we describe its history, the carbon impact it provides, the relative cost and savings, the path to adoption and how it works. The goal of the research that informs Drawdown is to determine if we can reverse the buildup of atmospheric carbon within 30 years. All solutions modeled are already in place, well understood, analyzed based on peer-reviewed science and are expanding around the world."
Adele Peters, writing for the website MatterofTrust.org, lays out the practical audacity of achieving Drawdown in this way: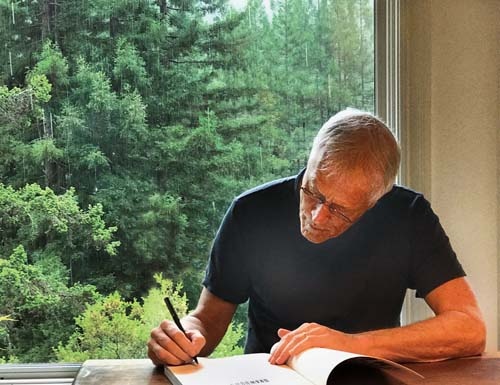 "Nothing new needs to be invented. The solutions are in place and in action."—Paul Hawken
"The new book considers two types of solutions that could potentially bring that atmospheric concentration down: technologies and practices that can avoid emissions compared to business as usual, and those—like planting trees, or managed grazing, which uses cattle to bring back native grasses—that can help absorb more CO2. Using the best available data, each solution was modeled in three scenarios, each with an increasingly aggressive scale of adoption.
"The 'plausible' scenario looks at an optimistic but somewhat conservative path for adoption of each solution (trips by bike, for example, are assumed to rise from the current global rate of 5.5% of urban trips to 7.5% by 2050). The 'drawdown' scenario scales those solutions up. The final scenario, called 'optimum,' looks at the maximum potential of the solutions, such as the adoption of 100 percent clean, renewable energy. Each scenario ranks the solutions by potential impact."
Wind energy, solar farms, silvopasture, educating girls, green buildings, changes in refrigeration technology—each of these actions, based on current technology, are ranked by scientific criteria from most impactful to least. The cost of creating a more prosperous, healthier and secure future for our kids turns out to be less than the cost of clinging to business as usual. That's right—creating a more sustainable way of living turns out to be more profitable than pumping carbon into our thin atmosphere.
And while there is a preview of upcoming technologies like Hyperloop transportation and other promising innovations on the energy frontier, the real service of this great work is understanding what is actually possible, here and now.
Reading through Drawdown, with its clear, plain-spoken explanations, photos and graphics, one feels lifted up on the wellspring of goodness and humanity that has been brought together in these life-giving pages.
We need not let the darkness of our national politics rob of us of our ability to see, to feel and to act.
Or, as Thomas Paine said it, "We have it in our power to begin the world over again."
Project Drawdown shows us how.
---

Martin O'Malley served as Governor of Maryland from 2007 to 2015 and as Mayor of Baltimore from 1999 to 2007.
He has lead widespread sustainability initiatives, from massive cleanup efforts in the Chesapeake Bay to strong advocacy for a 100 percent national renewable energy mandate by 2030.
Resources
Drawdown: The Most Comprehensive Plan Ever Proposed to Reverse Global Warming. www.drawdown.org
"Project Drawdown—The 100 Things We Need to Do to Reverse Global Warming." http://bit.ly/2umF7Uc
Hyperloop technology overview, Wikipedia.