Pope Francis and Climate Change: Hyperbole, Hysteria, or Hope?
The climate may have just found its most effective advocate in the Pope. Will climate deniers succeed in diminishing his message, or will his unflinching stance inspire swift and unified global action?
Pope Francis has rocked the world with a sweeping 184-page encyclical (teaching letter) officially released today that wages war on climate change. His message is brave and direct: climate change has been caused primarily by human activity; humans have been irresponsible stewards of the planet; citizens of developed nations must change their lifestyles in order to eliminate an abhorrent "culture of waste"; and every one of us must step immediately for an all-inclusive crusade to avert the "unprecedented destruction of the ecosystem" before the end of this century.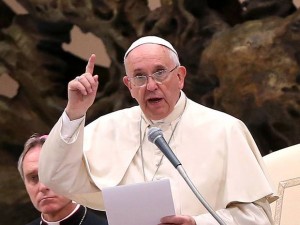 Photo courtesy of CathNews USA
The Pope's core narrative focuses on stewardship and "integral ecology", connecting care for the environment with morality, loving kindness, and faith. He particularly emphasizes the need to care for poor, vulnerable communities and traditionally marginalized people who have already been impacted by nature-based catastrophes.
The encyclical is not a detailed scientific study. Rather, it's one holy man's thoughtful reflection upon "humanity's God-given responsibility as custodians of the Earth." It's the Pope's way of fusing humanity and ecology.
Through his letter, the Pope isn't trying to prove anything to anyone. Instead, he turns climate action into a moral imperative, attempting to unify and inspire people from all walks of life with the suggestion that the planet, and existence itself, is a precious gift, and that each one of us has the responsibility to care for it joyfully, vigilantly, and tenderly.
He certainly doesn't hold back his admonishment for our relentless exploitation of the environment—he begins the letter by claiming that the planet "is protesting for the wrong that we are doing to her, because of the irresponsible use and abuse of the goods that God has placed on her. We have grown up thinking that we were her owners and dominators, authorized to loot her. The violence that exists in the human heart, wounded by sin, is also manifest in the symptoms of illness that we see in the Earth, the water, the air and in living things."
He continues by rebuking our apathy, reckless pursuit of profits, blind faith in technology, and political shortsightedness. He states that "our immense technological development has not been accompanied by a development in human responsibility, values, and conscience." He rejects the idea that technology and our current economic and political systems will effectively address the increasingly urgent issues of environmental degradation, widespread global hunger, and daunting poverty.
Pope Francis is calling for nothing less than new world order to tackle climate change. He has effectively translated age-old religious principles into a modern day vernacular, marrying the imperative for sustainability with spiritual morality.
Scientists and environmentalists of all faiths are overjoyed that one of today's most powerful and pious leaders is heralding immediate climate action.
Critics interpret the document as an attack on capitalism and unsolicited political meddling in one of today's most contentious issues. Certain Presidential candidates are trying to diminish the Pope's message by calling for a separation between politics and frank discussion about the climate—as if political and environmental leadership can realistically continue to be divorced in these environmentally tumultuous times.
Ironically, these same candidates have no problem invoking religious principles to address other key issues—particularly those that have to do with our bodies and bedrooms. No doubt, everyone has the right to his or her own beliefs, but to avoid hypocrisy, those beliefs need to be consistent.
The Pope's letter includes a stinging rebuke for climate deniers, claiming that "the attitudes that stand in the way of a solution, even among believers, range from negation of the problem, to indifference, to convenient resignation or blind faith in technical solutions."
Interestingly, the erroneous claim made by skeptics that climate change shouldn't be addressed by anyone that isn't a scientist is invalidated by the fact that the Pope actually is a scientist—he was a trained and practicing chemist prior to entering the seminary.
One doesn't have to agree with all of the Pope's religious convictions to be drawn to his intrepid transparency. He has the ability to influence billions of people around the world, but it's not his platform that inspires me the most, it's the courage of his convictions, the sincerity of his faith, and the boldness of his commitment.
Perhaps the Pope's bravery stems from the fact that he doesn't have to worry about his job. He's not concerned with quarterly reports or reelection or how oil companies will respond to his message. He doesn't have to bother with pandering to a hoped for constituency. He only has to answer to one higher authority, which gives him the liberty to freely follow his principles, display his passion, and showcase authentic leadership.
In calling on humanity to change our "lifestyles, production and consumption to combat global warming", the Pope's desired outcome is not just to influence the world's 1.2 billion Catholics, but also to have a meaningful impact on leaders from 190 nations attending the upcoming United Nations conference on climate change in December in Paris.
Some experts believe that the Pope's missive will have a greater impact on the climate change movement than any prior or future UN meetings, particularly since it gives cover to leaders in polluting countries with large Catholic populations like Brazil to set more aggressive policy than would otherwise be considered politically prudent. In the Pope's own words, let's hope "that everyone can receive this message and grow in responsibility toward the common home that has been entrusted to us." With any luck—and providence—the encyclical will not only elevate awareness about climate change, it will also influence policy, shift economics, and inspire swift and unified global action.
What do you think about the Pope's missive and its potential to impact the climate movement? Write to me at sara.gutterman@greenbuildermedia.com or follow me on Twitter or Facebook.
For more information about green building and sustainable living, visit Green Builder Media at www.greenbuildermedia.com, like us on Facebook, and follow us on Twitter for regular updates and breaking news.