Passive Townhomes Cluster on Infill Site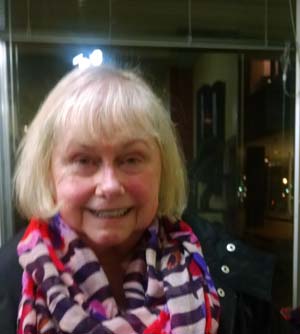 Christina B. Farnsworth, Guest Columnist
3 min read
View Haus 5 achieves Passive House standards with air-tight, super-insulated building envelopes and high-performance south-facing windows.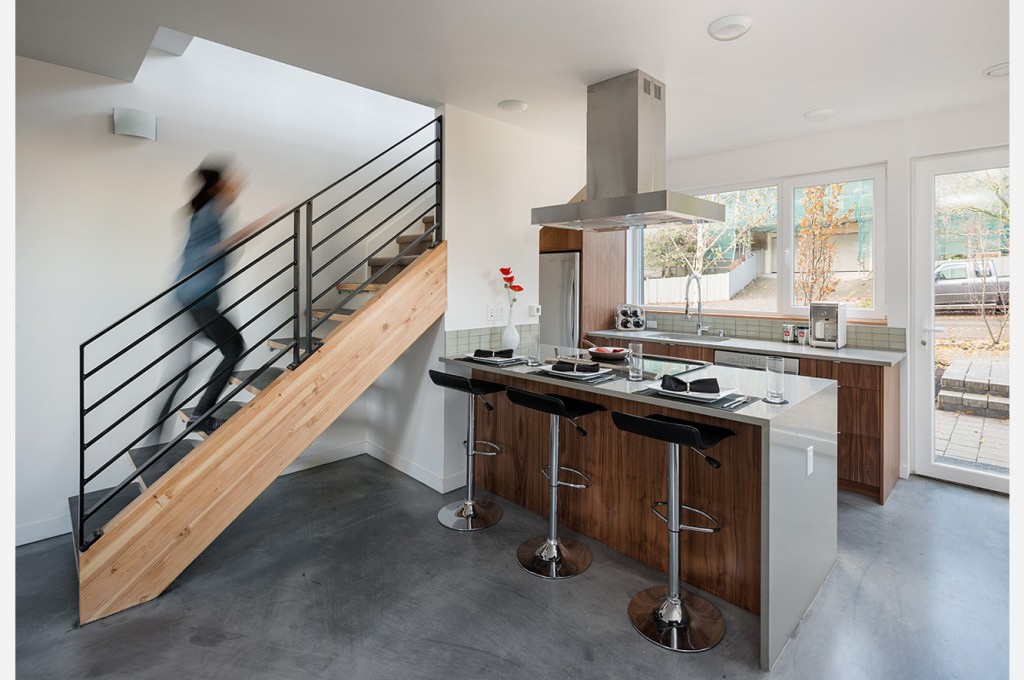 Sunny Side: Kitchen with its south-facing windows.
"IT'S ABOUT BUILDING HOMES that I would live in with my own family," says Sloan Ritchie of Cascade Built. He does live in his first passive home, the award-winning Park Passive.
View Haus 5 is aptly named; it is a five-unit Passive House community with views of the Cascade Mountains. This is also infill at its best. The five townhomes designed by b9 architects are at 208 25th Ave. E., in Seattle's Madison Valley neighborhood. They occupy a 4,800-square-foot lot where a single-family home once stood.
100-year-old barn siding from Montana
The townhomes look settled in place; they are clad with100-year-old recycled barn board from Montana. The homes are a mix of 3-story two bedroom, two bathroom and three bedroom, two bathroom townhomes ranging in size from 1,100 to just over 1,700 square feet.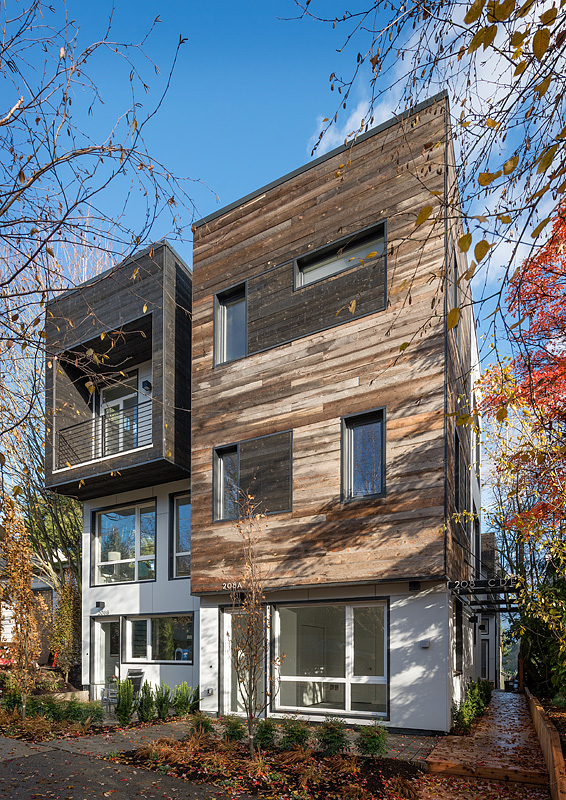 Old is New: Sheathed in 100-year-old barn siding fron Montana, five townhomes share a lot that once held one single-family home.
Individually Designed
Unlike most townhomes that are small variations on a theme or mirror units of one another, each of these have been individually designed by b9 architects. The small community includes a central common courtyard.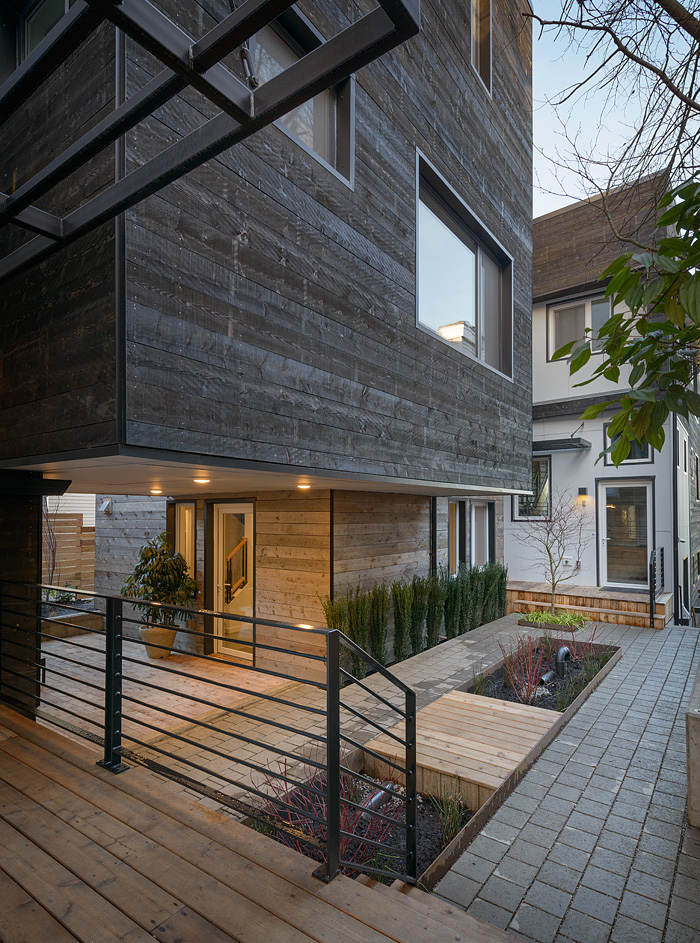 Courtyard Clustered: Homes share a courtyard.
Each home has a private rooftop deck with a gas BBQ. Kitchens feature induction cooktops, custom, locally-made walnut cabinetry and Energy Star appliances. Windows are high performance European windows from Zola. Window sills are salvaged Douglas fir recycled from the original home that was on the site. Each unit has an electric vehicle charger. All lighting is LED.
The air-tight building envelopes hold in warmth and traps heat from other appliances, such as the stove. The dryer is a ventless model. Walls are R-39, roofs R-63. The HVAC system is a high-efficiency, ductless, HP-mini split paired with a 90 percent efficient Zehnder Heat Recovery Ventilator (HRV).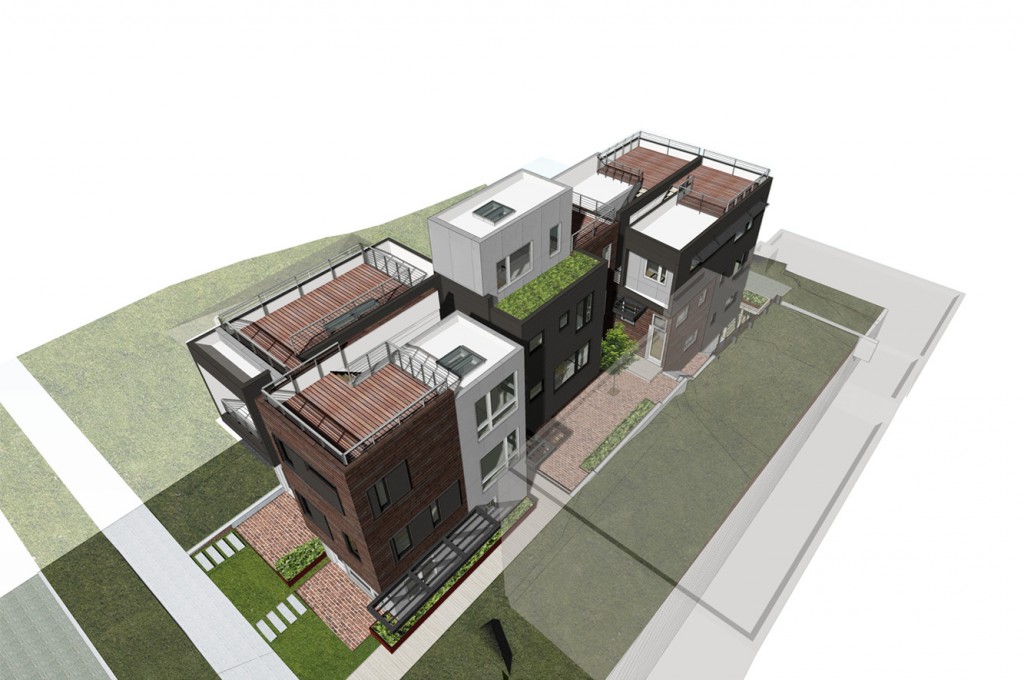 Five Where One Once Stood: Rendering shows how units fit together on the lot and the rooftops with their decks and greenery. The lot once held a single-family home.
When those high performance windows are closed, one cannot hear the noise pollution from traffic whizzing by.
According to the Passive House Web site, "Passive Houses are also praised for their high level of comfort. They use energy sources inside the building such as the body heat from the residents or solar heat entering the building – making heating a lot easier." There is an old saying that it is easier to save a BTU (British Thermal Unit) than it is to make one.
Certification
Because of the cost of certification, Ritchie is only going to certify one of the townhomes with Passive House Institute US. Ritchie estimates the homes cost five to 10 percent more to build than traditionally built homes. However, savings in energy costs make up that cost for homeowners over time.
Homes for Sale
Three of the homes remain for sale: two-bedroom Unit B has two bathrooms and is 1,316 sq.ft. on a sq.ft. 740 lot and priced at for $629,000. The two-bedroom Unit C has two bathrooms and a powder room. It is 1,713 sq.ft. on a 1,202 sq. ft. lot selling for $775,000. The three-bedroom Unit E has two bathrooms and is 1,713 sq.ft. on a 1,202 lot sq.ft. lot and is selling for $789.000.

"We know that buildings are the number one consumer of energy in the world, and we know how to change that, but that's not even what is so amazing about Passive House construction," says Ritchie. "For me and my family, it's an overall improvement in our health and happiness – living comfortably and being mindful of how comfortable it is to sit in front of windows in the middle of winter and not feel an ounce of cold, drafty air."
"A friend of mine said it years ago when we were enjoying life and what it had to offer to its fullest – 'it's good living'. It's our company mantra exemplified in this project," says Ritchie.
---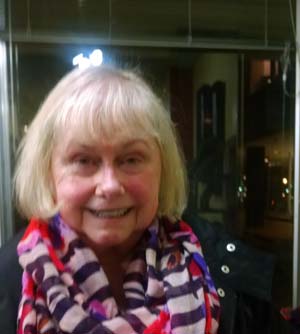 An award-winning journalist with more than 20 years experience covering the shelter industry, Christina resides in Tucson and is long-established active member of the National Association of Real Estate Editors.