Passive House Has Solar Corridor that Doubles as a Clothes Dryer
This unique home's smart and solar bells and whistles reduce its ecological footprint even more.
Building a home up to standards required to be deemed "passive" might make some builders cringe. But when the Valle Group received such a request, it was almost par for the course. The Cape Cod, Mass.-based builder specializes in carefully planned, energy-efficient homes.
Mike Katon, Valle Group's senior project manager, says the company had already built a passive house, and thus knew about items such as super-thick insulation and the membranes required to keep a building airtight, as well as the risk of a seemingly minor occurrence like a nail puncture in the home's wall cavity.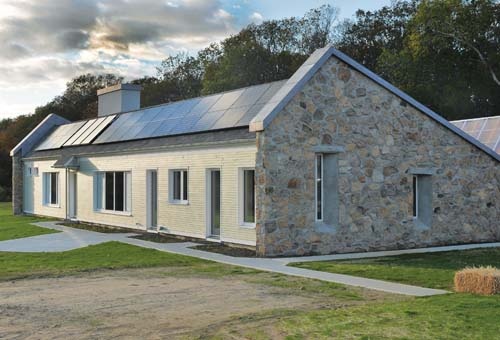 The learning curve for building a passive house was "probably not as steep for us as it would be for some builders," he admits. The bigger challenge was what homeowner Hank Keating wanted the Valle Group to do with it.
"(Keating) had some very unique ideas for his one-of-a-kind home," Katon says. Those included a lengthy solar-warmed corridor to connect separate parts of the house, an on-demand, near-instant water heating system, and energy-saving fireplaces that help control how long the home retains heat.
Mission accomplished. Keating's home, Stone Fruit Farm in Westport, Mass., won a 2016 Silver Prism Award from the Builders and Remodelers Association of Greater Boston for Best Passive Home. No surprise about the kudos: Last Valentine's Day weekend, when the nighttime temperature plummeted to -5, the house never dipped below 63 degrees—without any energy usage. (During that same weekend, the daytime indoor temperature ranged from 68 degrees to 72 degrees.)
Dry Like the Sun
As proposed, Stone Fruit Farm would include numerous planet-saving facets. One of the more striking ones is a solar corridor that would link the 1,800-square-foot main house to its neighboring guest suite, barn, woodshop, root cellar, garage and greenhouse.
Key elements of the corridor included a wall of south-facing windows to collect sunlight, and a concrete block in the interior to absorb the heat. That's because the corridor had to double as the clothes dryer. According to Keating, who is also his home's architect, you're allowed to have a dryer in a passive house. But clothes dryers are "wicked energy hogs" that on average account for 12 percent of a home's energy bill, he says.
"One of the sad things in our country is that in the last 50 years, we've moved away from drying our clothes outside, even in the summertime, when it's easy to do," Keating says. "If everybody could dry outside when convenient, we could save millions of BTUs."
That's why this house lacks an electric dryer hookup, which would also have required a special plug and circuit breaker, Keating adds.
Not putting something in was easy enough. What made the 120-foot solar corridor "a little bit of a head scratcher" was that its location was going to be on an incline in land that couldn't be regraded without "creating major headaches as far as retainage," Katon says. For that reason, "we had to understand how the concrete base (and) how all that glass was going to climb the hill, rather than use the typical builder's approach: adjust the land to allow the structure to be straight, square and level."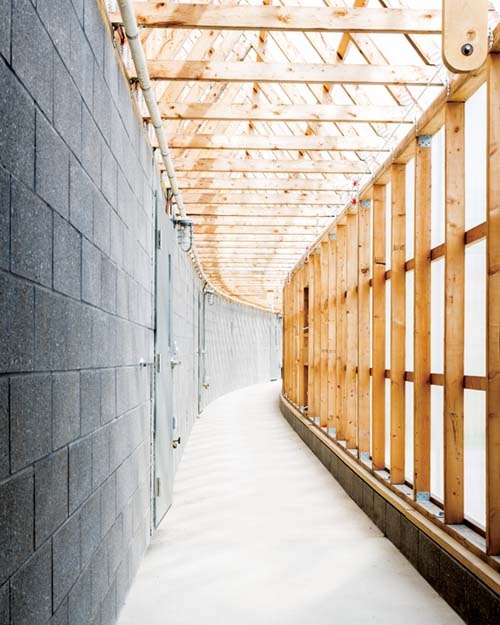 A solar corridor that links separate sections of the house doubles as the clothes-drying room.
The key was just to let the slab slowly but surely make its way up the slope. This would let the property dictate how the house would sit, Katon says. It turned out to be a "simple and graceful solution." He credits Keating with sensitivity to the land in his design.
Cellar Dwellers
Building the root cellar—something considered critical by Keating and his wife, because they farm their eight acres organically—also presented challenges. The difficulty wasn't that the cellar had to have three chambers to allow for differences in temperature and humidity required for the storage of different types of crops, thereby dispensing with the energy penalty necessary for storing large amounts of food via refrigeration and freezing. It was getting past basic structural constraints.
"We went back and looked at how bank vaults are constructed," Katon says. "Go out west to old buildings—the vaults are always the last thing standing."
The work included pouring a stand-alone concrete ceiling. "We had a guy come in and form up the foundation walls to the root cellar," he explains. "We also instructed him to allow the reinforcement rods to come out of the tops of all the foundations for about five feet."
A contractor then came in, and with a special tool bent the rods at 90-degree angles. Perpendicular to those rods, more steel rods were laid, and they were then all tied together. "This is done in building bridges," Katon says, "but in this case, it was working upside down."
The builders then put plywood under what Katon calls the "steel cage" of rods and put a perimeter frame around the top—similar to the sides of a sandbox. After that prep work, a cement truck came and poured. After 30 days of curing, the crew removed the plywood underneath the new ceiling, waterproofed the cellar and backfilled it. That part of the project "had its daily challenges for the month or so it took us to put it together," Katon relates, "but it came out right."
In Hot Water
Other resource-saving elements presented fewer conundrums. For instance, Keating wanted a system where you didn't have to turn on the faucet and wait for the water to get hot as it spilled down the drain. "In the U.S. and globally, water as a resource is becoming increasingly scarce," he says. "There are regions of the world that are turning into desert because of a lack of water; where farming is dead because of it. We waste billions of gallons waiting for hot water to get to the spigot."
The solution was a button that, when pressed, sends the cold water sitting in the pipes not down the drain but back to the hot water tank, where it gets recycled. Meanwhile, water that has already been heated by the tank comes out through the line. As it gets very close to the sink or tub, a light goes off to tell you the faucet is ready. Thus, when you turn it on, the water is hot from the get-go; none is lost waiting for it to heat up.
Building the system was "just a question of understanding pumps and demands," Katon says. "The plumber was crystal clear on that."
Siting for Optimal Sun
One smart element stemmed from the way—and where—the house was built. The long end of the house faces north and south rather than east and west. Keating explains that this ended up as a temperature control mechanism, albeit a natural one. Because sunlight coming in from the east has such a long angle, it can shoot through the entire house and overheat it. Compensating would have meant extremely long overhangs from the roof. But by making the south side the front of the house, the overhangs don't have to be as long to control how much sun—and heat—comes in.
Installing solar panels on the south-facing side of the roof—two photovoltaic arrays for generating electricity and three for heating water—also didn't create special challenges. But they help the house go from using the small amount of energy allowed in a passive build to a net energy gain, reducing carbon emissions by that much more than a traditional build. That was important to homeowner Keating. "To the extent that we can make electricity without impacting the carbon footprint, we are helping not only the overall environment but also human health in the here and now," he says. "The solar panels are another demonstration of the kind of technology we can be installing to further reduce a negative from the point of view of climate change and people's immediate well-being."
Emergency Heat
There are two flue-less ethanol alcohol fireplaces, too—one in the living room and one in the master bedroom. They don't just allow the homeowners to cozy up to the warm glow of a flame, they come to the rescue in the wake of a prolonged power outage. "Let's say there's a terrible winter storm with the power out for an extended period," Keating says. "After a day or two, the average American house is freezing inside. The pipes burst, and the residents have to leave. That house is not resilient. In a passive house like this, the insulation level is so high that it would take several days to lose enough heat to make a difference."
On top of that, these fireplaces will more than meet peak heating loads, Keating notes. "It could be zero outside for five days, and they would do a good job of heating the house," he says. "(All) while putting out roughly half the BTUs of a wood stove."
Furthermore, the lack of a flue for each fireplace means no noxious gasses need to be vented out. It also means no hot air is being sucked out through a chimney.
All Together Now
Katon says that to pull all the energy-saving parts of the design together, the Valle Group had to get sub-contractors "who would be thoughtful—not just try to bang out their part of the job and move on to the next project."
Stone Fruit Farm required a complete team approach within a whole different atmosphere, Katon adds. "Everybody had to be in constant communication about how it was all going to work; how one system was going to affect another," he says. "It was important that the subs talked to each other, not just to the GC or the architect. We all had to be on our game on a daily basis."
While the project manager considers Stone Fruit Farm a success, it was also a part of an ongoing learning experience. "As we go through these houses that are at this point one-of-a-kind, as we get more used to these practices as builders, we're going to get a lot better at this," Katon says. "Some days we tried things and failed. But it's going to become typical. If it's something you're passionate about, you've got to go through these building pains and get on with constructing these types of houses."
---
Larry Lindner is a New York Times bestselling writer who has had a long-running, widely syndicated column in the Washington Post and a monthly column in the Boston Globe. He has also penned articles for publications ranging from Condé Nast Traveler to Design New England, the Los Angeles Times, and O, the Oprah Magazine.