Passive Craftsman
Crews from PanelWrights began installing energy-efficient structural insulated panels (SIPs) on what will be Maryland's first certified Passive House. The project is a joint venture between O'Neill Construction Corp. of Gaithersburg, Md., and Peabody Architects of Alexandria, Va.
Widely popular in Europe, ultra-efficient passive homes are now gaining traction in the United States as a cost effective way to drastically reduce energy consumption. Passive homes require only one-tenth of the heating and cooling energy used in a conventional home by utilizing a super-insulated building envelope and a passive solar orientation.
By eschewing expensive high tech solutions, such as solar panels or geothermal heat pumps, passive homes can be built for only 10% to 15% more than a conventional home, according to the Passive House Institute U.S. Architect David Peabody plans to meet the rigorous program standards using relatively inexpensive materials and by focusing on eliminating air leakage—a huge culprit for heat loss in a home.
"The key to the Passive House is in reducing energy demand to the point that traditional mechanical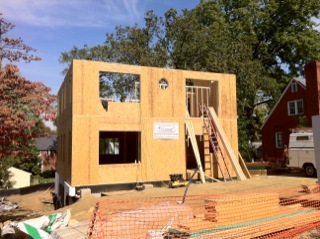 systems become irrelevant," says Peabody. "This required an assiduous approach to eliminating air infiltration and thermal bridging."
Peabody and builder Brendan O'Neill specified structural insulated panels (SIPs) for the above-grade walls and roof of the home. SIPs are composed of insulating foam sandwiched between two structural facings, creating an effective air barrier that can be easily sealed at the joints between the prefabricated panels. To meet the Passive House standard, homes must reach an air infiltration requirement of 0.6 ACH50, determined by a blower door test.
"When I first spoke with Brendan, meeting the air infiltration requirement was one of his biggest concerns," said Al Cobb, President of PanelWrights, who provided and installed SIPs on the project. "Having built hundreds of SIP homes, I was confident that a properly installed SIP envelope could meet the Passive House requirements, and I was able to guarantee the builder that we could do that."
The O'Neill-Peabody project, designed in the Craftsman vernacular of the American Foursquare, is out to demonstrate that this exotic sounding European import can look and feel like a traditional American home that sells at a competitive price. In addition to the energy-saving benefits of owning a passive home, occupants experience increased comfort, consistent indoor temperature and better indoor air quality. O'Neill's decision to embark on the project started when he visited a passive home in Illinois during the middle of a Midwest blizzard.
"It was as toasty and comfortable as any house I'd ever been in," says O'Neill. "I looked in the mechanical room and the little heat pump was barely even running. I turned to Brendan Jr. and says, 'We've got to build one of these.'" The home is expected to be completed in the spring of 2011.