But will negotiators bend far enough to forestall catastrophic climate change?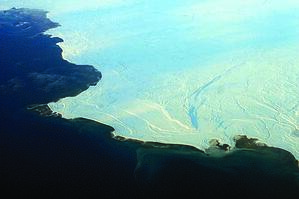 Global temperatures are 0.9 degrees Celsius above pre-industrial averages. The planet is already showing significant changes, such as lower extents of sea ice. Photo Credit: Doc Searls
IN DECEMBER, representatives from almost 200 nations will convene in Paris under the auspices of the United Nations, to try to reach an agreement on how to limit greenhouse gas emissions enough to keep the average global temperature from increasing more than two degrees Celsius, and thereby avoid the worst effects of climate change. With the recent news that 2014 was the hottest year on record, and instances of extreme weather continuing to mount around the world, the stakes could hardly be higher. Many veterans of international climate negotiations believe the Paris talks are the last hope for the world to avert climate catastrophe.
The last time such a meeting occurred was in 2009, in Copenhagen, where negotiations over a binding international treaty to move beyond the Kyoto Protocol ultimately fell apart over deep divisions between "developed" and "developing" nations. This time, negotiators are not targeting a binding agreement; instead they are employing a bottom-up approach, building around national commitments from each country. The final agreement will likely specify how countries verify and report emissions, but the targets themselves will be self-selected and enforced.
The goal is to cobble together enough national commitments of sufficient significance to allow the world to reach "climate neutrality"—zero net emissions—by the end of the century. Scientists believe this is necessary to keep temperature increases under the critical two-degree threshold. Most countries agree with this goal, but the details of how to get there remain undecided and contentious.
The biggest obstacle is determining how much will be expected of each country. All parties generally agree with the principle of "common but differentiated responsibilities," but the devil is in the details of how to differentiate. For decades, developing nations have argued that developed countries created the problem and so should assume the primary burden of solving it; more developed countries have long countered that developing countries, as the fastest-growing sources of emissions today, must actively contribute to the solution, as well. For the first time, every nation at the Paris talks will be expected to make some contribution, regardless of its current development level.
In February, climate negotiators met in Geneva to hash out a draft agreement as a starting point for formal negotiations. By March, nations are scheduled to announce their emissions reduction targets and adaptation plans. Formal negotiations on a final text will start in June, with the goal of presenting a final agreement to the Conference of the Parties in Paris in December.
Even though the majority of parties agree on the high stakes and the overall framework, many veterans of international climate negotiations do not anticipate enough of a breakthrough in Paris to secure the goal of climate neutrality. Too many political leaders still perceive a fundamental conflict between economic development and climate protection; consequently, they are reluctant to commit to bold action. Those attitudes are starting to change, but whether they will change fast enough for the world to safeguard climate stability remains to be seen.
---