Panasonic Eco Solutions
Masters of ventilation and airflow.
For more than 25 years, Panasonic Ventilation and Indoor Air Quality (IAQ), a segment of Panasonic Corp. of North America, has specialized in high-performance, code-compliant indoor air quality (IAQ) solutions that remove moisture and pollutants from residential spaces. Based in Newark, N.J., Panasonic North America is the principal North American subsidiary of Osaka, Japan-based Panasonic Corp.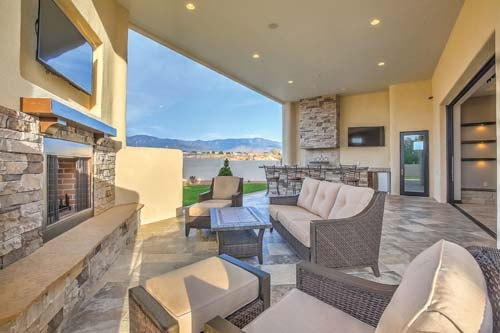 A Panasonic indoor air quality system helped turn custom green builder Panorama Homes into an award winner for most innovative builder from the Home Builders Association of Central New Mexico.
Professional builders face several IAQ challenges in the homebuilding process before, during and after a home or set of homes is built. A reliable ventilation partner to counteract building and lifestyle sources of air contamination is a primary driver in any home ventilation plan.
Panorama Homes, a custom green homebuilder in Albuquerque, N.M., needed an energy recovery ventilator (ERV) system and ventilation fan to install in several newly constructed single-family homes. Volatile organic compounds (VOCs) are especially common in newly built homes, from using products such as paints, sealants and coatings.
With this in mind, Panorama Homes felt it was crucial to select competitive, high-performing IAQ Solutions that could bring in enough fresh air to dilute these harmful indoor pollutants and create an easier breathing environment for the families that were about to grow up and make memories in these new homes.
Working with Panasonic, the builder determined that the Panasonic Intelli-Balance 100 ERV and Panasonic WhisperGreen Select ventilation fan delivered the perfect combination of powerful, precision ventilation and efficiency to install in several newly constructed single family homes.
As a result, the Intelli-Balance 100 ERV and WhisperGreen Select vent fan improved IAQ by effectively lowering the concentration of VOCs by 92 percent.
As the building industry continues to understand its role in providing homeowners with clean air and healthy homes, IAQ solutions make it easier for builders to comply with stringent ventilation standards and increase productivity. They also make the world a healthier place to live.
They're an Eco-Leader because...
In the past two years, as part of an ongoing effort to promote a safe and secure society powered by clean energy, Panasonic has developed new environmental technologies that create, save, store and manage energy more efficiently. Particularly, the company has focused on the development of fuel cell technologies that utilize next-generation solar cells and hydrogen derived from clean energy.
By switching to LED lighting, Panasonic factories are targeting zero CO2 emissions to be complete by the end of fiscal 2019. The company has also expanded its use of factory energy management systems by adding PV power generation systems in all company business sites by 2020.
All of its vent fan-only models are RoHS approved. Restriction of Hazardous Substances Directive (RoHS) restricts the use of six substances in the manufacturing process: lead, mercury, cadmium, hexavalent chromium [CR(VI)], polybrominated biphenyls (PBB), and polybrominated diphenyl ether (PBDE). The production facilities that build Panasonic fans have been recognized by the International Standards Organization (ISO), as being among the highest quality factories in the world.