Panasonic Corp. of North America
The environmental partnership continues in the form of solar, clean air and net zero.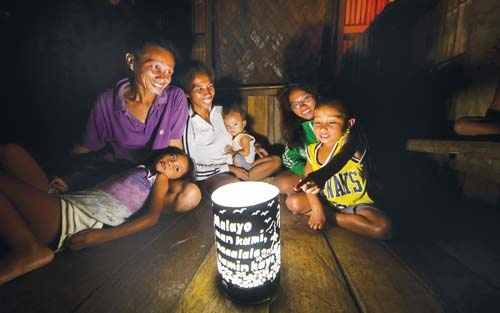 Panasonic's "100 Thousand Solar Lanterns Project" is bringing light to parts of the world where nearly everything comes to a halt at sundown.
Company Profile
Founded: 1974
Headquarters: Newark, N.J.
Leadership: Tom Gebhardt, Chairman and CEO, Panasonic North America
Products and Services: Lighting fixtures, ventilation and air-conditioning equipment, air purifiers, and energy system solutions.
Employees: n/a
Website: us.panasonic.com/ventfans
Working closely with the Environmental Protection Agency in developing ventilation product guidelines for Energy Star, the Panasonic Corporation of North America—a subsidiary of the Osaka, Japan-based Panasonic—has also been an Energy Star Sustainable Partner of the Year for the past consecutive eight years and a recipient of the Sustained Excellence Award from 2012 to 2017. Furthermore, Panasonic's WhisperGreen Select series of non-light, fan-only models won an Energy Star Most Efficient award this year.
Panasonic Eco Solutions is "committed to developing industry-leading eco-friendly solutions for a cleaner, healthier indoor environment," says Jim Shelton, vice president of Panasonic Eco Solutions North America. Building products such the WhisperGreen Select ventilation fan system or the Intelli-Balance ERV are among those that help improve indoor air quality and save energy in a home—resulting in a smaller ecological footprint everywhere they are installed, Shelton notes.
Involving the Community
Panasonic is well on its way to its goal of distributing 100,000 free solar lanterns to areas in the world that lack electricity. The hope is to provide the devices to homes, schools and hospitals in off-grid places in Africa, Asia and India by 2018, when Panasonic Corp. turns 100. As of May 2017, more than 80,000 had been distributed.
The company also sponsors the "Energy & Environmental Building Alliance for Regional Houses That Work" sessions, and is involved in Zero Energy America, a project to build net-zero homes in the Tampa Bay, Fla., area.
Panasonic actively sponsors architect and green building activist Sam Rashkin's "Retooling the Industry" initiative, which is driving zero-energy residential strategies in new home construction and regional residential energy consumption reduction programs.
Exemplifying the company's commitment to sustainability in ventilation, Panasonic is a founding sponsor of the Residential Energy Services Network's (RESNET) Suppliers Council, which is designed to help manufacturers understand the impact of the Home Energy Rating System (HERS) Index on energy efficiency for customers in the residential building channel.