President Trump just signed an executive order to repeal several vital climate change commitments, exemplifying the deep divide between those who believe in climate change and those who don't.
I must admit, despite all of his campaign bluster, President Trump's signing this week of an executive order to repeal many of our nation's crucial climate action policies was still a stinging shock.
The order effectively turned climate denial into de facto national policy, nullifying key greenhouse gas regulations, rolling back oil and gas new source performance standards, rescinding National Environmental Policy Act guidance that directs agencies to properly account for climate change, ending the coal leasing moratorium, and, for all practical purposes, handing over our international leadership position in the climate action arena to nations like Germany and China.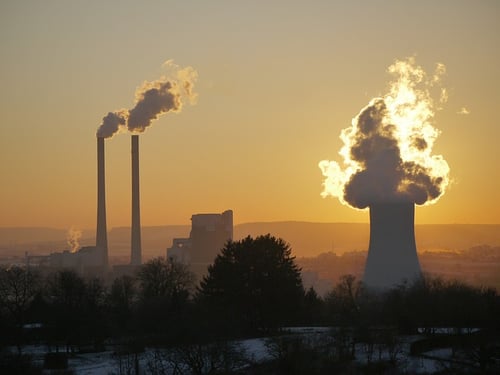 International leaders scoffed at the move, summed up in a comment by Laurence Tubiana, French negotiator of the Paris Agreement, "There are countless countries ready to step up and deliver on their climate promises and take advantages of Mr. Trump's short-termism to reap the benefits of the transition to the low-carbon economy."
While Trump has not yet confirmed whether he plans to walk entirely away from the Paris Agreement, this executive order certainly pushes our previously stated climate commitments out of reach (including a promised emissions reduction of 26% from 2005 levels by 2025), all but ensuring that we will fall far short of our pledges.
Some experts believe that the Paris Agreement will unravel without the leadership and commitment from the U.S., but China has a different take—the country's government has already made a bold statement that they plan to pick up the reins and drive the international transition to a sustainable future (China's investment in renewables certainly indicates a strong commitment to clean energy.)
The keystone that would enable the U.S. to meet our climate commitments is the Clean Power Plan, designed to dramatically reduce emissions from hundreds of coal-fired power plants and to encourage renewable energy (namely, wind and solar.) Unfortunately, the Clean Power Plan was a main target of Trump's executive order, which instructed the Environmental Protection Agency (EPA) to begin the long and complicated process of rewriting the Plan.
Trump, surrounded by coal industry workers as he signed the executive order, touted it as a jobs initiative, even though the White House couldn't confirm the number of permanent jobs that would actually be created.
In many respects, environmentalists' worst fears have come true: Trump has chosen growth at any cost, as well as the padding of the fossil fuel industry pockets, over the burgeoning clean energy economy (which is ironic considering that the clean energy economy is outpacing fossil fuels in so many ways—including job growth—and unlocking tremendous new business growth potential.)
Fortunately, the policies that Trump wants to unwind, including the Clean Power Plan, are on strong legal footing. The unraveling of these safeguards will likely take time, perhaps even years, and the process will be met with legal battles at every turn.
States like New York and California have already challenged the rollback process and vowed to fight vigorously against it, claiming that repeals of climate policy would violate the Clean Air Act and established case law.
No doubt, the executive order to dismantle crucial climate policies was distressing in and of itself, especially given the increased warming of our planet and intensity and frequency of climate-related disasters.
But perhaps even more disturbing was the vehement elation that the executive order supporters displayed upon its execution. Which makes me question—how have we, as sustainability advocates and professionals, failed so spectacularly to communicate the necessity, urgency, and common sense of climate action?
And I can't help but wonder—does this executive order really represent what this administration believes is the best path forward for our people, our nation, and our planet, or was it simply about getting revenge on the environmental movement, the EPA, and the Obama legacy?
What do you think about Trump's executive order to repeal our climate commitments? Write to me at sara.gutterman@greenbuildermedia.com.
Want to read more? Follow me on Twitter and Facebook. For more information about green building and sustainable living, visit Green Builder Media at www.greenbuildermedia.com, like us on Facebook, and follow us on Twitter for regular updates and breaking news.