In our ever-evolving global economy, it's becoming crystal clear that only the countries and companies that successfully merge sustainability with profitability will succeed in a resource constrained world. In the future, if organizations and governments divorce sustainability from financial growth, they'll simply put themselves out of business.
Fortunately, businesses and administrations around the world are devising creative strategies to address their specific environmental impact. Amidst all of the activity, an emerging solution is gaining in palatability and viability across the board—appropriately pricing carbon.
While there are still plenty of skeptics that question the feasibility and effectiveness of carbon pricing, carbon programs are popping up around the globe. The most commonly accepted approaches include mandates (which require businesses and individuals to meet certain efficiency standards or utilize specific renewable energy sources) and tax incentives (which generally include accelerated depreciation, credits, or exemptions for the purchase of items such as hybrid cars, renewable energy systems, and energy efficient products.)
Other schemes are more controversial, such as cap-and-trade programs, which set limits on the total amount of emissions allowed in a particular jurisdiction, and then enable emitters to trade or sell their surplus to others. While the efficacy (and ethicality) of cap-and-trade systems is still under scrutiny, they do allow emitters the flexibility to minimize costs either through direct compliance or by paying others to do so.
Perhaps the most heated debate in the US is around a straight carbon tax, which is applied to all greenhouse gasses in an effort to control and mitigate the effects of climate change. Carbon tax enthusiasts emphasize the ease of administration and predicable costs of this approach. Critics are dubious about the effectiveness of carbon taxes on emission reductions relative to the financial burden.
But practical carbon pricing models are materializing in unexpected places. Perhaps the most noteworthy program—and certainly the most globally distributed one—doesn't come from a progressive city like Vancouver or San Francisco, or even from a company that has its roots in sustainability like Whole Foods or The Body Shop, but rather from technology giant Microsoft.
I recently spoke with Tamara "TJ" DiCaprio, Senior Director of Environmental Sustainability for Microsoft, the mastermind behind the company's carbon neutrality policy and carbon fee program, about their model. TJ's enthusiasm was infectious right from the start. Her authentic passion for fusing sustainability into corporate performance to create a virtuous cycle of creativity and innovation was refreshing.
During the conversation, TJ explained that when she joined Microsoft's Environmental Sustainability group in 2010, she had a big task in front of her: prioritizing sustainability in routine business processes. She saw an incentive-based carbon fee program as the clear pathway to engage and inspire her teammates.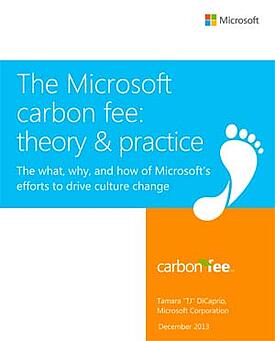 "The concept of the carbon fee is to charge business groups based on their carbon emissions relative to the operations of their data center, offices, software development labs, and air travel," explained TJ. Each business group's total energy consumption is calculated, and then the groups pay a carbon fee based on an annually pre-approved carbon price.
"Our carbon pricing model is goal based, so it provides incentive for each business group to participate in the program" TJ said. The corporation develops desired sustainability outcomes, determines viable solutions (such as carbon reduction, green power, and e-waste recycling), and examines the resources needed to achieve those goals. It then backs into a carbon rate. Business groups have the opportunity to offer suggestions for goals and solutions that benefit them in some way. As the program demonstrates its value to the business groups and the enterprise as a whole, the demand for funds increases and the corresponding price of carbon is increased, thereby creating a virtuous cycle.
The carbon fees are put into a fund that supports energy efficiency grants, clean tech investments and innovation, acceleration of new ideas and development, investments in carbon offsets for forestry projects, and other projects that positively affect the communities in which Microsoft operates.
According to TJ, Microsoft's carbon fee program has already positively affected more than 3 million people across the globe. "Through the fund, we are building wind farms, planting trees, creating cottage industries, building schools, and training people to work as rangers rather than poachers."
TJ admits that the process of establishing a carbon fee program in one of the largest corporations in the world required a substantial amount of communication across the business groups. She first worked with Microsoft's leadership to establish a corporate policy of carbon neutrality. "This got the organization anchored around a common goal," she said. Then came the big challenge—she had to create and implement a simple charge-back model that fit into Microsoft's business objectives. "I had to figure out how to translate sustainability into business terminology. Once I was able to translate carbon into dollars and talk about emissions in terms of profit and loss, then I could engage my colleagues and leverage their ideas."
"It is important to take the time to educate the teams on the benefits of a carbon fee," TJ confessed. "When they caught on to how the program could help Microsoft achieve our corporate goals of efficiency, responsibility, and leadership, then the whole game changed. The cultural transformation of speaking the same language and integrating this program into the heart of the organization—our financial structure—was nothing short of magical. Now, the people from the most unexpected places, including the finance and data teams, offer some of the most brilliant environmental sustainability ideas."
TJ is feeling proud of her accomplishment, which his wholly justified considering that Microsoft's carbon fee program is the most geographically dispersed model in existence. "But we're not stopping here," said TJ. "Now that Microsoft is rallied around carbon neutrality and has a successfully carbon fee program in place, we're looking at ways that we can make strides in other sustainability areas."
Internally, the company is focused on energy reductions in its data centers, software development labs, and offices. Externally, Microsoft is researching and developing increasingly more efficient technologies. "Since the proliferation of devices has driven up energy demand, Microsoft is constantly thinking about how we can enhance efficiency," said TJ. "Technology is part of the energy use problem, so we also need to be part of the solution." According to TJ, the Microsoft team is exploring how it can facilitate distributed generation, green energy sourcing, and new consumption models. Cloud services are a big part of the company's effort to drive efficiency.
Microsoft is also leveraging big data for sustainability gains—the company's research team, located in the United Kingdom, is analyzing data collected from ecosystem, biodiversity, and climate change research to understand how we can utilize technology to make smarter decisions about resource use on a local, national, and global scale.
With a successful track record and lots of valuable learnings, TJ is focused on enhancing the carbon fee program within Microsoft (including raising the company's internal price on carbon based on the value the total fund delivers) and evangelizing the model externally. "With managers in over 60 countries around the world, Microsoft has a wide reach. I want to make sure we are sharing this sustainability best practice with governments, businesses, and people in other countries."
TJ's white paper, The Microsoft Carbon Fee: Theory and Practice, explains the steps she took to develop the program, offering guidance to other organizations interested in following the model. "We designed this program to be simple and repeatable so that other companies can implement it," said TJ.
Not surprisingly, TJ affirms that she is having the most fruitful conversations with universities like Berkley, Yale, Stanford, and University of Arizona, all of which are interested in carbon fee programs. "Unfortunately," she lamented, "it's harder to have the conversation on a national scale with our elected officials." Even the most practical arguments for carbon pricing have simply become too much of a political hot potato. In her effervescent optimism, TJ is convinced that the brilliance of the human mind will help us achieve our sustainability goals. She is encouraged by her experience at Microsoft, where she witnessed firsthand a transformation amongst her colleagues. "Previously unengaged people now come up with radical ideas. We're not a 'site up, cost down' organization. We're trying to be as innovative as possible when it comes to developing solutions for things like location and power generation for data centers. The carbon fee program started the conversation, but now we're focused on how we can be even more impactful."
After my enlightening and utterly enjoyable conversation with TJ, I am convinced more than ever that we've reached a critical tipping point—a sustainable economy is within our reach. If a corporation like Microsoft can develop a global program that offers positive sustainability incentives and inspire colossal international culture change, then there is no sound reason for corporations and governments everywhere not to adopt similar models. I, for one, will be watching Microsoft and other similar trail blazing companies with eager anticipation to see what other environmentally sustainable, socially beneficial programs they unveil.
What are other innovative ways that we can price carbon and create positive incentives at the same time? Write to me at sara.gutterman@greenbuildermedia.com or follow me on Twitter or Facebook.
For more information about green building and sustainable living, visit Green Builder Media at www.greenbuildermedia.com, like us on Facebook, and follow us on Twitter for regular updates and breaking news.
---