Wildfire is on my mind as the 416 Fire near Durango, Colorado overwhelms my mountain hamlet with choking smoke and burning ash. I am well aware that the apocalyptic scene engulfing my little town is just one of many unfolding throughout the Southwest as the agonizing reality of wildfire proliferates due to extreme drought conditions, denuded forests, and rising temperatures.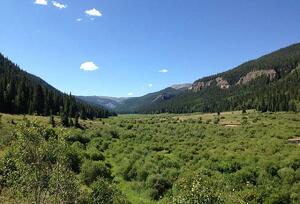 I moved to the mountains of Colorado to get away from the daily grind and buzz of the urban environment—to find the truth in nature and to know the peace that comes when fully immersed in it.
My love for the mountains was cultivated in my youth, much of which was spent either racing up hiking trails chasing after my uncannily athletic father or zooming down slopes as fast as I could on my snowboard.
Returning to the mountains as an adult, it feels that I truly know the place for the first time.
Yet, the changes that have taken place in the beloved mountains of my youth are undeniable and heartbreaking. Forests that I remember as lush, thriving playgrounds have been devastated by severe drought conditions and the voracious bark beetle, ominously awaiting the inevitable: wildfire.
Unusually hot, dry summers and mild winters in the American West have enabled the bark beetle to proliferate and ravish forests from Mexico to British Columbia, resulting in a forest blight of colossal proportions—ten times larger than anything previously experienced in North America. Affecting all 19 Western states and Canada, the beetle infestation has decimated nearly 100 million acres of timber at an average 80% kill rate.
According to a study conducted for the Environmental Protection Agency by the Harvard School of Engineering and Applied Science, the crushing combination of mismanagement of beetle-infested forests and extreme drought have led to a significant increase in hotter, more explosive "mega-fires" that annihilate vulnerable forests that have been stripped of their natural defenses.
2017 was a record breaking year for wildfires, with over 10 million acres burned and $2 billion spent on suppression and remediation. And 2018 promises to be even more intense: according to the National Interagency Coordination Center, this summer presents a "significantly above-normal fire potential" for California, Colorado, New Mexico, Arizona, and Utah.
Sadly, wildfire will continue to be an undesirable and antagonistic reality. A study published in Nature Communications indicates that there is "a significant lengthening of fire weather seasons across 25.3% of the planet's vegetated lands, leading to the elevation of mean fire season duration by up to 18.7%." Furthermore, "the locations, which have become prone to burning due to the long periods of fire weather, also increased by 108.1%."
Persistent wildfires are shattering ecosystems, economies, and societies throughout the Western U.S. Firefighting, once relegated to a defined season, has become a year-round and full-time occupation.
Even as wildfire risk proliferates, the trend towards building homes in wildfire-prone areas is growing. The Inland West, which includes cities along the Rocky Mountain range, experienced the most rapid population growth (21%) in the country over the past decade. Since many new residents are settling next to wilderness areas and national forests—called the Wildland Urban Interface, or WUI, expected to grow another 30% in population by 2030—cities like Boise, Denver, and Salt Lake City have been compelled to develop action plans that minimize risk and protect homes from wildfire.
The financial and environmental impacts of wildfire are potentially massive, posing a serious threat to property, infrastructure, watersheds, human health and safety, wildlife, habitats, and local economies. The federal government (particularly the Forest Service)—and ultimately the American tax payer—bears large costs to manage fires, and those costs have been steadily rising as wildfires have spiraled out of control.
Given the urgency of the situation, it's all hands on deck throughout the West to increase public awareness, enhance fire related codes and policies, develop effective risk mitigation strategies, and create comprehensive Community Wildfire Protection Plans.
With that said, it's one thing to create plans for coordinated action between federal, state and local agencies when disaster occurs to ensure the safety and protection of our homes and communities. However, it's something altogether different to watch walls of fire approaching your home with no recourse other than hope and prayer.
Knowing that climate change, drought conditions, and beetle kill aren't going to improve in the near future, those of us that live in the looming shadow of wildfire are bracing ourselves for dangerous and destructive times ahead.
How do you think we can appropriately tackle our growing wildfire crisis? Write to me at sara.gutterman@greenbuildermedia.com.
Want to read more? Follow me on Twitter and Facebook. For more information about green building and sustainable living, visit Green Builder Media at www.greenbuildermedia.com, like us on Facebook, and follow us on Twitter for regular updates and breaking news.