Old Shingles, New Roads
GAF sponsors "Find a Recycler" Section of ShingleRecycling.org to pave the way for more reuse of asphalt shingles.

Recycled asphalt shingles, with their high-quality asphalt, aggregate, and fibers, can be used in highway construction and may even improve the properties of these roads. Now roofing manufacturer GAF has announced a significant expansion of its efforts to support post-consumer shingle recycling. Building on the success of its Certified Green Roofer program, already more than 100 members strong, GAF has made a multiyear commitment to sponsor the Find-A-Recycler section of ShingleRecycling.org.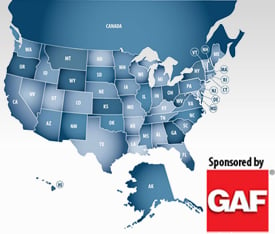 ShingleRecycling.org is the leading resource for information about recycling asphalt shingles.
In addition to a state-by-state database of locations where roofing contractors can recycle their tear-offs, ShingleRecycling.org includes a wealth of technical information to encourage recycling. The new sponsorship is expected to improve searchability of the database, which already includes more than 150 listings nationwide, and provide for greater frequency of updates.

"Our goal is to make it easier for contractors to recycle asphalt shingles," says Martin Grohman, director of sustainability at GAF. "We want to do that two ways—by recognizing and rewarding roofers who recycle for their efforts; and now by making shingle recycling yards easy to find."

Preparing a roof for recycling is quite straightforward—shingles, felt, and nails are kept separate while the old roofing is being removed, and other materials that come off the roof are then placed on top of the load for separate recycling. During the shingle grinding process, nails are removed by powerful magnets, and are recycled as well. In order to operate on a national scale, GAF's program does not require roofing contractors to lock in with any specific recycling company, but encourages them to use a recycler listed on ShingleRecycling.org.

"By working with a GAF Certified Green Roofer, you're making it more practical for your old roof to be recycled," continues Grohman. "In fact, a typical 30 to 35-square roof is good for about 50 feet of new road." You can find a roofing contractor that recycles by using the contractor locator at gaf.com and looking for the Certified Green Roofer designation.