What are the best available HVAC solutions for low-load, high-performance homes and apartments? What is currently available in the market? What are the limitations of these systems?
HIGH-PERFORMANCE HOMES REQUIRE SMALLER heating and cooling systems, yet common systems installed in existing homes are often not designed to be small enough for low-load structures. Air distribution, humidity control and comfort require different strategies than in less-efficient homes.
Forced-Air Systems in High-Performance Homes
THIS TYPE OF SYSTEM brings both opportunities and pitfalls. In homes that have been tightened (or built for low-flow), forced-air must balance humidity control, part load efficiency, blowers and thermal losses.
HVAC Boost. Energy Recovery Ventilators such as this one from Panasonic can help optimize forced-air systems by balancing airflow throughout the home.
Tips for Forced Air Optimization
In General:
Allow some extra capacity.
Keep ducts inside and insulated.
Use BPM/DC blowers for low fan power.
Use humidity control: dehumidifiers and ventilation, kitchen and bath exhausts (do not rely on air conditioners to always control the humidity in the house).
Integrate with continuous ventilation as distribution option.
Think about solar load control/zoning for asymmetric solar loads.
Install high sidewall supply outlets, which work well in hot climates.
Choose registers carefully.
Set system up for periodic fan cycling to keep indoor climate uniform.
Install multiple temperature sensors to control fan-only operation.
Locate sensors in "worst-case" rooms.
To accurately zone, you probably need a unit in each room, or match rooms with equal solar gains.
Zoning by floor with multiple temperature sensors per system of per zone.
System Sizing Details:
A key challenge to precise sizing in high-performance homes is that occupancy changes and solar gains can cause changes in temperature more quickly than in low-efficiency homes.
Be careful about predicated loads—small errors become a big problem for tightly sized systems. A slightly oversized HVAC unit may be a good thing.
Consider that there will be extreme days along with design days—and design for both.
More occupants means more miscellaneous electric loads and internal gains.
If you use design for periodic temperature setbacks, you must have extra capacity built into the system.
Details: Distribution
Building America field data shows that houses spend a lot of time outside ASHRAE 55 standard limits for temperature and humidity. In efficient homes, this variation may be even more dramatic. With good building envelope performance as an assumption, the following distribution tips can solve many air quality and comfort issues:
A good benchmark may be ACCA, which provides a 4°F-6°F recommended maximum differences between rooms.
If high solar gains are an issue, efficiently moving air from one half of the house to the other may be more important than heating or cooling the air.
In all cases, keep duct runs short and centrally locate HVAC to minimize conduction losses.
Integrate any heating/cooling directly with ventilation.
Use continuous HRV/ERV either stand-alone or using same ducts.
Use similar magnitude air flows as heating/cooling—but there can be maintenance issues. In a high- performance home in humid climates, we recommend stand-alone humidity control. High- performance homes typically have higher average humidity, but less extreme humidity.
Near Future HVAC Options
Good technology for small-scale HVAC already exists. All that's needed is a bit more testing, and for the prices to hit an affordable level.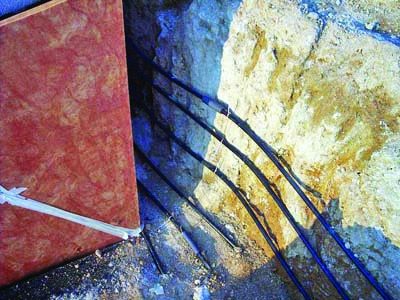 Test Trench. For the FHX design in this project, a conventional loop design tool was used, converted to FHX. The resulting system has an EER of around 14.0, and heating COP around 3.6.
Ground-source heat pump (GSHP) systems are one of the most energy-efficient technologies for space conditioning and water heating, but they're costly. Foundation heat exchanger (FHX) technology is being evaluated, and shows good successes, plus some challenges. This approach utilizes the construction trench to install a horizontal ground heat exchanger around basement walls, water lines, electric lines, etc. In new construction, a significant amount of the system (50%-60%) can be installed in existing excavations, and additional trenching is simple. In one project, In the project shown, Building America has measured performance of FHX in two side-by-side, three-level, occupancy-simulated research houses.
Installation Cost Comparison
Vertical loop: $3,000/ton
Horizontal loop: $2,250/ton
FHX: $1,000/ton
The Bottom Line
It's critical to evaluate how modern HVAC equipment functions in low-load homes, and develop strategies to address issues of undiminished latent loads and uniformity of thermal conditions throughout a home. Researchers measured data from test houses in cold and mixed climates using a variety of distribution strategies—and new foundation heat exchanger (FHX) technology.
Key Expert Comments/Recommendations
Fundamentally, HVAC in low-load homes requires us to rethink HVAC system design. To assist in this change, Building America suggests a shift in certain assumptions and methods from the traditional method to a modern approach. Specifically:
THE TRADITIONAL METHOD
Assumes that envelope losses dictate the load.
Bases design on a room-by-room load analysis.
Recommends equipment and distribution systems to meet the load in each room.
A MORE MODERN APPROACH
Considers how the occupants actually live in the building
Seriously weighs internal gains that affect both heating and cooling.
Integrates the home's ventilation strategy.
Expert Tip:
What are Internal Gains?
Internal gains refer to those often ignored factors that can quickly change a home's heating or cooling demand. For example, how is sunlight from windows adding to the cooling load? Even small things such as interior door positioning can change the load. A guest room that is rarely left open has a different impact than one where the air is constantly conditioned. The heating system for a tight home with mechanical (HRV) ventilation will need to be carefully designed for optimal performance.
---
Derived from responses by Iain Walker (Lawrence Berkeley National Laboratory), Duncan Prahl (IBACOS) and Piljae Im (Oak Ridge National Laboratory).