Notable Dry Erase Paint Adds Extreme Durability to the Wall Surfacing Mix
You might not think of a two- epoxy paint as "green," but it boasts durability (and purpose) far beyond standard wall paint.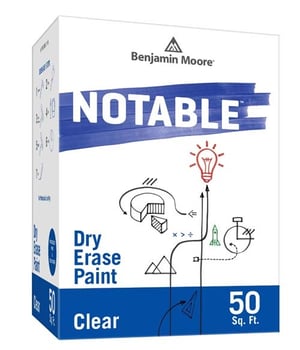 One of the oft-overlooked sustainability aspects of modern home construction is paint. Acrylic paint has a very high embodied energy, so high that it has a dramatic impact on the overall environmental footprint of any painted surface. That being said, modern, low- or no-VOC water based acrylics have come a long way, typically containing only 3 to 7 percent solvents. They may, however, contain many other chemicals, and most of them are not made to stand up to the rigors of children.
The biggest risk of exposure for any paint is during application and drying, of course, so the most sustainable approach is to extend the period between painting as long as possible.
A new product called Notable Dry Erase Paint from Benjamin Moore comes with a 10-year warranty, and offers a different approach to sealing and using wall surfaces. Like high-end marine paints, it's a two-part silicone epoxy that dries rock-hard and may literally never need repainting--even if your kid draws all over it with dry erase markers. The epoxy contains less than 160 g/L of VOCs, and takes about a week to dry completely, but once it does, it has essentially finished offgassing, and is now inert, stable and durable.
The product can go on right over drywall, and comes in a clear version.
We tested this product on the walls of our Flex House demonstration home at the CES show in January and it performed as advertised.