Electric vehicles (EVs) are taking Norway by storm. After a banner year in 2013, nearly one percent of all the vehicles on Norwegian roads are now EVs, a far higher percentage than in the U.S. Since September of last year, one EV model or another has topped Norwegian monthly sales several times, and last November, EVs surpassed 12 percent of all vehicles sold during the month. The brisk sales have continued into this year.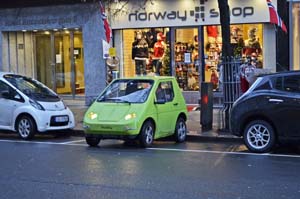 As a relatively large and rural country with long distances to cover, Norway would seem to be an unlikely candidate for EV leader. "Range anxiety" is an understandable concern for vehicle buyers. What's more, the cold climate can impair battery performance. So why is Norway such an EV standout? The answer is public policy, well designed and well implemented.
The high rate of EV adoption in Norway is a logical response by consumers to the incentives and disincentives they face. The Norwegian government, motivated by the numerous environmental benefits of EVs, has promoted them for decades through policies that make EV ownership cheaper and easier than owning a traditional vehicle.
For example: EV drivers are exempt from tolls on roads and ferries. EVs are also excused from import taxes, the hefty taxes on vehicle purchases (which can easily double the price of a standard car), and of course fossil fuel taxes. Fueling EVs is relatively inexpensive at home and completely free at any of the plentiful public charging stations. To sweeten the pot still further, EV drivers also enjoy free parking, a low annual road fee and access to bus lanes.
With such an array of incentives, all that was missing was a selection of viable and attractive EVs for consumers to choose from, a need that automakers have finally started to fill in the past few years. With all the pieces finally in place, it is not surprising that EV sales have taken off.
It is worth noting that Norway has been at this for a long time, offering incentives for EV ownership since at least the early 1990s. This long-term commitment has been critical. It has allowed an ecosystem of services and circumstances to emerge—everything from charging infrastructure to maintenance professionals to knowledgeable consumers—that makes it easier for buyers to feel comfortable choosing an EV, and therefore more likely that EVs will ultimately stand on their own, without special support. Traditional vehicles have had more than a century to develop their support systems; it's only natural that it should take some time for alternatives to do the same.
Some of the attributes that make Norway fertile ground for EVs—high taxes on standard vehicles, for example—would face stiff political opposition elsewhere. Nonetheless, Norway provides valuable lessons for how other countries can help new vehicle technologies gain a solid foothold in the marketplace. And Norway shows that while specific policies matter, a firm commitment to them matters, too. It is thanks to patience and persistence that Norway is on track to develop a self-sufficient EV market.