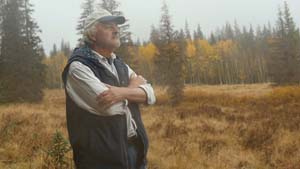 ANY EXPERIENCED BUILDER can relate to the assertion that every job site requires a part- to full-time traffic cop. At our current location we have over 120 acres and still have no place to park. Construction simply requires a heck of a lot of space. And after more than 30 years in the business, I continue to find myself having to fill that role.
In our case, the only roadway through the property is a county-maintained dirt road that is under the jurisdiction of the U. S. Forest Service, so the point at which the edge of the right-of-way ends and our private holding begins is uncertain at best. Once off the established road, we immediately revert to undisturbed high mountain meadows, evergreen forests, aspen groves and the riparian zone that borders the stream. And since we are committed to preserving every square foot we possibly can, keeping all that activity on areas that are already disturbed—as well as co-existing with public traffic—often has the feel of a full-time occupation.
This can be especially worrisome when trying to corral three semi-truck loads of structural insulated panels, several deliveries of Redi-Mix concrete and oversized specialty equipment, such as a really big tele-handler, a concrete pumper and/or a large boom truck for safely lifting the panels and the massive ridge beams and purlins. Just one of these devices can take over the available operating space, but in aggregate they can render the task almost impossible.
Any combination of this equipment, plus regular deliveries of insulated concrete forms, lumber and other essential building supplies also keeps us busy relocating private vehicles throughout the day. All the guys on the crew like to have convenient access to their tools and equipment, so they generally try to see if they can slip in as close as possible to where they will need them. In reality, however, they know they will likely be required to stop what they're doing at some point during the day to move their vehicles to a more distant location.
And getting them to share rides—"truckpool," as it were—in order to reduce the number of vehicles that are on hand? I've been attempting to solve that riddle for more than three decades without making any progress whatsoever, even when driving times and the high cost of fuel offer attractive incentives for riding together. In fairness, though, I know how they feel. If I wanted to take a bus or subway to work, I wouldn't be out here in the first place.
After sweating the situation for almost a month, I am finally able to relax just a little, because thankfully we have managed to transfer all the materials off the roadside and onto the actual building site, which is up a steep hillside a couple of hundred yards. At least I have the comfort of knowing that if somebody runs into a huge stack of materials, it won't be alongside the road. Now, if I could just find a place to park.
---