May 1st, CBS This Morning reported on what it called Hobbit-sized homes starting at $25,000. Throughout the feature, "Inside the Tiny House Movement; How One Woman Downsized her Life to Just 84 Square Feet," interviewees compared these small dwellings to treehouses and playhouses and childhood forts where imagination often triumphs over stuff.
Some compared the small dwellings to puppies or ducklings. All found tiny living "liberating."
Author, tiny house owner/builder and stress-free liver Dee Williams says, "Having less means living more." She says of her previous life that one thing lacking in her own American Dream was "a sense of relaxation."
Green Builder has certainly featured tiny houses. Though a picture may be worth a thousand words, a video may be even better at describing something a little hard to imagine even when reading the magazine or a book.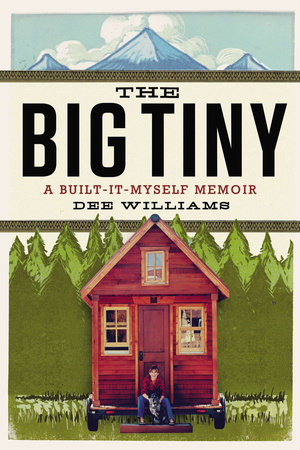 Williams has written a memoir how-to entitled The Big Tiny: A Built-It Myself Memoir.
CBS' story featured not only Williams' sliver of a home but also The Caravan Tiny House Hotel where people can test live a tiny house to see if it is right for them.
Williams downsized from her 2,000 square foot home to her 84-square-foot, resource-efficient home after a serious illness, something that drives many to downsize but not perhaps as dramatically.
Here is the Overview of Williams' book from the Penguin Books Web site:
"Dee Williams's life changed in an instant, with a near-death experience in the aisle of her local grocery store. Diagnosed with a heart condition at age forty-one, she was all too suddenly reminded that life is short, time is precious, and she wanted to be spending hers with the people and things she truly loved. That included the beautiful sprawling house in the Pacific Northwest she had painstakingly restored—but, increasingly, it did not include the mortgage payments, constant repairs, and general time-suck of home ownership. A new sense of clarity began to take hold: Just what was all this stuff for? Multiple extra rooms, a kitchen stocked with rarely used appliances, were things that couldn't compare with the financial freedom and the ultimate luxury—time—that would come with downsizing.
"Deciding to build an eighty-four-square-foot house—on her own, from the ground up—was just the beginning of building a new life. Williams can now list everything she owns on one sheet of paper, her monthly housekeeping bills amount to about eight dollars, and it takes her approximately ten minutes to clean the entire house. It's left her with more time to spend with family and friends, and given her freedom to head out for adventure at a moment's notice, or watch the clouds and sunset while drinking a beer on her (yes, tiny) front porch.
"The lessons Williams learned from her "aha" moment post-trauma apply to all of us, every day, regardless of whether or not we decide to discard all our worldly belongings. Part how-to, part personal memoir, The Big Tiny is an utterly seductive meditation on the benefits of slowing down, scaling back, and appreciating the truly important things in life."
At Caravan the Tiny House Hotel, the Web site description reads:
"Caravan is a one-of-a-kind, boutique hotel located in the heart of the Alberta Arts District in Portland, Oregon. Caravan is an urban oasis where travelers from around the world can experience what it's like to stay in a beautiful, custom-built tiny house.
"Caravan is the first Tiny House Hotel in the United States and is located in NE Portland in the popular and funky Alberta Arts District. Our tiny houses are built on trailers with wheels and range in size from 100-200 square feet.
"All of our tiny houses are self-contained, fully livable, custom-made, and one-of-a-kind. We have four tiny houses available for guests (though CBS reported that two more are being added), each with its' own unique, creative and artistic features. Three of our tiny houses sleep 1-4 people and one sleeps 1-2 guests. They each have a bathroom with a flush toilet and hot shower, electric heat, and a kitchen with a microwave, refrigerator, hot plate, and all of the basic kitchen and bathroom amenities."