Cracks, sometimes called "concrete cancer," are the bane of concrete that leads to its destruction.
According to an article in Science Daily, the University of Michigan has developed a self-healing concrete. Water and carbon dioxide are the keys to healing flexible concrete. The theory is that very slightly flexible concrete cracks or crazes in small cracks rather than big ones, and small ones heal with rain.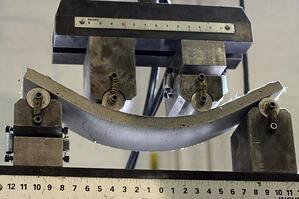 At Northumbria University researchers are taking another approach using bacteria to grow concrete healing compounds that they say will make concrete cracks a thing of the past, according to another story in Science Daily.
The bacteria under study is "ground-borne bacteria—bacilli megaterium—to create calcite, a crystalline form of natural calcium carbonate." This sounds like what southwesterners call caliche, the garden-defying calcium carbonate deposit that frustrates gardeners in the Southwest -- some gardeners have been know to dynamite the stuff in order to penetrate caliche material and make holes for plants.
If such a bacilli can be harnessed to serve rather than frustrate, the possibilities for really long-lasting concrete may be endless. Makes one wonder if the ancient monuments might be repaired with this bacteria.