In 2013 the International Codes Council (ICC) adopted an Energy Rating Index performance option to the 2015 International Energy Conservation Code (IECC). The 2015 IECC Energy Rating Index scores are very stringent.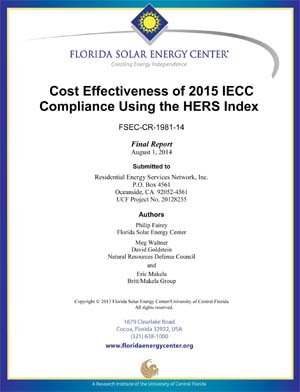 RESNET commissioned the Florida Solar Energy Center to undertake an analysis to determine the cost effectiveness of the Energy Rating Index requirements of the 2015 IECC. The study "Cost Effectiveness of 2015 IECC Compliance using the HERS Index" was authored by Philip Fairey of the Florida Energy Center, David Goldstein and Meg Waltner of the Natural Resources Defense Council and Eric Makela of the Britt/Makela Group.
The study used the 2012 IECC Standard Reference Design configuration for three-bedroom, one-story 2000 ft2 and three-bedroom, two-story 2,400 ft2 single-family homes in sixteen representative U.S. cities. The cities represented all of the climate zones of the IECC. The energy use of the 2012 Standard Reference Design homes were compared in all sixteen cities against the calculated the energy use of homes complying with the 2015 IECC Energy Rating Index compliance method.
The analysis shows that the Energy Rating Index scores required in the 2015 IECC are cost effective in all of the 16 cities for all of the homes under all of the conditions studied. On a national basis, the climate zone weighted average net present value (present value life-cycle savings minus present value life-cycle improvement costs) for the homes analyzed was $5,219. This is significant considering the fact that the weighted average first cost of making the energy efficiency improvements was $3,338.
To view the study go to Cost Effectiveness of 2015 IECC Compliance using the HERS Index.
---
Release courtesy of RESNET.
---