Jeff Wieland of Wieland Builders recently switched from housewrap to Enviro-Dri, a liquid weather-resistant barrier system. "The energy code is driving us," says Wieland, whose Fairfield, Ohio-based company builds custom homes ranging from $150,000 to $3 million.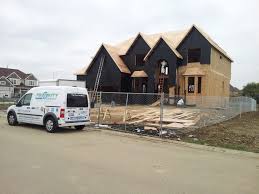 According to Todd Rieger, territory manager of Tremco Barrier Solutions, maker of Enviro-Dri, "the energy code requirements in Ohio—the 2009 and 2012 codes especially—address air infiltration. There is a particular target for how much infiltration is allowed."
The product is more expensive than housewrap, Wieland says, but it is essentially a financial wash compared to wraps, if you use it to sidestep the requirement to build 2"x6" walls. EnviroDri's improved infiltration can boost HERS rating in lieu of that framing. Like housewrap, it protects a home's sheathing from moisture during the building process, allows moisture vapor to escape from wall cavities but stops liquid moisture from entering; but unlike wraps, it is permanently adhered to the sheathing system—which prevents blow-offs in high winds.