For nearly two decades, Co-founder and Executive Director David Eisenberg of The Development Center for Appropriate Technology (DCAT) "has lead the effort to create a sustainable context for building codes." DCAT "works to enhance the health of the planet and our communities by promoting a shift to sustainable construction and development through leadership, strategic relationships and education."
Eisenberg has built in steel, rammed earth and straw, among other alternative building materials, and is a big proponent of strawbale construction. But what he has focused on the most is getting building codes to include alternative materials.
Two weeks ago, Eisenberg gave a presentation at the Ryerson University in Toronto. Eisenberg told the Toronto group that he had been speaking to Phoenix building officials a while back and had a 20 minute talk but only 10 minutes in which to present it. He got halfway through and realized that he had not yet gotten to his point. Quick on his feet, it was time to improvise.
Eisenberg came to call that talk, "'Finding the Trailhead into the codes work,'" because of what happened next.
We'll let Eisenberg tell you the rest of the story:
"What I said was this: "I want to ask you a question. What happens when someone comes into your jurisdiction wanting to do something crazy like build a house out of bales of straw, or use the dirt, the earth, for adobe or rammed earth, or cob—something you've never even heard of? Or maybe they want to use bamboo as a structural material. Or perhaps they want to harvest water off the roof and drink it, or put in a greywater system, or not have a sewer connection or septic system and use composting toilets. Or maybe they want to be off the electrical grid and have photovoltaic panels up on the roof and batteries. Or maybe, they're worried about electromagnetic fields and don't want any electrical outlets in their bedrooms.
"What goes through your mind when people come in seeking permission to do these things? My guess is that your first thought is 'These people need to be protected from themselves.' And your next thought is 'Not in my jurisdiction!'
"As the laughter died down, I continued, "I want you to think about what's really happening because it is extremely important. The vast majority of people who come in wanting to do these things have made a crucial discovery. They've realized that their lifestyle choices have consequences, many if not most of which are negative. Not negative for them, though. Negative for their children and grandchildren, and my children, and your children. These people are trying to take responsibility for the consequences of their choices. I asked, 'Is there anyone in this room who thinks that's a bad thing? I don't think so.
"So what is your job as a building official? Is it to keep those people from pursuing that goal of taking responsibility for what they do? Or is it to help them find the way to do it well and safely?" And I said to myself, "Shut up and sit down!" I thanked them and sat down to great applause. I thought to myself, "I don't know where that came from but it was really good" and I wrote it down because I didn't want to forget it. Then I started thinking about what had just happened. I realized that in the last two minutes of a ten minute talk, I had said something that had cut right through the resistance to these ideas in a room full of mostly conservative people. As I thought about it, I realized that the power came from a few sources. First, it was an absolutely authentic heart to heart message about what we all care about—what we are trying to protect, why we have codes. Then I realized that I had connected also because I knew what they cared about and how they thought about it. But I also realized that I had just asked them a bunch of questions. I hadn't told them anything."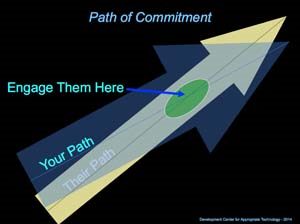 Eisenberg wrote down what he had said so he wouldn't forget. Those spontaneous words and a dream he had some time later, helped him develop his "Path of Commitment"—"what they (other people or organizations) are committed to achieving, where they're going, and what they care about." Then map your own path over it. There is some area in which you agree, a sweet spot for your work.
Read the rest of his wonderful talk for yourselves at the DCAT Web site.