It's rare that a truly radical heating and cooling technology comes along. High-efficiency equipment is so efficient that improvements tend to be small and incremental. But when considering this problem, students at MIT noticed that people often respond differently to the same room temperatures.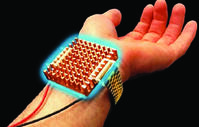 One person may be too cold while the other is too warm. Instead of battling over the thermostat setting, they reasoned, why not fool the body into believing it is comfortable? The inventors of "Wristify" might not like the use of the word "fool," but it's one way to describe how their invention works. The wrist-sized device (a full battery charge operates it for about one day) "delivers pulsed thermal waveforms" to the wearer's wrist. This minor shift in skin temperature quickly affects how the body perceives air temperatures. The students intend to spend a year or two perfecting the device before producing them for sale. Keep up on their work at www.wristifyme.com.
Whether or not this concept ever catches on, it's part of a larger trend toward micro-sizing heating and cooling. Think about how primitive it is to heat or cool an entire house or apartment for one or two people. But we already have the tools to make household HVAC much more efficient—tuned to how people actually live. By designing systems with radiant heat manifolds, motorized dampers, occupancy sensors, home automation and remote controllable thermostats, both existing and new homes can radically reduce their HVAC demand.