How to get everything you need into that pesky little quart bag.
You've figured it out. All of your clothes AND all of your shoes into one carry on bag. You won't have to stand in line to check in your bags. You won't have to pay to check your luggage. And then you realize you forgot about your toiletries...
Maybe you're one of those people who are fine with washing your face with the hotel soap. I am not. I like having my own face products and items I'm familiar with when I
travel
. So the question for me became, "What can I cut out or change to make room in that quart-size bag?" Here's two tips that work for me.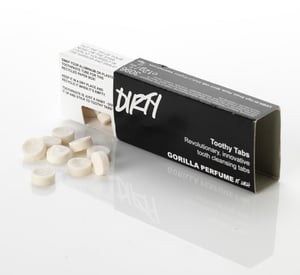 Dirty Mouth
Dirty Toothy Tabs from Lush are made with spearmint, neroli oil and baking soda. Each box contains 40 tablets. They come in a recyclable package and are not a liquid so they don't have to go in your quart-size bag.
To use the tablets you simply put one between your front teeth and start crunching. Then get your toothbrush wet and brush away. The tab will foam just like your regular toothpaste. You just rinse like you normally would.
They come in different flavors such as Cho Chou...I Love You, Atomic, Sparkle, Ultrablast, Aquatic, and Breath of God.
Lush uses fresh products such as fruits and veggies, essential oils, herbal infusions and safe sythetics. You can find out information about their ingredients (and why they use them) by visiting their LUSHopedia.
Lush engages in ethical buying practices by traveling worldwise visiting suppliers to trace ingredients, meet growers and producers and make sure workers are receiving fair working conditions. They use little or no packaging (see their Bath Bombs) which consisted of 100% recyclable materials.
It's All In the Eyes
If I'm going on a short trip and need sunscreen the last thing I want to do is tote around a half-empty bottle of the stuff. My trick is to put my sunscreen into an old contact lens case. It takes up little room in your quart-size bag but still keeps you covered.

If you have your own travel tips feel free to share them in the comments or tweet me at @HeatherGBM. Happy travels!