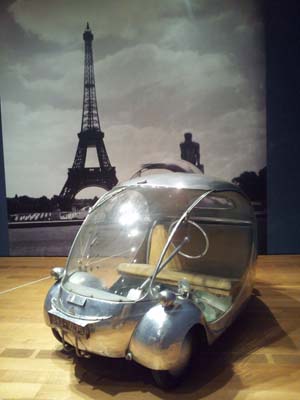 Today, I saw the 1942 Paul Arzens' L'Oeuf Electric—The Electric Egg—likely the oldest electric car in the world. It is on display in the exhibit Dream Cars: Innovative Design, Visionary Ideas at the Atlanta Museum Atlanta.
1942 L'Oeuf Electric -- on display until September 7 at the High Museum, Atlanta.

"[We] dream of cars that will float and fly, or run on energy from a laser beam, or travel close to the ground without wheels. Such research may border on the fantastic, but so did the idea of a carriage going about the country without a horse."—exhibit quote from The Ford Book of Styling, 1963
Developed during World War II in response to fuel and other rationing and considered the precursor of today's Smart Car, the three-wheeled vehicle ran 60 miles on a charge at a top speed of 37 miles per hour—not bad for the era. Fabricated from aluminum with a plexiglass dome, it was lightweight as well as fuel efficient.
French artist, industrial designer and engineer Paul Arzens, then 45 years old, built the egg-shaped car for his personal use. Equipped with only a single pedal and a steering wheel, the exhibit says that L'Oeuf "signified the beginning of France's dominance in mini-cars following the war.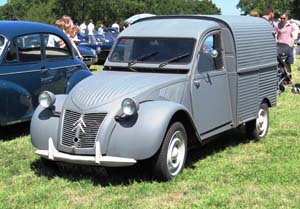 Indeed, when studying in Europe, I owned a gas-powered 1951 Deux Chevaux Citroen truck (or fourgonnette) that looked like a corrugated aluminum quonset hut on wheels. With some trepidation, I rode all over France, Germany and Italy in that truck. Petrol (gas) prices were in liters; the truck wasn't exactly safe (it had a lawn chair with fabric and springs for a front seat and don't ask about seat belts —there weren't any). But the amount we spent on fuel was miniscule.
Neither the L'Oeuf or 1951 Deux Chevaux meet today's U.S. safety standards as originally sold. I had to leave mine in France
L'Oeuf is on loan from the Musee des Arts et Metiers, Paris.
If in Atlanta, you can see the exhibit and L'Oeuf yourself until September 7th.
---