Led by Governor Andrew M. Cuomo, New York lawmakers reached a deal last week to pass a historic climate plan that would create a net zero economy, effectively eliminating greenhouse gas emissions within the state by 2050.
New York just raised the bar on climate action. With the Climate Leadership and Community Protection Act, the state plans to slash greenhouse gas emissions by 85% (when compared to 1990 levels) by 2050 and offset the remaining 15% through carbon capture measures.
The plan is the first of its kind in the U.S. to create a net-zero economy on a state-wide scale, offering a template that other states can follow and a blueprint for a federal Green New Deal.
"Climate change is the issue of our lifetime—it is the legacy we leave our children," asserted Governor Cuomo. "The Climate Leadership and Community Protection Act is the most aggressive climate change program in the United States of America, period."
No doubt, the bill aspires to lofty goals, calling for nothing less than complete transformation of the state's energy, transportation, and building sectors.
Arguably, the renewable energy requirements will be lowest hanging fruit. The Act requires that the state access 70% of its electricity from renewable sources by 2030 and 100% by 2040. Given that New York already obtains about 60% of its electricity from carbon-free sources—mostly hydropower and nuclear, getting to 70% through increased offshore wind, rooftop solar, and battery storage installations isn't an arduous stretch.
The clean transportation requirements, which essentially call for the electrification of 10 million vehicles and full replacement of fossil fuel vehicles (which currently produce approximately 1/3rd of the state's carbon emissions), may pose a greater challenge, particularly in light of the Trump administration's attempts to roll back federal vehicle efficiency standards to prevent states like New York and California from setting their own stricter rules.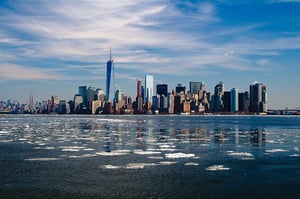 New York's built environment, which currently generates 1/4th of the state's emissions, is also in for a massive overhaul. Not only will most existing residential and commercial buildings need major retrofits to meet energy efficiency and performance mandates, they'll also require major upgrades to switch mechanical systems to clean energy sources (the majority of New York's buildings currently utilize natural gas or fuel oil for heating.)
Critics fear that the legislation will astronomically increase energy bills and that the timeline may be too aggressive for utilities, real estate owners, and businesses to prepare for properly and execute cost effectively.
But supporters ardently believe that the plan offers tremendous economic upside, extensive green job creation, and viable solutions to tackle the escalating climate crisis.
Beyond the environmental implications, the bill addresses mounting social inequality challenges that have been created by climate change. By directing the equivalent of 35% of the state's spending on clean energy and energy efficiency programs (representing hundreds of millions of dollars) to economically disadvantaged communities, the Act will bring welcome relief to individuals grappling with storm surges, flooding, extreme weather and other climate and sustainability related misfortunes.
While many of the plan's details have yet to be determined, a climate action council has been created to develop solutions for the healthcare, economic development, energy, labor, land use, and forestry challenges that the state is facing.
New York has certainly set the stage, positioning itself to be a shining example to the world with respect to climate action. Let's hope lawmakers follow through on their promises to create a net-zero economy, proving once and for all that bold climate action can usher in a new era of economic prosperity, social equality, and environmental stewardship.
Want to read more? Follow me on Twitter and Facebook. For more information about green building and sustainable living, visit Green Builder Media at www.greenbuildermedia.com, like us on Facebook, and follow us on Twitter for regular updates and breaking news.