The ADAptable GroHome uses a sustainable and ADA-compliant, universal design to provide immediate, accessible housing options.
A new expandable, sequential building system, called the ADAptable GroHome (Gro= Green-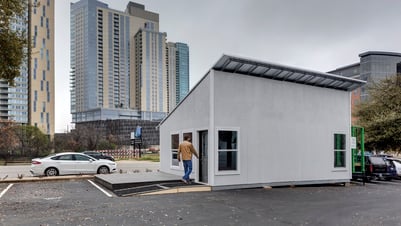 Repositionable-Open) has a flexible design, aimed at providing immediate, accessible housing to returning disabled veterans. An operating version of the new system, was displayed at Austin's South By Southwest festival earlier this year.
The US Patented KE Architectural Element, manufactured by KE Module, is the heart of the structure. It provides a highly efficient and sustainable core utility delivery system for mechanical HVAC, plumbing, electrical and technology systems in a single containment chassis.
Interiors of the structures are packaged as a 16' wide by 25-ft.-long lightweight steel bearing wall stud and truss framing system that can expand sequentially to 1200 sq. ft., as needs present. The exterior and interior skin/finish suggested by the demo unit used materials with high recyclable content, most of which was available locally in the Austin area. Additionally, an array of photovoltaic solar panels and rain water was added to the unit.
As its name suggests, ADAptable GRO Home 2 will adapt to a wide range of uses and people spanning the globe. Its greatest cost savings is evident in the speed at which this factory pre-engineered and pre-packaged lightweight steel building system kit can be site assembled on a variety of foundation designs in a very short period of time, cutting labor costs significantly. OurPart.US and its partners are excited about the opportunity to furnish the homebuilding industry a GRO Home approach to meeting affordable housing needs of all generational future homebuyers with a smart 21st century universal housing opportunity.
For more detailed information about the ADAptable GRO Home 2's partners and suppliers, the architecture and the construction visit and/or contact www.OurPart.US www.KEmodule.com 
and www.gcfs.us
---
Stan Love, AIA, AUA, RID is a Licensed Architect, Registered Interior Designer, Licensed General Contractor, Inventor of the KE Architectural Element and Partner in OurPart.US.