New Outdoor Living Guide Released
The fresh outdoors is waiting! This aspirational collection of outdoor living space ideas, projects, and trends will inspire you to do more with the environment around your home.
There's no doubt that the cooped up nature of the pandemic spawned renewed interest in creating livable spaces at home, but don't think that trend will stop as the country continues to open up.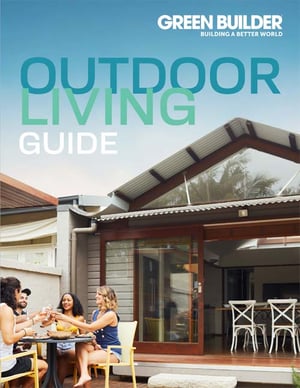 "According to COGNITION SmartData, remodeling projects rose by 75 percent in 2020, with homeowners spending an average of $17,140, up from $12,000 in 2019," notes Green Builder Media CEO Sara Gutterman. "And outdoor living projects have commanded the lion's share of those dollars as homeowners have relied on outdoor spaces to gather safely with loved ones."
As one example of this, decking projects have not only grown in number, but also in scale and creativity. "Projects were bigger and more elaborate over the past year, with multiple levels, covered spaces, cabanas, and flex spaces," notes Patrick Barnds, senior vice president of product management at The AZEK Company.
The Outdoor Living Guide offers ideas for:
Alfresco entertaining areas.
Home orchards, edible gardens, and micro-gardening.
Integration of smart technology into outdoor areas.
Creative "flexible privacy" areas.
Outdoor kitchens, entertainment systems, and dining areas.
This beautiful collection of ideas is all the inspiration you need to transform your personal outdoor space into a true oasis. Or, for you building pros, use this detailed trend report as a springboard to create the perfect outdoor spaces for your models to differentiate your product and boost sales.