New Net Zero Alliance Expedites Zero-Impact Future
Aaron Smith, CEO of EEBA, and TEAM ZERO's
Director of Development

, Mary MacLeod, discuss how their new alliance puts net-zero energy housing on a steep growth trajectory by generating consumer demand and educating home builders.

The news that the Energy and Environmental Building Alliance (EEBA) and TEAM ZERO formed a new alliance to move residential construction toward a zero-impact future is a game-changer for the industry. The deal combines the long-established education and training resources of EEBA with TEAM ZERO's crucial role in generating consumer demand.
Q: What was the impetus for this alliance?
A: Both EEBA and TEAM ZERO realized that together we provide a unique offering. It's a perfect example of a synergistic alliance where one plus one makes three.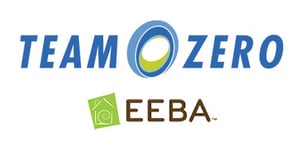 Builders who respond to this inevitable demand for zero-impact homes will lead the marketplace. It's not "if" but "when" zero impact housing will be the norm. EEBA and TEAM ZERO are committed to accelerating this timeline by arming builders with the skills needed to get there while queuing up consumer demand.
But you can't have a zero-impact-home future without builders who know how to build them and buyers who demand them. We are committed to closing that gap by coupling EEBA's long-established leader in high-performance builder education with TEAM ZERO's home buyer demand building campaign.
Q: How will the industry benefit from this merger?
A: This union will benefit single-family and multifamily home builders and architects, building scientists, residential construction materials manufacturers, and energy/sustainable program operators and associations in residential spaces.
Q: This question is directed to EEBA. How will you change the approach to the market now that you're merging with Team Zero?
A: Our merger with Team Zero will allow EEBA to leap forward in our offering of knowledge and content around decarbonization and electrification strategies for home builders. Also, the TEAM ZERO focus on the consumer will help us leverage their pull-through strategy to connect engaged consumers with builders who can execute net-zero homes.
Q: And, TEAM ZERO: What is the Zero Impact Future proposition? Can you give an example of it?
A: zero-impact future is one in which humanity's demand on earth's resources are replenished, and negative impacts on the environment are eliminated. And while that sounds unattainable, by getting on that path today, opportunities immediately open for positive social and economic growth in addition to the environmental benefits.
Q: What are you most excited about with respect to this merger?
A: We are excited about pumping up the volume to create a louder, more inclusive, and credible voice in support of a zero impact future for all communities, including affordable housing, urban development, and the retrofit market. We'll also be looking to find great examples of zero heroes who are making zero happen in their towns and sharing their stories.
Q: What are the future goals for the merger?
A: Our first goal is to define measurable, achievable, time-lined goals like EEBA's upcoming Virtual High-Performance Home Summit featuring an exclusive Paths to ZERO track. We are also planning a one-stop membership and sponsorship approach for builders, architects, building scientists, manufacturers, and, most importantly, home buyers.
Q: What will stay the same? What will be different?
A: TEAM ZERO will continue to be the "Zero Bull Horn," focused on amplifying the many paths offered by industry partners. We will also remain a neutral resource for information and not endorse programs and methods. For example, TEAM ZERO is launching the Gateway to Zero, which links to programs and guidelines on a continuum starting from code compliance to zero embodied carbon. It's not about picking winners but, simply providing access to information to allow people to make their own independently researched decisions.
TEAM ZERO will continue to publish its yearly report on zero energy home trends industry in the United States and Canada. Now in its fifth year, The Zero Energy Home Inventory will be published and released on the eve of the EEBA Summit on September 28.
EEBA's primary function will remain as the leader in high-performance builder education. EEBA is well-positioned to teach builders how to get to zero energy, zero carbon, and ultimately zero impact homes. Since 1982, EEBA has been a leader in the education of innovators and early adopters in the home building industry. EEBA will continue to drive market transformation with strong partnerships that allow our members and community to learn, share, and collaborate toward a more resource-efficient, healthy future.
Green Builder Media CEO Sara Gutterman, the author of Special Report: Net Zero Energy Buildings, conducted this interview. For more information about how you can join EEBA and Team Zero, visit eeba.org and teamzero.org.