Wild variations in the jet stream are pushing colder air south, where homes are poorly insulated, and scientists say this may be the tip of the iceberg.
ONE OF THE GREAT PLEASURES of living in places such as North Carolina and Northern Florida is the temperate climate. I've lived in both places, each time in a cinder-block ranch with no insulation, aluminum window frames and central air conditioning and baseboard electric radiators. The Florida home even had jalousied windows, little more than a translucent shutter system. But that was 20 years ago. And things are changing in a way that none of us could have anticipated. It's possible that much of the United States could be facing a "big chill."
This may sound absurd, and unfortunately, it plays into the hands of climate change deniers. But the fact is that the bizarre cold weather pattern that's emerging may be the direct result of global warming, and the melting of ice in the Arctic region.
According to insideclimatenews.org:
"Melting sea ice and warmer temperatures in the Arctic are to blame for the brutal cold snaps that have plagued parts of Asia and North America in recent years, according to new research by Korean and European scientists released Monday. The study, published in the peer-reviewed journal Nature Geoscience, adds to the growing evidence linking rising Arctic temperatures to changing weather patterns across the globe. It also helps further debunk one of climate deniers' favorite arguments: cold weather proves the world isn't warming from the buildup of greenhouse gases in the atmosphere."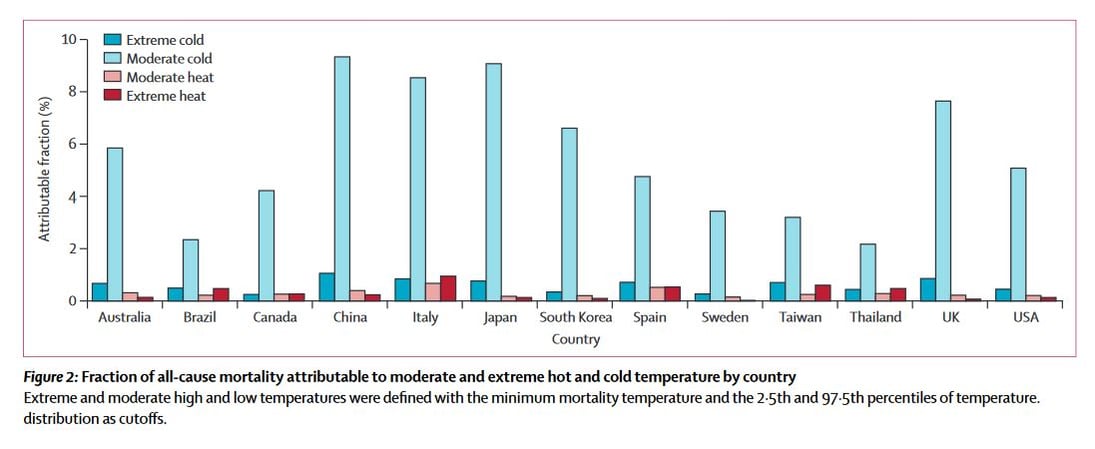 Now consider this study, published in The Lancet. Researchers looked at deaths worldwide related to extreme weather conditions, and found that cold temperatures cause far more deaths than heat. What's especially interesting for the building industry is that when cold kills, it's usually because of prolonged exposure to moderate cold temperatures, not because of an short-term spike. As noted in the article:
"The biological processes that underlie cold-related mortality mainly have cardio vascular and respiratory eff ects. Exposure to cold has been associated with cardiovascular stress by affecting factors such as blood pressure and plasma fibrinogen, vasoconstriction and blood viscosity, and inflammatory responses.
Similarly, cold induces bronchoconstriction and suppresses mucociliary defences and other immunological reactions, resulting in local inflammation and increased risk of respiratory infections. These physiological responses can persist for longer than those attributed to heat, and seem to produce mortality risks that follow a smooth, close-to linear response, with most of the attributable risk occurring in moderately cold days."
Now take a look at the current level of adoption of IECC Energy Codes nationwide. The states shown in white have absolutely no energy code in place. The ones in red, such as Tennessee, are only slightly ahead of them with very weak energy requirements for homes.What this tells us is that many States, particularly in the "Bible belt" region of the U.S., are ill prepared to deal with any type of weather extreme.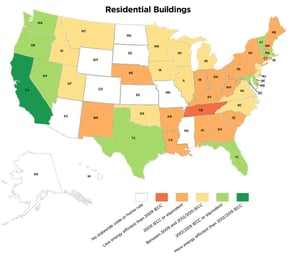 Last February, for example, the Governor of the State of Tennessee announced a state emergency, as 21 people died from cold-related issues. It's no coincidence that Tennessee is one of the last Southeast States to embrace energy efficiency. Many of those who died were homeless and without any shelter, but several were people who lost power for hours--or days, and had no way to heat their inefficient homes.
It's an oversimplification to blame building codes alone for cold-related deaths, of course, but they are often a contributing factor, and the level of contribution spikes up quickly as extreme cold becomes the norm, not an occasional climate fluke. Along with extreme weather typically come power outages and slower emergency services.
To date, weather patterns have not seen the prolongued, long-term shift toward icy conditions across the U.S., but that day may not be far off. It's unlikely to happen suddenly, as portrayed in the disaster film, "The Day After Tomorrow," but long winters of deep freeze conditions look increasingly likely as Climate Change changes all the rules.
Why not prepare now, and build homes that are highly efficient, with backup sources of power and heat, to weather any storm?