Net Zero Imperative
Despite the slowdown in industry, transportation, and business during the last several weeks, global carbon emissions have only decreased by approximately 5.5%, indicating the considerable impact that our built environment has on fossil fuel consumption. Will the growing awareness about this impact drive us to net zero?
As Green Builder Media tracks conversation about Coronavirus online through COGNITION Smart Data, we're watching a growing correlation between the virus and an increased demand for climate action.
On social media, news, blogs, and forums, people are actively talking about the pandemic's positive environmental impact: air and water quality has dramatically improved over the last several weeks because of the shutdown of business, industry, and transportation across the globe.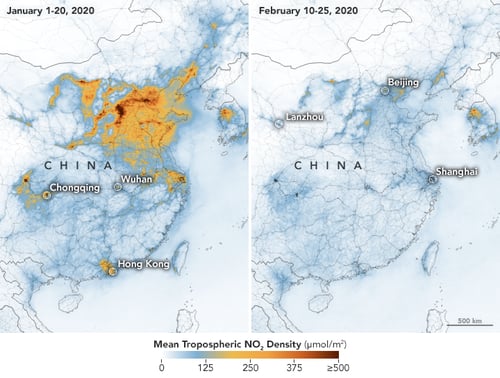 Image courtesy of NASA
Now, we're seeing similarly arresting images from cities around the world. Magnificent evening skies in Indian cities that hadn't seen the stars in a decade. Layers of mountains surrounding Los Angeles that are normally obscured by choking smog. Record levels of solar power generation reported by Germany due to clear skies.
Even before the Coronavirus, there was a growing ethic of sustainability. In a Green Builder Media survey conducted in January, 62% of consumers reported that they had directly felt the impact of climate change in some way—mostly in the form of increased flooding, extreme weather, damaged ecosystems, droughts, and wildfires.
Respondents also reported that they had modified their behaviors by reducing food waste (23%), plastic use (23%), and water use (22%), as well as driving less (16%) and eating less meat (13%) in an effort to protect the environment.
As the economy opens back up, we anticipate that this burgeoning ethic of sustainability will continue to mature, influencing all sectors of our economy.
The building industry has the potential to be particularly impacted, given that 86 million Millennials (40% of which are currently in the housing market) and 67 million Zoomers (just beginning to enter the housing market as they reach their early 20's) have sustainability embedded in their DNA. No doubt, these younger generations will continue to drive the demand for net zero homes.
In a recent Green Builder Media webinar titled Demystifying Zero presented by Sam Rashkin, lead architect at the Department of Energy, Rashkin asserted that buildings in the U.S. account for over 40% of our nation's total energy use, 70% of total electricity demand, and 40% of total emissions.
"Given that 80% of our nation's electricity is produced from fossil fuels, it is essential that we find our way immediately to a net zero built environment," asserted Rashkin. "The U.S. accounts for 4% of the global population but produces 16% of world's emissions. We must play an active role in the movement to zero."
Fortunately, the transformation is already underway. In his webinar, Rashkin cited examples, such as 2 million homes that are now certified through the Department of Energy's Zero Energy Ready program; a 100% increase in builders that have indicated interest in building zero homes in the past two years; 19 U.S. Mayors that have signed a net zero carbon pledge, committing that all new homes will be net zero by 2030, and existing homes will be net zero by 2050; and 9 States that have committed to becoming net zero carbon by 2050.
The shifting marketplace is already driving innovation in areas like solar technology (photovoltaics, inverters, and storage), heat pump water heaters, minisplit heating and cooling systems, induction cooktops, high performance insulation and building envelope solutions, and offsite and prefab construction.
To match the mushrooming innovation, codes and policies are also shifting to drive net zero. The 2021 IECC brings us closer to zero, and experts predict that we'll see even more zero activity in the next code cycle.
It will certainly be interesting to see how quickly we transition to zero and how much of an impact the Coronavirus will have on the desire and drive to get there.
For more information about how the Coronavirus is impacting consumer awareness and transforming expectations, thereby placing new demands on the building industry, check out my recent webinar, Coronavirus and the Housing Industry: Shifting Expectations and Systemic Change.
Want to read more? Follow me on Twitter and Facebook. For more information about green building and sustainable living, visit Green Builder Media at www.greenbuildermedia.com, like us on Facebook, and follow us on Twitter for regular updates and breaking news.