When you have a great product that meets LEED, Energy Star or other important sustainable standards, it's natural to want to get the word out. But will your prospective customers really hear you? There's an old adage about what happens when you assume—and it especially applies to assuming consumers will get the message when you label your products with industry buzzwords.
Our Pulse research shows consumers have a very limited understanding of terms common in the construction industry. Take the latest, greatest thing out there: net-zero homes. Exciting stuff, confusing terminology.
We asked Energy Pulse respondents to select the correct definition for a net-zero home, and only 11 percent got it right: "The home has zero energy costs." (Even though "net zero" technically means a home produces as much or more energy than it consumes, this was our simplified definition for survey purposes.) Almost a third (31 percent) had no clue at all. Nearly as many (29 percent)—all optimists, it seems—guessed that the home had zero environmental impact, and another 29 percent guessed it had to be both things together.
Ouch.
And it got worse from there. We provided a list of terms and asked respondents to check the ones they felt they could confidently and correctly explain to a friend. The term that got the most traction was "efficient home," but only 45 percent of respondents thought they had a fighting chance of explaining it. A full 30 percent of respondents didn't feel confident explaining a single term we asked about.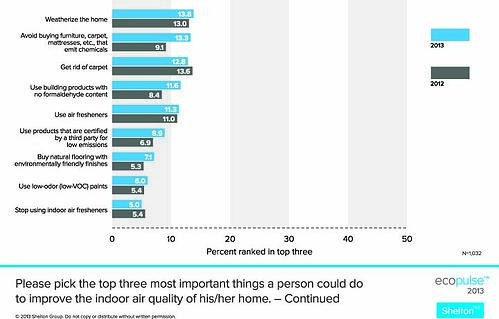 The problem isn't confined to energy efficiency. Our past two Eco Pulse studies - as well as focus groups we've conducted - have shed light on another fundamental building industry issue: indoor air quality. Consumers are familiar with the term, and nearly half of our respondents profess concern about it, but their understanding of it is surprisingly poor:
They don't connect indoor air quality to chemicals of concern in products. When we asked them to describe the best solutions for improving indoor air quality, only about a third of respondents selected anything related to purchasing/not purchasing products based on chemicals of concern (such as using low-VOC paints, buying furniture and carpeting that emit fewer chemicals, avoiding formaldehyde content, etc.).
They don't get VOCs, period. Consumers don't know what they are, they don't know where they come from, and they don't get that their health is at stake. In Eco Pulse 2013, more respondents actually chose using air freshener (a notorious source of VOCs) over using low-VOC paint as a way of improving their homes' indoor air quality. All the list items we proposed that were related to VOCs landed at the bottom of their priority list.
They think the answer to indoor air quality is better ventilation. Customers are all about cleaning air ducts, opening windows and buying HEPA filters to promote indoor air quality. We suspect they don't know where indoor air pollution is coming from at all—just that they need to get rid of it if they want to be healthy.
All this data adds up to a major communication problem. If you don't have a plan in place for educating consumers about your product offering and the standards it meets, you're setting yourself up for failure.
Net zero is great—but don't forget to educate. Your customers have a very tenuous relationship with this language, so don't use it without explanation. Your promotion efforts should center on eliminating a home's energy bill, not nebulous environmental goodness. Make the benefits concrete and easy to understand.
If you're selling no-VOC products, warn consumers about the alternatives. Our focus groups routinely show not only a general lack of knowledge in this category, but a naïve belief that government regulations prevent manufacturers from incorporating potential toxins in the products they sell. If consumers don't know they have a problem, they're not going to care about your solution.
No matter what your goal, define your terms. Remember that industry jargon is a minefield for consumers, who know just enough to be dangerous. Explain industry terms clearly, and be sure to explicitly establish the link between using your product and enjoying better health, improved comfort and lower energy bills.
Above all else, talk about what they care about. Americans want high-quality homes. And those are homes that feel good and look good. So talk about how green and energy-efficient features are going to help on both fronts (i.e. the LED lighting is dimmable and warm, so it makes any room feel and look good—for a fraction of the operating costs of incandescents.) They also care deeply about resale value, so talk about how studies show that energy-efficient homes command a higher price than conventional homes. Convince them they'll get the comfort, beauty and resale value they want, and selling green and energy efficiency features should become a lot easier.
Learn more about our Energy Pulse and Eco Pulse studies at http://sheltongrp.com/insights/pulse-studies/
---