Neighborhood SolarShares Program Launches in Sacramento
New controversial shared solar program aims to help homes comply with new California energy code.
The California Energy Commission recently approved the SMUD (Sacramento Municipal Utility District) shared solar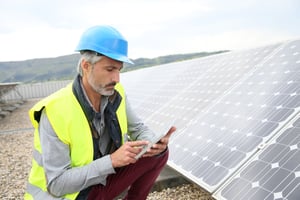 program, "Neighborhood SolarShares." The shared solar program aims to help new homes comply with the solar mandate in California's new energy code (Title 24), which requires solar energy installations on all new residential roofs.
Community solar is an alternative compliance path under the code. Under the terms of the program, residential "customers would sign 20-year contracts offering bill savings of $10 per kilowatt per year."
The CEC's decision was viewed by some in the solar industry as controversial. One of the criticisms centered around concerns about program access for disadvantaged communities. The suggestion has been made to add a low-income solar option to the program.
However, the debate did give the industry a rare sighting. Allies supporting the program included home builders and builder organizations, the American Institute of Architects (California Council), the Natural Resources Defense Council, other municipal utilities, and the Northern California Power Agency.
It's not every day that all those groups are on the same side of an issue.
Mike Collignon is Executive Director of the Green Builder Coalition.