Nasoni Fountain Faucets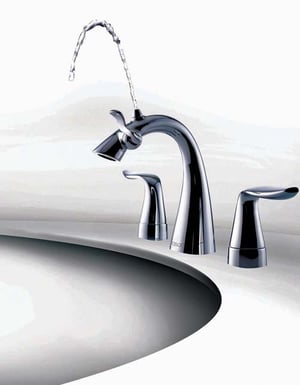 Nasoni Fountain Faucets are the world's first such items and they are quite the sight. With the flip of a switch, the product's patented Dynamic Fountain Flow Technology redirects the path of water from the downspout to the fountain hole at the top of the downspout. Washing a face, brushing teeth, shaving or simply taking a drink just became a lot easier—and a lot more efficient.
When used in fountain mode, the faucet uses 88 percent less water than existing faucets. The potential water saving in the U.S. could be as high as 136 billion gallons annually just from toothbrushing alone, which is the equivalent of over 9 million backyard swimming pools.
Nasoni can reduce the possibility of sickness and ill health, for consumers and installers. Water fountains are self-cleaning; simply turn them on and anything present is rinsed away, providing access to clean drinking water without the nasty airborne germs.
For more information: nasoni.com