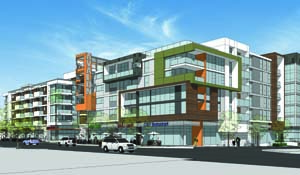 At 122 dwelling units per acre, Avalon West Hollywood qualifies for Very High Density for Mid-Rise LEED credits. A narrow greenbelt at the low end of the site will help manage stormwater.
A NEW MULTI-FAMILY PROJECT recently broke ground in West Hollywood, a neighborhood in Central L.A. known for—of all things—its walkability. Avalon West Hollywood is a collaborative effort between design firm MVE & Partners, AvalonBay and non-profit West Hollywood Community Housing Corporation. The site, called Movietown Plaza, once contained an aging strip mall and now-defunct Trader Joe's.
"It really was a 'missing tooth' on the block," says Jeff Larsen, Principal of MVE & Partners. This project will fill that gap with a trio of LEED-certified buildings and a total of 371 rental units. Two will feature market-rate units; a third, consisting of 77 age- and income-restricted rental units, is going for LEED Gold. The five-story buildings follow a winning multi-use formula: retail at the street level, residences above and parking underground. The retail anchor will be a specialty foods market—most likely a new Trader Joe's.
Avalon West Hollywood was designed as a "family of buildings," each with its own character. The structures are set back 150 feet from the street, in part to accommodate a double row of elm trees and patio seating.
"Most infill sites are edge-to-edge," says Larsen. "Here, there's a sense of discovery as you enter the space from Santa Monica and make your way back." A pedestrian walkway will connect the street-front retail on both streets.
The eclectic neighborhood includes several film and television studios. Along with restaurants and other resident-serving retail, the buildings will likely include "creative office space" on the ground floor, in hopes of attracting people from the entertainment industry. Some of those people will become residents, too, taking advantage of a rare opportunity: the chance to walk to work in L.A.
"This area is unique for its walkability," says Larsen. "We're trying to reverse some of the traffic trends."
Avalon Bay will manage the two market-rate buildings, but the West Hollywood Community Housing Corporation will manage the 77 senior units, which will likely be snapped up quickly. (According to Larsen, the last affordable housing project in the area saw 1,200 applications for the 48 units.)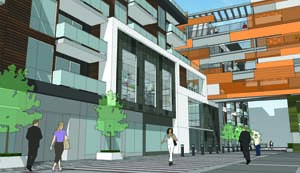 The site is close to an existing network of bus transit, and to parks. Extensive bike storage and a vibrant street culture should encourage people to leave their cars at home.
The demand stems in part from a large population of Russian Jewish immigrants, who started settling in West Hollywood in the 1970s. Though the senior apartments will be smaller than the market-rate units, the building will include the same quality of materials and an envelope with higher insulation values. Each building will include amenities such as rooftop decks, a community room, library, fitness center, outdoor dining and community garden. These perks should attract a diverse range of tenants, says Larsen, including people his daughter's age—all of which will help create a vibrant community not centered around the automobile.
"I think the younger population is yearning for this."
Avalon Bay specializes in "barrier-to-entry" markets—places that are difficult to develop because of physical constraints, or because they're already built-out or costly—coasts, for example. AvalonBay and MVE & Partners have teamed up on other transit-oriented projects, including Avalon Walnut Creek, a mixed-use development located adjacent to a Bay Area Rapid Transit (BART) station.