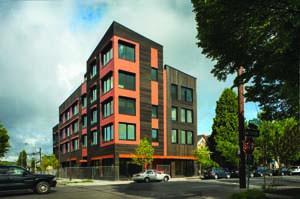 AMID THE RECENT FLURRY of multi-family projects in Portland, Oregon, the Kiln Apartments building stands out: it's aiming to be one of the first Passive House multi-family buildings in the country. In this case, the development's owner drove the energy efficiency agenda.

"They were particularly interested in going beyond LEED Platinum on the energy side," says Agustin Enriquez V, principal for GBD Architects, which designed the project.

It was an opportunity for the firm's design team to stretch, too. The design/development phase led them to consider Passive House standards, which meant reducing energy demand by 70 to 80 percent.

The 18,000-square-foot building, inspired by Gerding Edlen Development, is located in a bike-friendly neighborhood in North Portland. It includes 19 one-bedroom apartments ranging from 537 to 763 square feet, and street-level retail. The goal was to develop units that less resembled, well, units—and instead evoked qualities of well-designed, custom homes. The challenge: how to design a super-efficient building that included generously sized windows?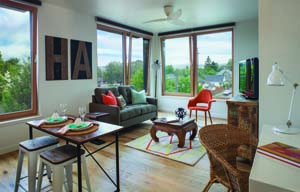 "With a high-performing skin, you tend to have a lot fewer windows, because windows are leaking energy through the glazing," said Enriquez in an interview for a Portland architecture blog. In contrast, the glazing for the Kiln building comprises 22 percent of the exterior envelope. The triple-glazed, metal-clad wood windows were manufactured by Seattle-based HH Windows & Doors.

The neighborhood and long, skinny site presented other challenges. The comprehensive treatment on the envelope would have been more cost efficient with a squarer structure with a lower surface-to-volume ratio. The offsets, designed to reduce massing so the building would better integrate into its residential neighborhood, created more building skin than one with flush walls.

The building envelope includes two staggered layers of 2" exterior rigid insulation over a wood frame. Dense-packed cellulose insulation in the cavities brings the R-value of the walls to R-42. At R-70, the wood truss roof includes an average of 20" batt insulation, along with four inches of rigid extruded polystyrene on top. There are four inches of extruded polystyrene foam under both the slab and the structural footings, as well. An energy recovery ventilator ensures fresh air constantly circulates through the building, and solar-thermal-fueled radiant heaters provide what little space heating is required.

The Pacific Northwest is a hotbed of Passive House projects. Stellar Apartments, a multi-family project completed in Eugene, Oregon, last year, includes one six-unit structure built to Passive House standards.