More Power, Please
A file folder full of green energy bills await state and local lawmakers when they return to office next year.
With communities increasingly turning toward alternative energy sources to power their homes and businesses, state and local governments have been working on bills designed to make it easier to move away from fossil fuels. Here are several pieces of legislation in the works.
Maryland
Before adjournment, the Maryland state legislature was working on HB 111, a bill which includes a blend of regulation and incentives.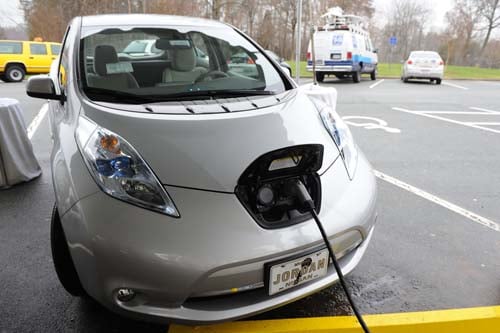 Charging an electric vehicle at home will be safer for Maryland residents if legislation on charging station installs passes the State senate. Photo courtesy NCDOT Communications/Flickr
First, it looks to prevent condominiums or homeowner associations from prohibiting or unreasonably restricting the installation of electric vehicle (EV) charging equipment by unit owners.
There are a few specific rules that would have to be followed, such as requiring the building owner to hire a licensed contractor for installation and pay for separately metered electricity. The installation cannot unreasonably impede the normal use of an area outside the unit owner's parking space, and must comply with building codes, safety standards and architectural standards.
It also calls for the unit owner to reimburse the HOA for any insurance premium increases attributed to the EV charging equipment.
Secondly, the bill would establish an EV infrastructure grant program for individuals, businesses, state and local government entities, retail station dealers and condominiums to install charging equipment. The grant would cover "the costs of acquiring and installing qualified electric vehicle charging equipment."
It is a fairly generous grant program, with the funding capped at 40 percent of the costs or $700 for individuals, whichever is lower. For businesses, the same percentage applies, but the dollar option goes up to $4,000. Finally, for a retail service station dealer or condominium association, the grant can equal 40 percent or $5,000, whichever is lower.
The bill overwhelmingly passed the House (124-14) and was sent to the Senate, where it was referred to the Judicial Proceedings Committee for review.
Colorado
Summit County, as well as the towns of Frisco, Breckenridge and Dillon, have adopted the Summit County Sustainable Building Code. This means that all new residential construction must comply with the U.S. Department of Energy (DOE)'s Zero Energy Ready Home program.
This program applies to R-2 and R-3 occupancies, as well as R-4 occupancies of four stories or less. Additions to the code include commercial buildings, multifamily and single-family homes becoming electric vehicle (EV)-ready.
The new EV charging requirements incorporate the technical specifications from the 2021 IECC. All new one- and two-family homes must be equipped with one EV-ready parking space that supports a Level 2 charger. Larger parking lots serving multifamily residential and commercial buildings will provide EV charging stations for at least 5 percent of parking spaces and EV-capable infrastructure for 50 percent of the remaining spaces.
The new code includes more than just the usual energy efficiency upgrades. More water-efficient plumbing fixtures (toilets, faucets, sinks, clothes washers and dishwashers) are also required.
Massachusetts
In mid-April, the Massachusetts Department of Energy Resources unveiled emergency revisions that doubled the capacity of the Solar Massachusetts Renewable Target Program, known as SMART. This should provide a boost to the state's solar industry, which saw new solar installations drop 50 percent in 2019.
The program's ceiling, which was raised from 1.6 gigawatts (GW) to 3.2 GW, was not the only change made by program administrators. Massachusetts administers the SMART program in 200 megawatt (MW) "blocks," although financial incentives fade as more projects get rewarded.
A new requirement calls for 5 percent of each program "block" be set aside for community solar projects that serve low-income customers.
Within the same 200 MW block, there needs to be 20 percent (40 MW) allocated to projects between 25 kilowatts (kW) and 500 kW.
To receive the incentives needed to help guarantee a project's completion, community solar projects and shared solar projects serving low-income customers now face a minimum 90 percent subscription rate for bill credits. There is now an energy storage requirement for projects larger than 500 kW.
Finally, there are a couple of site-based facets in the program now. There are incentives to encourage projects that include pollinator habitats, and the criteria was made easier to co-locate projects with certain types of farmland. The State also decreased the amount of incentives for projects on undeveloped land. This was added to boost brownfield development.
---
Mike Collignon is Executive Director and Co-Founder of the Green Builder Coalition, a not-for-profit association dedicated to amplifying the voice of green builders and professionals to drive advocacy and education for more sustainable home-building practices.