Mohawk EverStrand Carpet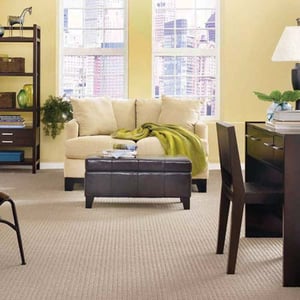 Most carpet, when its term of service is done, ends up in the landfill. Mohawk has a tradition of producing products that are safe and sustainable for the environment, and it continues the green journey with its latest line of EverStrand carpet. EverStrand is the industry's only all-post-consumer-face Polyethylene Terephthalate (PET) fiber product, made of recycled plastic bottles.
Make that a lot of bottles. The company estimates that 1 in 4 plastic bottles in North America become EverStrand. About 30 bottles are recycled to make one square yard the product. Fourteen thousand turn into EverStrand each minute. Three billion are manufactured into the carpet annually, and 24 billion have been recycled since 1999. That's a lot of unused landfill space.
The carpeting and rugs are also known for their softness, ease of cleaning and stain resistance, wide variety of styles and colors (at last count, more than 2,000), and the fact their production process consumes zero virgin petrochemical resources, meaning minimal environmental impact. It also carries a CRI Green Label Plus certification.
For more information: www.mohawkhome.com