Modular Modernism
Builders don't necessarily want to hear it, but talk to some architects and they'll tell you that prefabricated homes are the wave of the future. Not only do they make it possible to build unique, high end homes for a fraction of the price of their stick-built cousins, but they're way more environmentally sustainable to boot, say these prefab aficionados.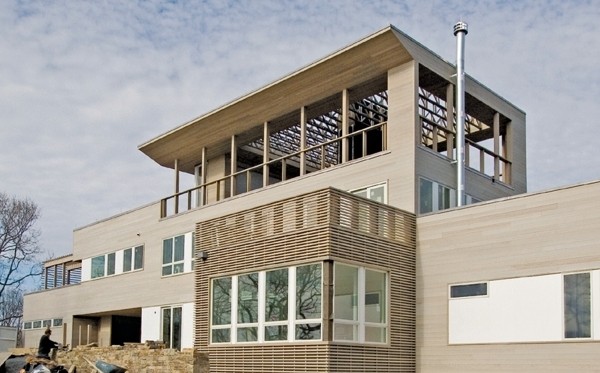 That's certainly the way Joseph Tanney, one the founding architects of New York City's Resolution: 4 Architecture, sees it. He and his colleagues recently finished what they're calling the Fishers Island House, the most recent in the firm's "Modern Modular" line of homes. While each is completely unique, its design driven by the site and the homeowners' needs, all of the houses are constructed using a series of long, factory-built Lego-like boxes that are connected and finished on the site.
These are not your parents' prefab homes. Although there are roughly 200 factories in the U.S. that build modular homes—which fall under the category of prefabricated structures, just like kit houses and manufactured homes—only about a handful build to the very high specifications demanded by firms like Resolution: 4 Architecture. Walk into one of these homes and there's little chance you'll know it was constructed in a factory unless the owners tell you.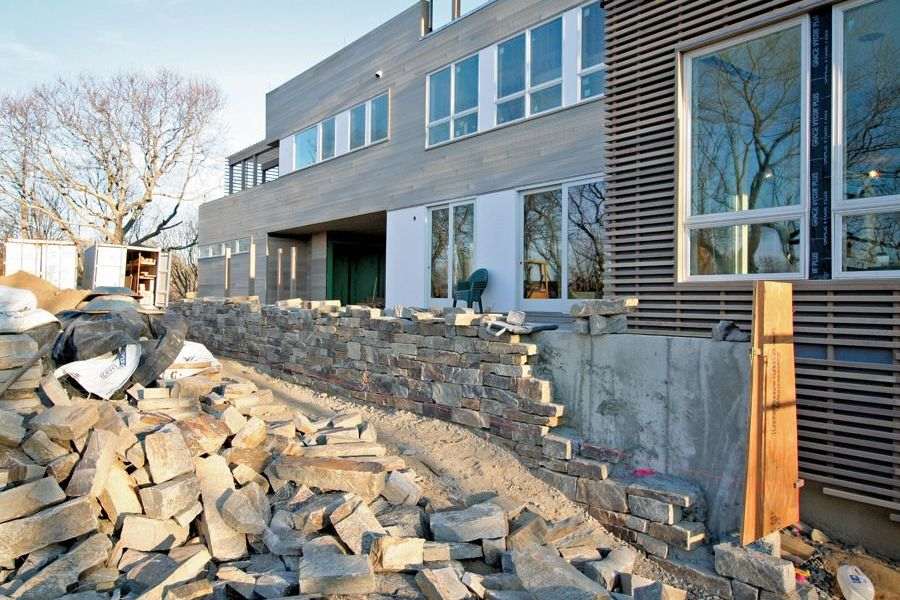 According to Tanney, his firm first started thinking about modular in the wake of September 11. "We're based in New York City, and right after 9/11, just about all of our work went into a holding pattern," explains Tanney. The company had to lay off much of its staff, but the downturn had an upside, giving the architects the time and freedom to think about how to build the highest quality home for the best price. "We started doing research into both academic and practical uses of prefab."
In 2003, the company won a competition sponsored by the shelter magazine Dwell to design a modern prefab home that could be mass produced. And gradually, the modern modular line emerged.
FISHERS ISLAND HOUSE: UNIQUELY SUSTAINABLE
The Fishers Island House is a key example of that style. Located on a small island off the coast of Connecticut, the house is designed to be a retreat for a London-based family. Tanney and his colleague Robert Luntz designed the 3,718 square foot structure, which includes five bedrooms and four baths, as well as a screened porch, a couple of roof decks, and an outdoor fireplace and shower. In a nod to the wooded site and the island's traditional New England architecture, the house is clad in cedar siding and features low stone walls.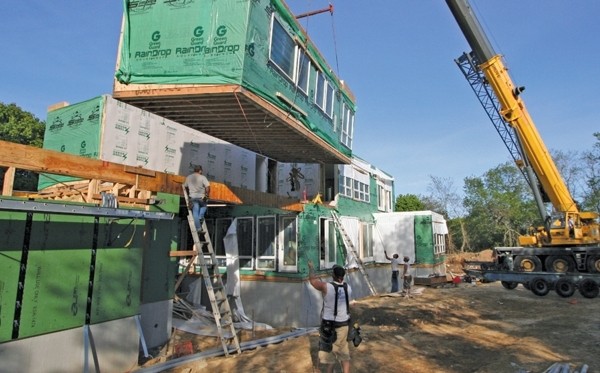 With its modern lines and asymmetrical use of levels, the house looks like just another super-contemporary, super-expensive vacation spot. In fact, it's pretty unique. First of all, it's constructed of eight wood-framed modular boxes that were brought to the site via the island's ferry and lifted onto the foundation by crane.
Second, it was remarkably cheap to build. That's relative, of course, and architects' fees (15 percent of construction costs) and site costs drive the price up. But Tanney and his colleagues estimate that constructing the home in a factory cut building costs from $400 per s.f. to somewhere around $275 per s.f.
And third, it's an impressively environmentally friendly building. That's partially the result of the home's various appliances and amenities: a couple of green roofs; solar panels and a solar hot water heater warms the house using radiant tubing; cabinets made of sustainably harvested wood; and the standard Energy Star appliances and double-glazed, argon-filled windows.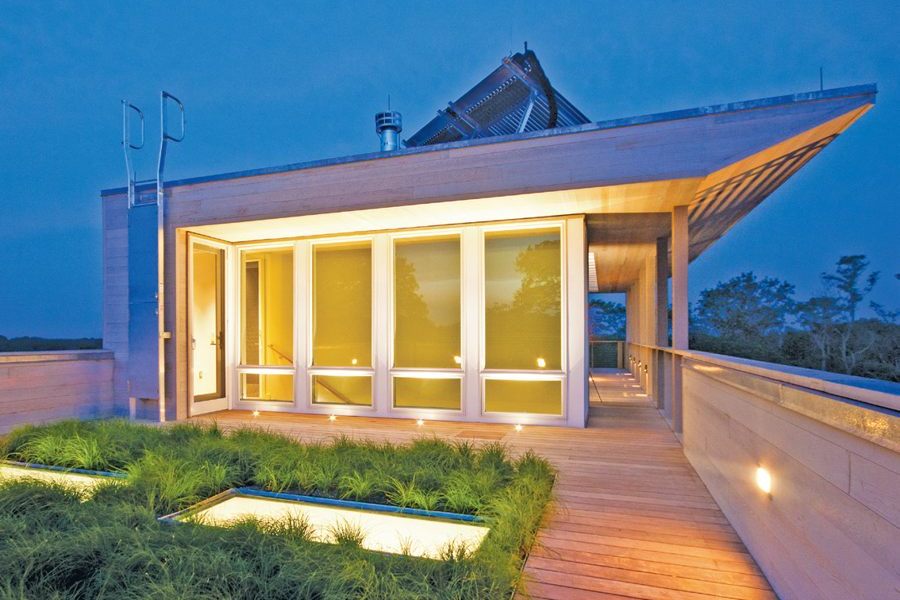 But the house's sustainability really derives from its modular origins. "Modular was green before green was even a color," says Mike Clementoni, president of the Modular Building Systems Association, a trade organization serving the industry. Building a home in a factory provides for efficiencies of time, space and materials, sharply reducing construction waste and on-site building time. Plus, factory construction techniques differ from those on a stick-built house; sheet rock goes on before sheathing, for example, which allows builders to use both foam spray and bat insulation and renders the house even tighter than usual.
Perhaps the biggest green benefit of a modular home like this one is simply the reduced transportation costs during construction. In the factory, the modules were essentially fabricated in place. So by the time this home's eight boxes arrived on the back of six tractor-trailers, the house was already 80 percent complete. "Compared to how many trucks going back and forth delivering all the studs, spackle, paint and plumbing fixtures?" asks Tanney. "It's not even in the realm of comparison."
IT'S ALL ABOUT THE PLANNING
But building a modular home is very different from constructing a house on site. In a word, it's all about the planning. The bulk of construction activity occurs very rapidly in the factory, which means the architects must have an extremely detailed plan for the house before a single board is cut. And when the builder receives the modules on site, he has to know exactly what he's getting, as the window of time for leaving the mostly-finished boxes open to the elements is very short.
Tanney divides the entire building process into four stages, each lasting roughly four months. Initially, the architects work closely with their clients, determining the latter's needs and thinking conceptually about how each box—which may include more than one room—fits within the entire structure. "At the end," says Tanney, "we know where every light switch and fixture will go."
Next, the architects collaborate with factory personnel. In this case, Resolution: 4 architects worked with the Scranton, Pa.-based Simplex Homes, spending months going over the designs, engineering plans, and necessary approvals.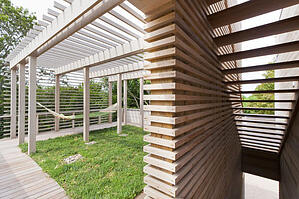 Simultaneously, they chose a local contractor, Harland Frazier, who is part of the Fishers Island-based BD Remodeling & Restoration and had worked on a couple of modular projects in the past. While the bulk of construction took place in the factory, the contractor would be responsible for getting the modules set up on the foundation and completing the project—"so we still needed a very high-quality, craft-oriented general contractor," explains Tanney.
In the third stage, Frazier and his workers prepared the site for a modular foundation that was created and installed by Superior Walls of New Holland, Pa. Meanwhile, the factory kicked into high gear, fabricating the home in four weeks.
The final stage largely belonged to Frazier. The boxes—complete with windows, plumbing fixtures, counters, cabinets and wiring—arrived on the site wrapped in plastic and were lifted into place with a crane. Within two days, Frazier and his men had connected the boxes to each other and to the foundation.
It was a tricky time, though. Some of the connections were very raw while others were totally finished, so there were many variables to work around. "It can be a little trickier than with conventional framing, because you're using different connectors," says Frazier of the installation process. "There's quite a bit of engineering involved, and a lot of importance in the details."
Open roofs needed to be closed and tied in, adding anxiety about the weather. But according to Frazier, all of the uncertainties were manageable. "Organization and teamwork between construction and manufacturer is crucial," he says. "You have to be very well prepared to prioritize what needs to be done to get it closed in and weather tight." It's fairly challenging, says Frazier, but the learning curve is manageable.
And once those two days were done and the boxes were installed, the rest of the job was much like a conventional construction project. Over the next few months, Frazier and his workers finished up the house, patching the connections between the boxes, completing the main mechanical systems and hooking them up to the site, laying the bamboo floors, and putting on the siding. The very last steps included an array of final extras: building the ipe decking, constructing trellises and green roofs, and installing solar panels.
NOT FOR EVERYONE
The Fishers Island House is as unique as its site, which means the Resolution: 4 architects would never replicate it or another of their modern modular designs in some other area. But Tanney touts the flexibility of modular building by pointing out the challenges faced by this project. Working with a once-a-day ferry, for example, presented a range of issues in terms of both timing and transport. And the island's building codes demand that structures withstand hurricane-force winds—but that's no sweat for this home, even with a modular foundation set on gravel.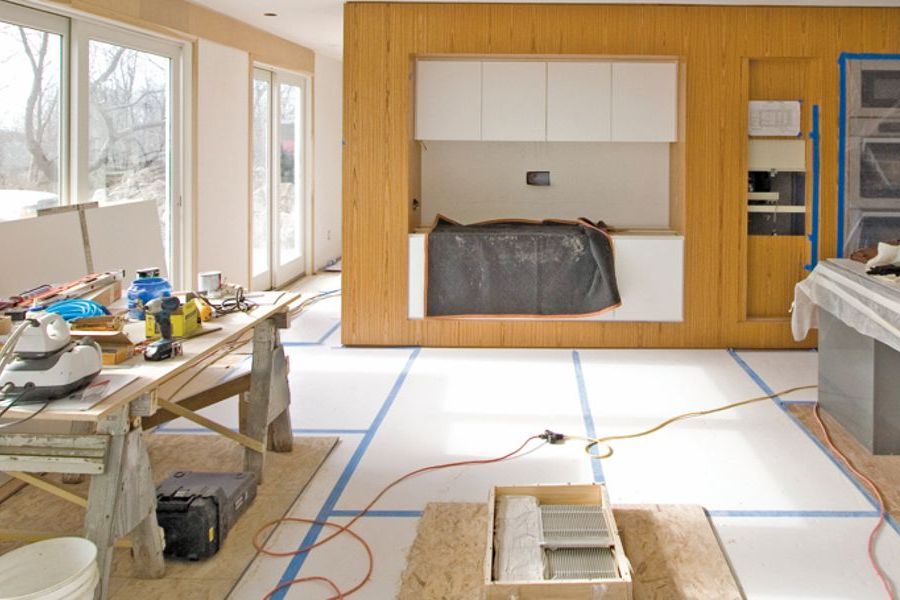 That's not so surprising. "Modulars do better than most stick built homes in hurricanes and tornadoes," explains Clementoni, the Modular Building Systems Association president. "Modular homes are under stricter controls; they have to be able to travel at 55 miles per hour or more, have to be picked with a crane and lifted, and have fastening requirements."
Still, you can't put a modular home just anywhere. Factories are largely located on the east coast, which makes a California modular distinctly more expensive. Plus, any neighborhood with hills and hairpin turns may not be navigable for a truck packed with 60 foot boxes.
And then there's just personal preference. Frazier, the contractor, says he enjoyed the job, but would he recommend it to others? That's a question he won't answer. "Modular has a great place, but as a custom home builder and high end renovator, we are able to pay more attention to every detail from the ground up," he says. "With modular, it's a little harder to get those details worked out."
---
Amanda Abrams is a freelance writer based in Durham, NC. She writes about gentrification, poverty, religion, communities, and the people who interest her for a range of local and national publications. She also help nonprofit organizations advance their missions with a variety of writing tasks.