Mitsubishi Trane SLZ-KF Four-Way Ceiling Cassette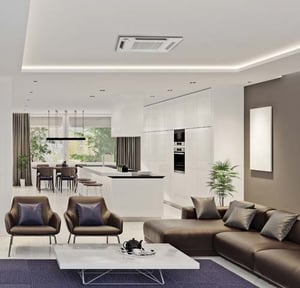 Call it an "air affair," times four. Mitsubishi Electric Trane HVAC US (METUS)'s new SLZ-KF Four-way Ceiling Cassette, part of the M-Series residential product line, offers homeowners flexible airflow patterns with two-, three- or four-way vane controls.
In addition to promoting sustainability through energy efficiency, the ceiling cassette helps to better the environment within a home through improved indoor air quality and reduced operating noise. The SLZ-KF Four-way Ceiling Cassette uses a new 3D-turbo fan to operate at noise levels as low as 25 dB(A).
Owners also have the option of applying the METUS 3D i-see Sensor™, patented technology with the ability to scan a room's thermal profile and adjust conditioning accordingly: The SLZ-KF kicks on when heat signatures are detected and switches into setback mode when the room is unoccupied. This results in an even temperature distribution and a more energy-efficient operation for homeowners.
The SLZ-KF also benefits contractors with features for simplified installation. Temporary hanging hooks, captive screws and a larger wrench turning radius on piping contribute to an easier installation process.
For more information: www.mitsubishicomfort.com