The next generation of homebuyers will insist on cleaner, quieter modes of travel.
MILLENNIALS ARE A huge part of the rental market and are becoming a major part of the buying market. In fact, the largest percentage (32 percent) of all homebuyers are millennials, according to a 2015 report by the National Association of Realtors.
This generation is known for changing things up, and its collective views on transportation and housing are no exception. In fact, millennials are driving the trend toward communities that provide many options for transportation. They don't want to drive everywhere they go—causing damage to the environment while accumulating high vehicle-related costs.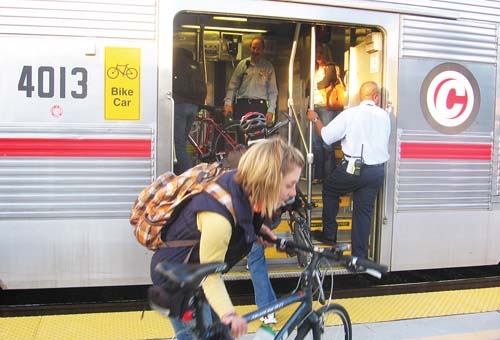 As a result, more smart cities and communities are emerging, which blend transportation, technology and communications systems to create connected and sustainable places to live. No U.S. city has reached full smart city potential yet, but many are laying out long-term smart city plans and becoming more sustainable. In the meantime, prototypes in of these cities are being developed in smaller communities and developments.
Transportation is a major factor in these communities. Less reliance on vehicles and greater reliance on walking, biking, car sharing, and public transportation such as rail and bus systems are key components in reducing pollution.
"Millennials are more environmentally conscious than previous generations. They know that driving everywhere is a problem for the environment," says Deron Lovaas, senior policy adviser of urban solutions for the Natural Resources Defense Council. "So there's demand for more options, choices and competitions. They are unwilling to settle for the status quo of what's available in transportation. And the sector has not exactly been a hotbed of innovation. Cars have been the same for many decades. Only in the past 10 to 20 years have exciting things like electric vehicles come out of the woodwork."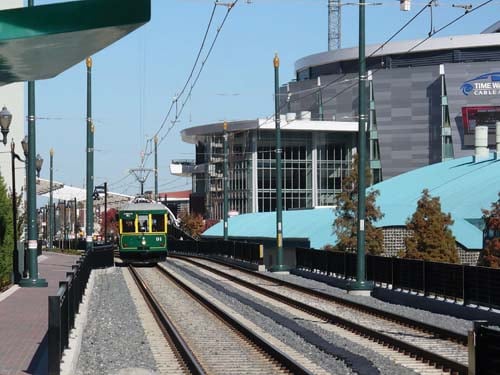 Charlotte's light rail system gives residents an alternative mode of transportation.
To cater to the growing market, developers are looking at ways to incorporate transportation options into their communities. Lovaas has seen developers provide residents with Zipcar subscriptions. Others ensure bike- and car-sharing options are in close proximity, while others provide mobility vouchers for nearby public and private transit options.
Now, ideas like sharing bikes and cars are becoming more mainstream. "The shared-use economy is really disrupting transportation in a good way," Lovaas says. "There are a lot more business models and options that are available to customers at the touch of a button on their smart phones."
New technology is popping up, due to the increase in shared-use and other alternative options, such as RideScout based in Austin, Texas. It's an app that gives users information about all nearby transit options, including car and bike sharing, along with bus and rail systems. Users can see route options and fare prices in real time, based on nearby transportation options.
"Through the power of technology, we're able to have access to a whole bunch of options at the palm of our hands," Lovaas says. "It's a game changer in terms of demanding innovations and not having to drive everywhere."
However, there's a less rosy reason millennials are driving this change: They joined the workforce at the height of the recession, so they are a lot more conscious about costs and value.
"Cars are expensive to own and maintain," Lovaas says. "Given the strained budgets of most millennials, they have an appetite for options of getting around other than buying and owning a car."
Dangers of Gentrification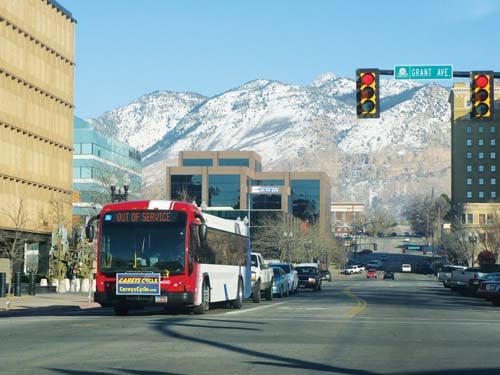 Buses are a less costly and more efficient mode of transportation for cities without the population to support rail.
But there's a dark side to the increase in transit-oriented developments. These developments are usually built in locations close to existing transportation infrastructure, which also is where low-income housing traditionally is located. Low-income residents aren't relying on alternative modes of transportation because they don't want to spend the money on a car or because it's the environmentally responsible choice—they rely on public transportation for their livelihoods.
In many cities, such as New York, San Francisco, Boston and Washington, D.C., housing costs increase significantly in areas close to transportation. Higher costs don't just mean a higher monthly rent check, they also mean a higher overall cost of living.
"Even if you can hang on and pay rent or continue to stay in your home, you may have increased incidental cost burden. Nationwide, we're seeing significantly high levels of housing insecurity, which we define as spending at least 50 percent of income on housing, or being homeless or in a transitional housing situation," says Mike Spotts, senior analyst and project manager for Enterprise Community Partners. "The number's now in the ballpark of 19 million U.S. households that are housing insecure. When you're spending that much on housing, there's less money to pay for food, health care, education and other life necessities."
It's not just the major cities experiencing these growing pains. Smaller cities such as Nashville, Denver and Atlanta are experiencing high levels of gentrification in transportation-centric areas as well.
"It's not just about heavy rail in big cities and it's not just connected to transit," Spotts says. "It's the whole suite of neighborhood characteristics, so this can happen in a much smaller context."
Bus Travel.
The College Connection.
When people think of mass transit, they think of rail systems such as the subway, metro and even Amtrak. However, bus systems should not be discounted from the list of viable transportation options, especially in smaller communities that don't have the population for a rail system.
"We shouldn't forget about the humble bus as a hugely impactful way to improve the lives of low- to moderate-income people," Spotts says. "It can be just as good as rail, because of its flexibility and there's a lower barrier to entry. You can improve a bus system region-wide for the cost of half of a rail system."
Bus systems are particularly effective and popular means of travel on college campuses, which also may help to reduce the stigma of bus transit held by previous generations. According to a survey conducted at North Dakota State University, two-thirds of all students used the bus to travel to campus at least once.
In 2015, Houston completely reimagined its bus system, revamping a decades-old plan that was no longer effective. The new system included simpler bus routes and better locations for connections. It also connected parts of the city that were previously disconnected. In addition, it included weekend service, providing mobility that can be relied on every day. Spotts says Los Angeles is thinking about creating a plan to mimic Houston's system.
"It can even happen in pockets of neighborhoods in jurisdictions you don't associate with high housing costs. I've seen accounts of rising pressures in places like Buffalo, Syracuse and Cleveland. These are all places that might only have bus transit, but allow for walkability and bikeability—places where the car isn't the only way to get around. These types of neighborhoods are present in a lot of different cities."
And the number of housing insecure households is only expected to increase, reaching 13.1 million by 2025, according to a report by Enterprise Community Partners and Harvard Joint Center for Housing Studies. Spotts says this is due to a supply and demand imbalance: There is strong demand for communities with lots of travel options, and few areas that meet those characteristics.
"If we're going to systematically address the challenge of more affordable, walkable urban neighborhoods, we need to increase the supply of homes and create more neighborhoods that fit those characteristics," Spotts says.
Sustainable Solutions
In response, a few initiatives were created to ensure affordable housing stays in areas being developed around transportation systems. Spotts recommends taking the following steps:
First, communities should conduct a needs assessment to determine who will struggle due to gentrification. They must figure out where those people live and work and where will they move if they can't afford to stay.
Next, communities should provide support for housing costs. Areas that have wage stagnation will always have affordability challenges. Spotts says these areas should maintain programs for tax deferrals that defray some of the ongoing costs for low-income or senior households.
"If you bought a home in a suburban area that's gentrifying with new transit access and you're seeing price growth, you may have a situation in which you're asset rich and income poor," Spotts says. "You may have people in retirement or on a fixed income who have a hard time keeping up with property taxes."
Then, preserve existing housing units and costs in gentrifying communities. Some jurisdictions have passed legislation that gives tenants the right of first refusal to purchase a home if it's being sold. That means a landlord planning on selling a 50-unit building must give tenants the opportunity buy the building at a fair price first. The tenants can organize to purchase the building, or they can assign the right to purchase the property to a third party—usually a nonprofit organization.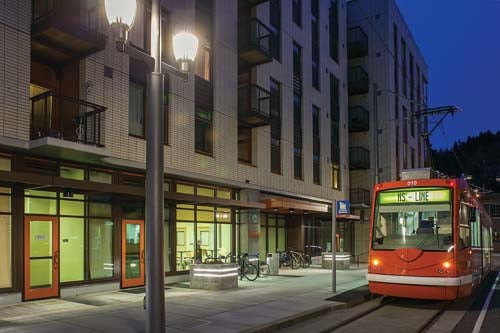 Portland's street car stops in front of Gray's Landing, an affordable housing development in which Enterprise invested $11.4 million in Low-Income Housing Tax Credit equity.
Finally, it's important to ensure new supply includes affordable components. Inclusionary zoning and other similar policies ensure portions of housing developments are affordable. "A crucial element to lifting supply constraints is making sure the growth occurs equitably," says Spotts.
However, there are challenges to these initiatives. In places like San Francisco, there's so much demand there's no way supply could be added to the market quickly enough, Spotts says. Without adequate supply, there's no way to ensure affordability.
Another challenge is the character of the neighborhood. "If a neighborhood is going to be open to everyone, there has to be tolerance for all types of people and increasing density," Spotts says. "For example, a community might need to loosen its restrictions on townhomes in a single-family home community. Or it might have to allow accessory dwelling units."
Working Together
As innovative technologies and ideas arise, more comminutes and even entire cities in the United States will begin implement smart concepts. Not only are these concepts more environmentally responsible, but also a necessary component to growth due to high levels of pollution, a strained electrical grid and water fiascos like those experienced in Flint, Mich. The smart city of the future can only occur by communities working together to improve U.S. cities and increase connectivity.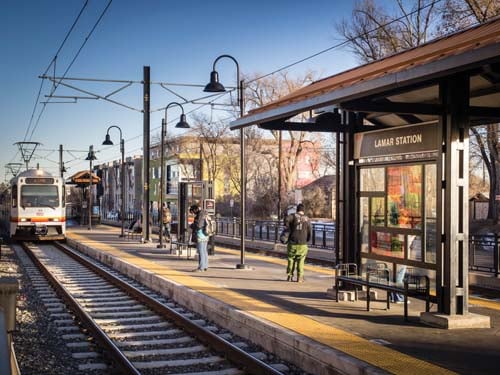 Enterprise provided $10.8 million in Low-Income Tax Credit equity to help finance affordable homes at Denver's Lamar Station Crossing, which is a short walk to the train platform.
Case Study: Denver Invests in Transit
Denver ranks number six on a list of the top 10 cities with the most young people, according to a 2015 report by Headlight Data. With 15.9 percent of its population consisting of millennials, Denver is experiencing high levels of transit investments to help them, and the rest of its population, travel more efficiently around the city.
Spots says Denver is the city that started Enterprise Community Partners on its path toward securing affordable transit-oriented developments. Just when the economy was pulling out of the recession, Enterprise's Denver office noticed many plans for rapid transit investments.
To help pull out of the recession, Denver enacted FasTracks, which was an initiative to expedite construction to build a new rail network and an advanced bus system.
"We were looking at where this transit was going to reach and were concerned that a lot of the routes were going to go through lower income neighborhoods," Spotts says. "These neighborhoods didn't have a lot of committed affordable housing units and many were at risk of having subsidy restrictions expire."
In response, Enterprise participated in Mile High Connects, which is an initiative committed to advancing social equity in the transit development process to make sure disadvantaged housing communities don't get left behind.
Enterprise also worked with public and private nonprofit partners to create the Denver Regional TOD Fund, which is a pool of capital that can be used to acquire properties and affordable housing communities close to transit.
"We won't know the impact of these investments for a long time, but we have been able to preserve a pipeline of properties that, without our intervention, would likely be lost to significant price increases," Spotts says.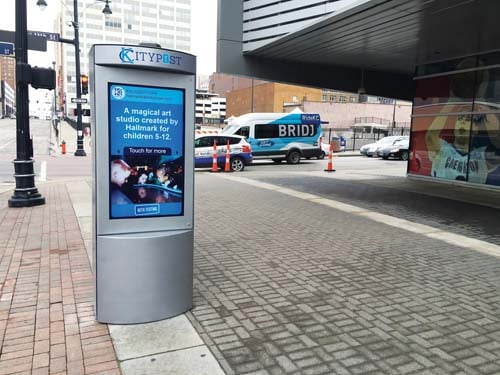 CityPost kiosks broadcast real-time, location-based information and alerts about areas along the street car line.
Case Study: Kansas City, Missouri
Reaching young tech workers with easy transit.
When thinking of cities at the forefront of innovation, most people think of San Francisco, Washington, D.C., Seattle and New York. However, add Kansas City, Missouri, to the list—as it's well on its way to becoming a full-fledged smart city.
It all started when Google Fiber came to town in 2011, which attracted a significant increase in young, tech-savvy entrepreneurs. These entrepreneurs created so many start-up businesses there's an area in town dubbed "Startup Village." Since then, the city has been determining the best ways to engage with these new residents and provide them with cutting-edge resources.
Last year, the city began working on a 2.5-mile street car line in its urban core, which is home to between 25,000 and 28,000 residents. Cisco proposed including Wi-Fi and connectivity components to the project, since the streets would already be under construction for the street car project.
"The decision was made to do it once and do it right," says Bob Bennett, chief innovation officer for the City of Kansas City, Missouri. "As we tore up the roads, we put in conduit two to three times larger than required, knowing we could put in other capabilities for a smart city."
The new street car opened to the public May 5 and includes a Wi-Fi network that is constructed, managed and owned by Sprint, as well as an app to engage with residents and visitors. It also includes smart lighting infrastructure that collects real-time data on parking, lighting, retail analytics, and public safety and security—and will result in major lighting and energy savings. Cisco also created CityPost, which broadcasts real-time, location-based information and alerts about areas along the streetcar line.
But Kansas City isn't stopping there. "This initial piece is a chance to validate an idea: that a city can be smart and work in public-private partnerships to figure out ways to make data work in a city and interact with people in a way they expect to be engaged," Bennett says.
Kansas City's long-term plan is to learn lessons from the street car project and apply them on a much larger scale. The city recently sent a proposal for the Beyond Traffic 2045 Grant from the U.S. Department of Transportation (DOT). Kansas City was one of seven cities (out of 78) that made it through the first stage. Now it is competing against Portland, San Francisco, Denver, Austin, Columbus and Pittsburg for the grant.
If it wins, Kansas City plans on expanding the work completed on the street car project to increase connectivity. Part of the project will include creating a rapid transit bus line. Though it will be a longer route, it will condense three current routes into one line. That line will go to four multi-platform transportation hubs, which will be home to car and bike sharing opportunities, electric vehicle chargers, shuttles and access to local bus routes.
The bus line will bring connectivity to the eastern side of the city, which is where low-income and disadvantaged residents live. "The world is changing, and if you want a job you have to apply for it online," Bennett says. "If I don't give that capability to people who are willing to put in the effort, shame on me." Under the long-term plan, the city's disadvantaged population would have access to Wi-Fi coverage.
Bennett believes the bus line and increased connectivity will greatly change and improve the city. "I would like to see the districts in this city rise up organically, not in a gentrified manner. Neighborhoods are the heart and soul of the city, but because we don't have a mass transit system like the subway in New York, people tend to stay in their enclaves," Bennett says. "With this new system, you'll see folks venture out of their neighborhoods. There will be increased use of farmers markets, more participation in educational systems, and better dialogue between the city and its citizens."
The winner of the grant will be announced by the DOT at the end of June.