Micro-Gardening
Not everyone can enjoy the luxury of a large yard. But even apartment dwellers can grow plants for food and add a little nature to their lives.
Creating vibrant and useful gardens on small urban plots can be a challenge owing to limited space, shade from buildings and trees, and lead contamination. It is important to use space wisely and efficiently to boost utility and appeal.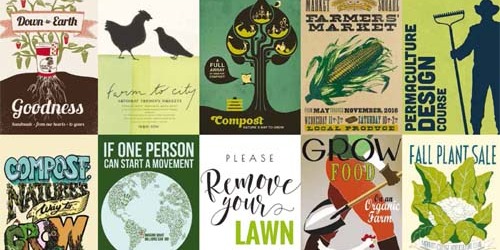 Start the process by determining the intended use of the space. Will it be used for recreation, pets, children or entertaining groups? Does the homeowner have goals for food production and wildlife habitat?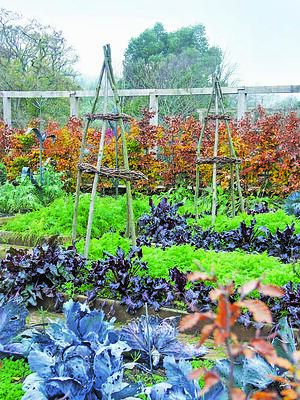 Trelisses maximize the square footage of small garden beds. Climbing plants can be planted between rows. Photo credit: Eirlys
Maximizing Small Yards and Patios
Containers expand the gardening options on balconies, patios, terraces and paved spaces, or in gardens with contaminated soil. Adequate sunlight is often an issue in urban areas, because of shading from buildings and trees. If necessary, pots can be moved once or twice a day to capture as much sunlight as possible.
When there is ample space, raised beds are a good option, as they provide space for the roots to grow down, while mitigating drainage issues on compacted soils. Raised beds involve elevating the soil above the ground surface, often containing it within a wood, brick or stone frame. When building these on compacted soils, the Nurture Nature Center recommends 12 inches of soil, or more if built on a paved surface. These beds can then be planted densely, helping to prevent weed growth while boosting moisture retention.
Sheet mulching is one possible technique to build up the soils in the bed. "It's a layering system using soil amendments such as bone meal or blood meal, cardboard or newspaper, and compost, topped with a straw layer to facilitate the proper aerobic environment and components to break down into a fertile and voluminous soil structure that facilitates better plant growth," says Kevin Erickson, urban agriculture coordinator for the Institute for Environmental Sustainability at Loyola University Chicago. "This layering system can be added directly to the intended garden area in the early fall, and will be ready for planting by the next spring."
Going Up
Encouraging vertical growth provides solutions to space limitations while encouraging air movement (to limit foliage diseases); it also reduces the need to bend over while gardening. Trellises, arbors, teepees and fences can all provide the support needed to allow flowering vines, peas, cucumbers, tomatoes and gourds to thrive. This also provides an opportunity to get creative. Carports can serve as an arbor covered in vines or wood pallets can be repurposed for vertical gardening. Whenever possible, place support structures on the north side of garden beds to minimize shading.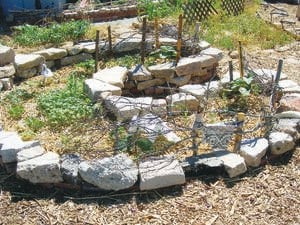 Perfect for growing veggies, keyhole gardens enable access to the entire bed through a "keyhole" in the center. Soil-building and sheet mulching ensure the bed area, though small, is productive. photo credit: London Permaculture
It's also important to keep space constraints in mind when selecting plants. "Crop selection has a big role in how productive you are," says Erickson. "You don't see a lot of urban gardeners growing corn, melons and cabbage. You want crops that can have high yields in small spaces or even containers." These can include cucumbers, tomatoes and "micro-greens."
Keyhole Gardens
Ideally suited for small yards, keyhole gardens maximize useful space and keep paths to an absolute minimum, while ensuring that plants are within reach. When one is looking from above, the garden has a keyhole shape, with a wedge-shaped area allowing the gardener to access the middle.
Bricks, stones, sticks or other materials are stacked in a circular shape to approximately two feet high, forming a circular raised bed with a wedge. The soil can be layered, with untreated wood on the bottom, followed by compost, loam, mulch and manure. These gardens are often six to eight feet in diameter, with an inner basket containing an active compost pile in the middle on top of drainage rocks—slowly releasing nutrients into the surrounding garden.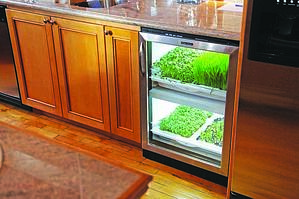 Growing Food Indoors
No Yard? Growing food indoors is always an option. Traditional grow lights take up space, but one company has come up with an innovative solution called the Urban Cultivator. Ideal for growing greens and herbs, or for starting veggies that will be transplanted outside, the sleek cabinet fits under a standard kitchen counter and has the same "footprint" as a standard dishwasher, so it can be easily retrofit. It also comes in several butcher block top styles and door screen options. A computerized interface controls light, water and humidity, so the plants practically grow themselves. The unit hooks directly into the home's water supply and plugs into a standard electrical outlet. It takes four T5 CFL bulbs and uses 18 kWh per month, which works out to about $2.00.