Metal Roof Serves as a Safety Shield During Hurricane Michael
Chosen for its looks, the metal roof on a Florida resident's home ends up saving her family during disaster.
Panama City, Fla., homeowner Kristi considers herself lucky, thanks to a less-than-thorough inspection that missed the obvious fact her 1940s home needed a new roof when she bought it in 2014.
By chance, she replaced her leaking asphalt roof with metal as one of the first home improvement projects she tackled. Kristi, who prefers her last name not be used for personal privacy, says she decided to go with a metal roof because she liked the appearance and thought it would fit nicely with her home's cottage style. "I didn't even really consider safety at the time," Kristi says. "[I remember] thinking that metal would help keep the home a lot cooler in Florida's heat."
Fast forward to fall of 2018, when Hurricane Michael hit Panama City dead-on as a strong Category 4-plus monster storm. Now, Kristi credits her roof choice for something much more important: saving her life.
Unexpected Terror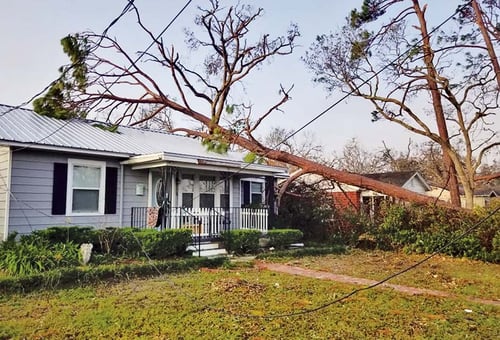 When Hurricane Michael hit the Florida Panhandle, Kristi, her fiancée and her son had decided to ride it out in her home. A sheriff's office employee, Kristi and her fiancée, a local firefighter, knew their services would be needed in the community in the aftermath of the storm. It was a decision they soon came to question as the full power and terror of Michael descended on Panama City. The storm's 155-mph winds wiped out nearly everything in its path. That included tall trees that were snapped off at the trunks, causing them to fall and slice some homes clean in two. Roofs ripped off and homes blew apart, leaving much of Panama City in rubble.
When the hurricane hit, Kristi huddled in her home's bathroom with her son and fiancée. They could feel the house actually lift up from the foundation and shake, with winds screaming and howling as loud as a jet engine as the hurricane smashed into homes and buildings.
For more than two hours, the terror of possibly not surviving Michael's severe lashing was excruciating. "We had no idea what we were in for," Kristi says. "Sitting in that bathroom, we honestly thought our lives were about to end."
A True Test of Mettle­­———and Metal
When the storm finally subsided, Kristi dreaded going outside to inspect the horrendous damage. Homes in the area with shingle and asphalt roofs had not fared well. Many roofs were half-destroyed or all gone, literally shredded in some cases.
Yet Kristi's home was completely intact, and to their surprise, it was holding up a giant 60-foot pine tree that had toppled directly on their metal roof, right above the bathroom where they had been hunkered down during the hurricane. Not only was the roof supporting the massive weight of the fallen tree, it had sustained almost no damage. "Our roof literally saved our lives," she says.
Kristi's fiancée had decided to re-roof his own nearby home with a metal roof a couple of years earlier, and it too survived Michael's wrath with very little damage. Both homes remained water and wind tight, even under the incredible pressure of the storm.
The same could not be said for many others in the community. Panama City suffered weeks without water, electricity and other basic services. Every powerline had snapped. Homes were completely destroyed and the ones still standing had rooftop tarps for weeks, even months as owners waited for contractors and installers to repair the damage.
Some of Kristi's friends and neighbors are still going through the painful process of replacing roofs, and worse, repairing the devastating damage their failed roofs caused by allowing water to penetrate into their homes. The city has evaluated and deemed homes "uninhabitable" due to unsafe conditions, including mold and mildew caused by water penetration. Every home on Kristi's block was designated as such—except for hers.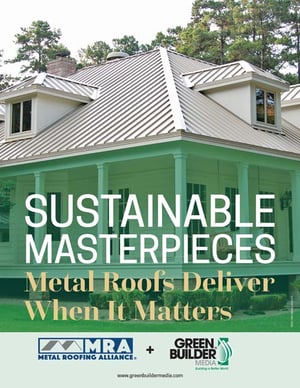 As roofs are replaced and the community recovers, Kristi is eternally grateful she made the decision to replace her roof with metal.
"After what we went through, it's shocking when you hear people say they are replacing their roofs with asphalt shingles again," she says. "When you live through something as horrific as this hurricane was and understand first-hand the power it has to cause mass devastation and suffering, it's simply not worth the risk to your home, or your life."
An Educational Goal
Recently named the winner of the Metal Roofing Alliance (MRA)'s 2018 Top Survivor Home contest, Kristi will receive a grand prize of $1,500, based on her home's extreme story of endurance.
With many homeowners battling destructive climate challenges in 2018—ranging from massive hurricanes, and tornadoes to severe hailstorms and wildfires—MRA decided to launch the competition to highlight how U.S. and Canada homeowners are taking steps to fortify their homes against increasing threats, including by using metal roofs. While Kristi is thrilled to be selected as this year's winner by the MRA, she considers her fortunes to be far greater than taking the top prize.
"With climate extremes becoming increasingly common, taking steps to make homes more defensible and resilient is essential no matter where homeowners live," MRA Executive Director Renee Ramey says. "Building and renovating homes so that they are better able to withstand climate extremes is a hot topic in the industry, given the massive challenges homeowners have faced in recent years."
That includes using more durable, longer-lasting and stronger materials such as metal roofs, as well as construction methods that not only meet but exceed codes for being able to better stand up against monster storms and help prevent damage from climate-related events such as wildfires, Ramey notes.