Megatrends Driving Market Transformation
At Green Builder Media's recent Sustainability Symposium 2020, Andrew Winston, an internationally esteemed sustainability expert who works with the world's largest companies, outlined five megatrends that are driving massive change in the business sector.
At Green Builder Media's recent Sustainability Symposium 2020, sustainability expert Andrew Winston described the transformation that is taking place in the business sector—away from a singular focus on profitability and towards enhanced sustainability.
"For decades," Winston submitted, "companies existed just for shareholders, but things are changing. Studies like the Edelman Trust Report show that 84% of investors agree that maximizing shareholder returns can no longer be the primary goal of a corporation. There is a growing recognition that capitalism, for all of its strengths, really isn't optimizing wellbeing."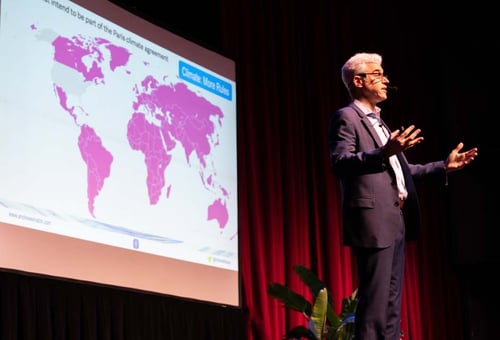 Winston identified five mega trends that are driving the transformation, the first of which is climate change. "The incredible extremes, like monsoon weather, catastrophic superstorms, and massive wildfires, are driving the business sector to understand that it is far more expensive to do nothing on climate than it is to mitigate the systemic risk."
Behemoth industries, like banking and insurance, are putting billions and even trillions of dollars towards climate solutions. Larry Fink, CEO of Blackrock (which manages $7 trillion in assets), recently issued a letter stating that climate change is different than any other risk that the market is currently facing. "Even if only a fraction of the projected impact is realized, this is a structural, long-term crisis. Companies, investors, and governments must prepare for a significant reallocation of capital," stated Fink.
Translation: prepare for trillions of dollars to be reallocated towards sustainable solutions and away from polluting, high-carbon, resource-intensive industries.
Winston recognizes that the built environment is essential when solving for the climate crisis. "The choices we make about how to build, what materials we use, and how those materials are made are going to have an unbelievable impact, dwarfing decisions about whether or not we decide to fly to a meeting."
The second megatrend that Winston identifies is ecosystem decline and pressure on natural resources. "All of our natural systems are in significant decline, and that's at just 1 degree of temperature increase. The difference between 1 and 1.5 degrees isn't incremental, it's exponential, and at 2 degrees we're facing complete ecosystem failure."
The clean economy explosion is Winston's third megatrend, driven primarily by exponential growth in renewables. He points out that the cost to build new solar and wind energy facilities are now cheaper than fossil fuel and nuclear facilities.
"The race is over," he proclaims. "Solar and wind are now cheaper, and they're never going to be more expensive than fossil fuels again. The variable cost of solar and wind is zero. The variable cost of coal is cutting down a mountain. Fossil fuel is never going to be competitive again—soon, building new solar and wind plants will be cheaper than operating current fossil fuel plants. What happens to our economy at that point?"
Winston believes that we're heading towards full electrification in our built environment and transportation sector, due to the rapidly decreasing cost of batteries.
And while he acknowledges that global leaders are very worried about the climate (a report issued after the recent Davos meetings identified the top five global risks as climate action failure, extreme weather, human-made environmental disasters, natural disasters, and biodiversity loss and ecosystem collapse), he also emphasizes the tremendous economic opportunity that the transformation to a clean economy represents.
His advice to businesses that want to cash in: "These are multi-trillion-dollar markets that we're dealing with, and companies need to make sustainability a driving force and central tenet, not something to just play around with."
The next megatrend is the large generational shift that is occurring, with power shifting from Boomers and Gen Xers to Millennials and Gen Zers.
Millennials—all 82 million of them—have an inherent ethic of sustainability and a different attitude towards business and society than older generations. They believe that companies should not just be focused on profitability, but rather a set of blended values, and they will make decisions accordingly as they take leadership positions in companies.
Winston's final megatrend is transparency and supply chain data. He asserts that our constant connectivity allows us to drive change now more than ever before. "We have a new ability to gather people and ask new questions about products, like where they're from, who made them, if the employees were paid a living wage, and what's the environmental footprint. This level of transparency is forcing companies to act differently. In a transparent world, younger consumers don't distinguish between the ethics of a brand and its network of suppliers. If something happens in a supply chain, they're going to hold everyone accountable."
Winston astutely points out that, when it comes to both consumer purchase drivers and supply chain requirements, "Sustainability is moving from a tie breaker to a dealbreaker."
He is calling for nothing less than a complete transmutation of business metrics and valuation. "Now it's time for business to fundamentally shift from focusing on maximizing shareholder value to using sustainable thinking to solve the world's biggest challenges."
He poses vital questions: "Can we rethink return on investments and hurdle rates, because what will it cost us if we don't solve for climate change? And what kind of value do we extract when our business is resilient, our employees are engaged, our customers are loyal, and we're regenerating the environment?"
Winston's grasp of the transforming business landscape is comprehensive and undeniable, and it's well worth the hour-long investment to listen to the powerful presentation that he delivered at the Sustainability Symposium 2020.
Want to read more? Follow me on Twitter and Facebook. For more information about green building and sustainable living, visit Green Builder Media at www.greenbuildermedia.com, like us on Facebook, and follow us on Twitter for regular updates and breaking news.