In April, Green Builder Media launched the Celestia Project, our vision of a biophilic future in which we live in harmony with nature, with an examination of food and our modern agricultural practices. To further that exploration, we will interview Wes Jackson, professor, author, and founder of The Land Institute, as a part of our Impact Series: Game Changers in Sustainability webinar program on May 20th at 2pm EST (Jackson is in good company—previous speakers on the Impact Series have included sustainability experts such as Lester Brown, Jean Michele Cousteau, and Bill McKibben.)
Jackson has dedicated his career to developing solutions for sustainable agriculture. He emulates nature by sowing perennials and practicing polyculture (planting more than one crop in a field), leaving soils intact, reducing the threat of monocrop destruction, preventing erosion, and enabling the development of important symbiotic relationships between plants and soils.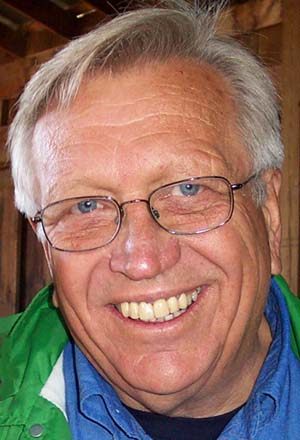 Jackson refers to modern agricultural practices as "the 10,000-year-old problem" that began when humans cultivated wheat, corn, and other grains. These crops, now grown on over 70% of our total agricultural acreage, require significant amounts of water, fossil fuel, and harmful chemicals. The result is massive soil erosion, water and air pollution, and excessive resource use.
In his constant pursuit of novel food production solutions that marry an understanding of ecology and evolutionary biology, Jackson studies nature to find appropriate solutions for environmentally appropriate farming techniques, blending new plant breeds and advanced genetic technologies. He observes prairielands and other ecosystems to develop natural approaches to farming that reduce soil erosion, increase species and chemical diversity (making crops less susceptible to harmful epidemics), and eliminating the need for pesticides and insecticides.
By growing perennials in mixtures (as opposed to annuals in monocultures), Jackson has developed environmentally friendly farming solutions that increase crop yield, enhance the natural carbon storage capacity of the land, and produce food with greater biomass and nutritional availability.
"Industrial farmers believe that nature needs to be subdued or ignored if we are to eat," says Jackson. He advocates that by reducing human intervention in agriculture and allowing nature to run its course, we will increase the fertility of our farmland.
Jackson's message is more than corrective—it has proven to be prophetic. He understands that the problem with our modern agricultural practices is both ecological and cultural. He asserts that industrial farming has significantly undercut the ecological capital contained within wild natural ecosystems, to the significant detriment of the human food supply. "The plow has destroyed more options for future generations than the sword," he says.
Jackson predicts a bleak future unless we begin incorporating the fundamentals of natural ecology into our agricultural practices. He believes that using technology to suppress the land's natural cycles, preventing soils from organically regenerating themselves, will ultimately bring our food production system to its knees. "Technological fundamentalism, fueled by the industrial mind, is now worse than any religious brand of fundamentalism. The industrial mind has increasingly dominated during the last 250 years and is largely a product of the fossil fuel interlude. Eventually, it will give way to an ecological worldview, the sooner the better."
To learn more about Jackson's novel approaches to ecological farming practices and insights into the future of food production, join us for his interview on May 20. Click here to register.
How do you think we can make our modern agricultural practices more sustainable and environmentally appropriate? Write to me at sara.gutterman@greenbuildermedia.com or follow me on Twitter or Facebook.
For more information about green building and sustainable living, visit Green Builder Media at www.greenbuildermedia.com, like us on Facebook, and follow us on Twitter for regular updates and breaking news.