Mayan Makeover
THIS UNUSUAL WHOLE-HOUSE REMODEL began with a mostly gutted home in an old Austin neighborhood.
"The owner has a fascination with Mexico and Central America," recalls builder David Kettler. "He started with a little backyard garden area, and really got into it and researched a lot. He had been working on the project for a couple of years, but he had trouble with some of the guys he brought in to do the work. They tended to be a bit unreliable."
Meanwhile, Kettler's work on a neighboring home caught the future client's attention. He liked the builder's attention to quality and energy-saving details.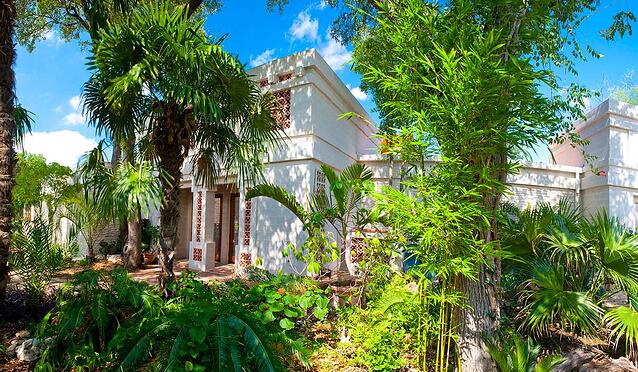 Architect Joe Bennett had already created a plan for the house. But the owner wanted a builder who could bend or change the rules as needed. A lot of the exterior stone motifs in the home come directly from Mayan ideas, including the interior hallway, which was finished with Pecky Cypress.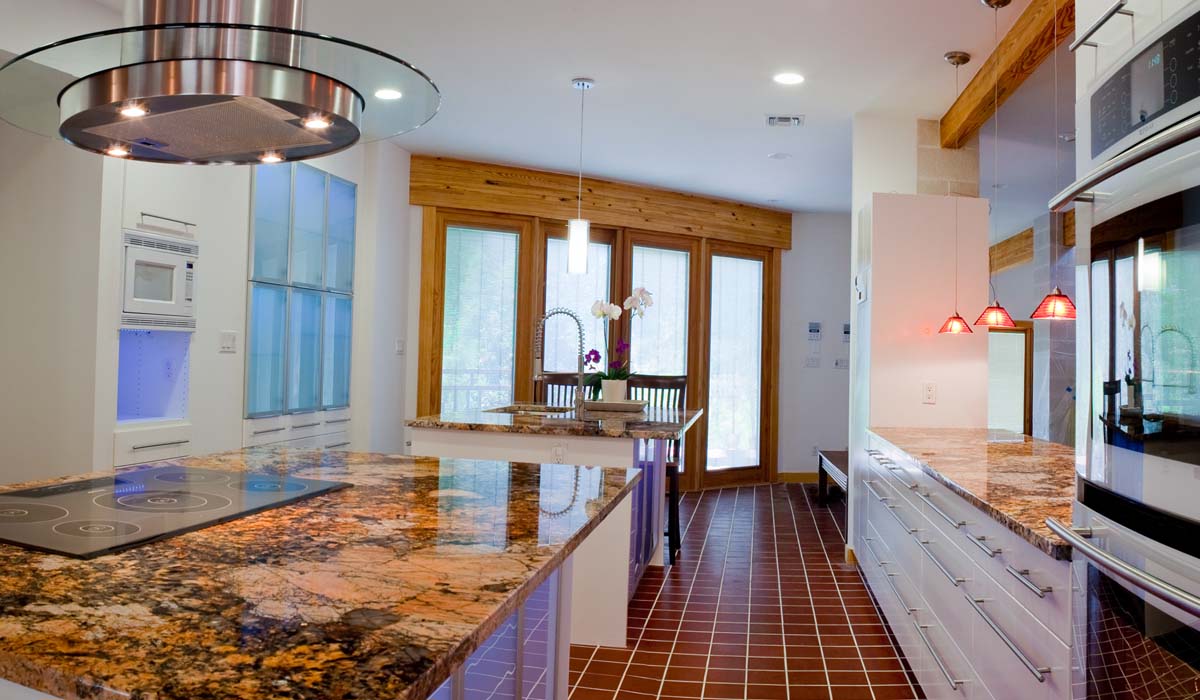 "John Ignacio, the homeowner, is experimental. He wants to try everything," Kettler says. "We tried to work with whatever he came up with. A neighbor across the street is a Mayan expert, and John talked with him a lot about various details. We worked together to create what he wanted. For example, a gutter made of waterproofed concrete blocks runs around the perimeter and collects rainwater. That water will eventually dump into a cistern system, but he's still looking at the process of putting that together. For now, it drains directly into the plantings and gardens."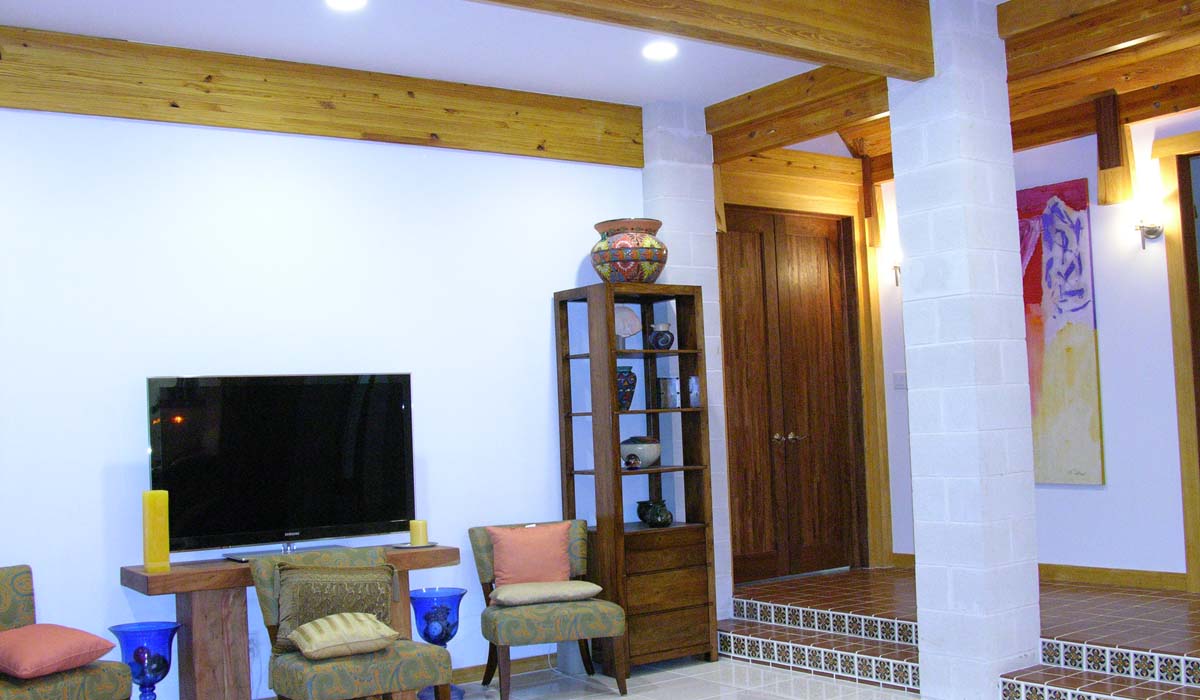 This owner is a dedicated bargain shopper, Kettler notes. Even during construction he continued to scour bargain barns and craigslist.org for unusual items and used building materials that could add a personal flair to the home. For example, he located a large supply of glass block from a deconstructed school, and put the blocks back to work in a greenhouse outbuilding. The inorganic materials from the demolition were used as solid fill in the back yard, then covered with garden beds and patios.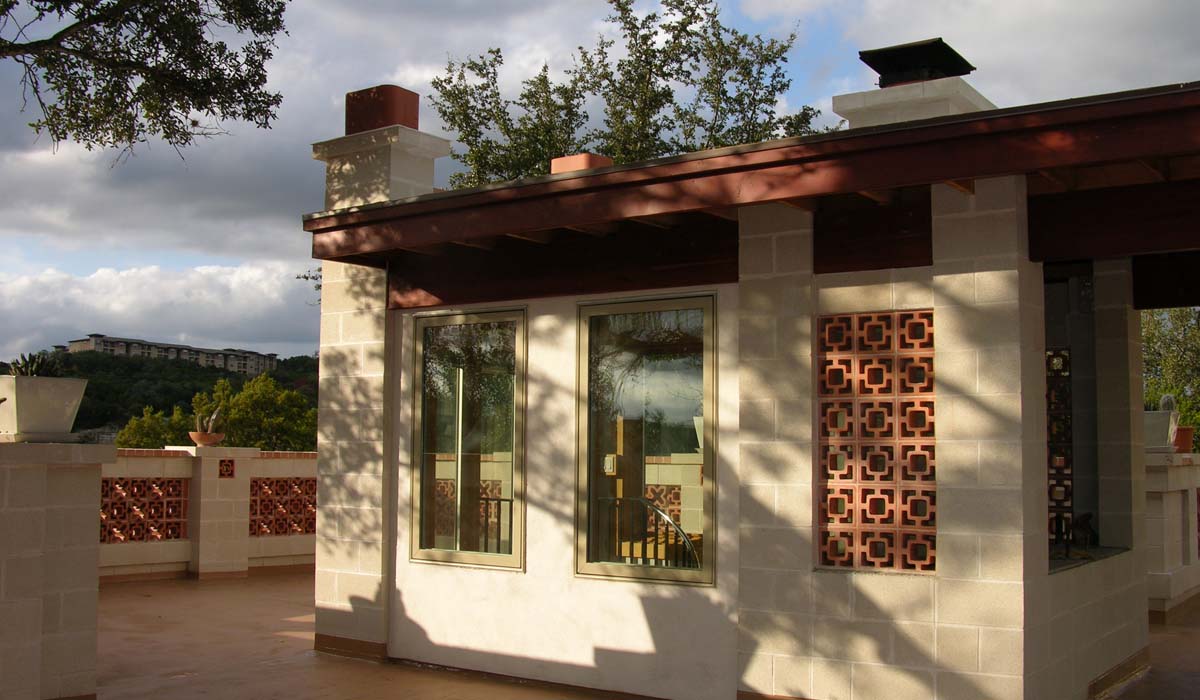 "Even today, he's still adding things—especially to the yard," Kettler says. "He comes up with some great deals and is very into mulching and planting."
Low Tech plus New Tech
The home combines time-tested technologies with innovative products. For example, at the front entrance, the owner insisted on a traditional "green" alternative to air conditioning—evaporative water cooling (also known as a "swamp cooler.")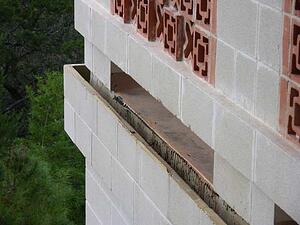 "Basically the water runs over these excelsior pads on the walls," notes Kettler, "and when it hits the bottom, you pump it back up to the top. You see it used a lot in Arizona—these boxes on top of the roof, as an alternative to air conditioners. It's not as efficient in a climate like ours, but it works great when the weather is dry."
The rest of the home is cooled by a pair of super-efficient heat pumps that operate on separate zones. One unit conditions the front of the house, and the other operates "mini-splits" that create separate zones in the rest of the house. The Trane variable speed heat pump is especially efficient because it gradually ramps up to speed when called on, rather than requiring a surge of power. They also provide heat when required.
Other elements of the interior put new products to work. For example, Kettler specified AdvanTech engineered wood flooring as an alternative to hardwood, Energy Star compliant GE and Thermador appliances.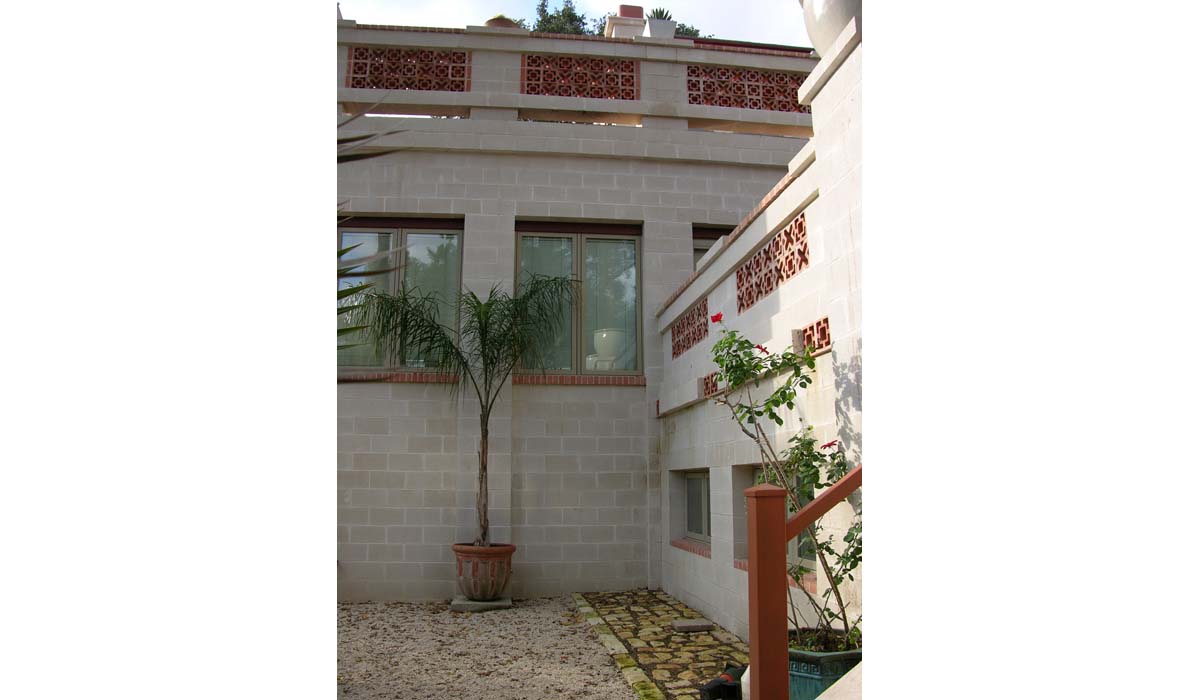 Outer Reflections
Kettler tends to put a lot of thought into a home's envelope, working from the outside in. Was this job a stretch? Not really, he says. He's a custom remodeler, so every project is unique. One thing that was different is the owner's interest photovoltaics. The home has a complete system installed by Meridian Solar, but it's not a technology Kettler had worked with previously.
"Normally," he continues, "I don't do solar. I'm more into proper siting and overhangs, and I'm also very into making things in the house pay for themselves. That means building smart. Then maybe you look at solar after everything else has been done to improve energy efficiency. But in this case the house was ready, so we put the system in, and the owner got all the discounts, which was great."
To create a tight shell, the builder chose traditional 2x4 construction as the structural frame, and filled cavities with spray foam. He then sealed the exterior of that frame with Tyvek House Wrap, to forms an inner wall. Then on the outside, as a permanent exterior finish, he stacked 8" CMU blocks, but with a twist—the blocks—from Featherlite Building Products were cast from white cement, not gray, so they can stand alone as a finished wall. The white color also reflects unwanted solar heating, a good choice for the Austin setting.
In hindsight, Kettler says, he might have done a few things differently on the home. "I would have work harder to convince the owner to incorporate some sort of shading over the windows on the West side. I am amazed how well the Pella windows with the integral blinds work, but you have to keep them closed during the day in the summer and then you lose your view."